RECRUITING: 6-0 Elkins battles No. 1 Shiloh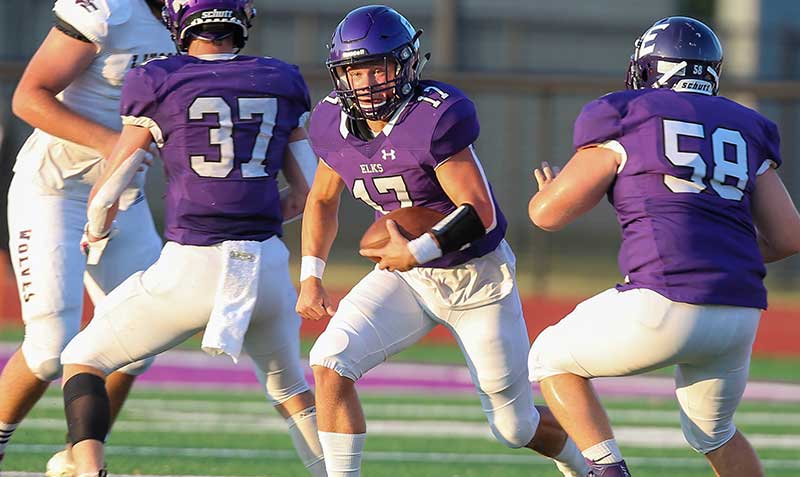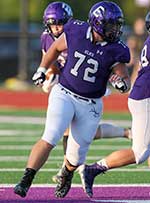 Elkins SR Keylynn Daniel
Undefeated Elkins eyes its best start in more than 20 years Friday when it plays host to Class 4A No. 1 Shiloh Christian.
Elkins has captured one league title in the past 15 years, but it has smashed six opponents this fall by an average of 53-13.

Senior quarterback Kain Johnson (#17 in Richey Miller photo above) triggers the Elks and draws recruiting interest. Multiple Division I and II schools evaluated Johnson (5-11, 175) last season after he passed for 2,040 yards and 23 touchdowns and ran for 416 yards and 11 TDs. "He's a true dual-threat," Elkins coach Bryan Hutson says.
Johnson (3.8 GPA) has impressed even more this fall, passing for 925 yards and running for almost 700 yards, despite not playing in the second half of four games. In the first half of last week's 63-8 win at Green Forest, Johnson completed nine of 11 passes for 205 yards and four TDs, all to different receivers.
"He's very elusive and creative with the football," Shiloh Christian coach Jeff Conaway says. "He repairs the broken play very naturally."
Johnson played point guard last winter on Elkins' district championship basketball team. "He's a complete athlete," Hutson says. "He's so shifty and hard to tackle one-on-one. He adds another dimension to our offense."
Most in-state colleges have evaluated senior two-way lineman Keylynn Daniel (6-2, 265). The four-year starter squats 550 pounds.
"He's our strongest, most experienced guy," Hutson says. "He's a legit college prospect." Daniel often commands double-teams on defense and opens running lanes on offense.
Senior Cody Drummond (5-10, 170) earned all-conference honors last fall (39 catches, 780 yards and nine TDs) and is getting D2 looks this fall.
Drummond caught a 33-yard TD pass less than two minutes into a Week 4 mercy-rule win over Gravette. Two possessions later, Drummond (4.5 speed) took a jet sweep 57 yards for a TD.
Elkins freshman Gunner Casebolt (6-0, 195) promoted to the varsity over the summer "and could play in college," Hutson says. Casebolt has started every game at middle linebacker this fall. He ran for 84 yards and a pair of TDs in the first half against Green Forest.
While Elkins boasts a surprising amount of talent, Shiloh Christian routinely sends players to college programs. The 2020 Saints feature potential college players in every class. 
Senior running back Cam Weidemann paces Shiloh Christian this fall with 65 carries for 558 yards and 15 TDs. Weidemann ran three times for 70 yards and a pair of TDs in last week's 58-21 win over Gentry.
In five playoff games in 2019, Wiedemann went off for 714 yards and 11 TDs. "He's so explosive," Conaway says.
Junior Kaden Henley (6-2, 225) could emerge as a Division I linebacker. Henley, whose dad Ashley coordinates Shiloh's defense, paces the Saints with 63 tackles, including nine tackles for loss, one interception and two fumble recoveries. Henley started for Class 6A Lawton, Okla., as a freshman (109 tackles). "He's physical and runs to the ball," Conaway says.
Sophomore Eli Wisdom (5-11, 175) won Shiloh's QB spot in the summer and has already developed into one of the state's better signal-callers. Wisdom has completed 61 of 103 passes this fall (60 percent) for 971 yards and nine TDs. The versatile athlete (4.6 speed) has logged 60 carries for 663 yards and nine TDs.
In his first varsity start, Wisdom ran for 131 yards and a TD and threw a TD pass in a 47-14 victory over Pea Ridge. The next week, he engineered a 34-28 triumph over defending Oklahoma Class 4A champion Poteau by completing 10 of 18 passes for 133 yards and a TD and by running for 82 yards and two TDs. In his first conference game, Wisdom completed six of nine passes for 98 yards and ran for two TDs before coming out in the the second quarter of a 63-7 blowout of Berryville.
"He's the most dynamic sophomore I've coached," Conaway says. "He has incredible speed and explosiveness. He also has a big arm and can make any throw on the field. He's the most complete dual-threat quarterback I've ever coached."