Emerging Hog O vs. stingy Auburn D key matchup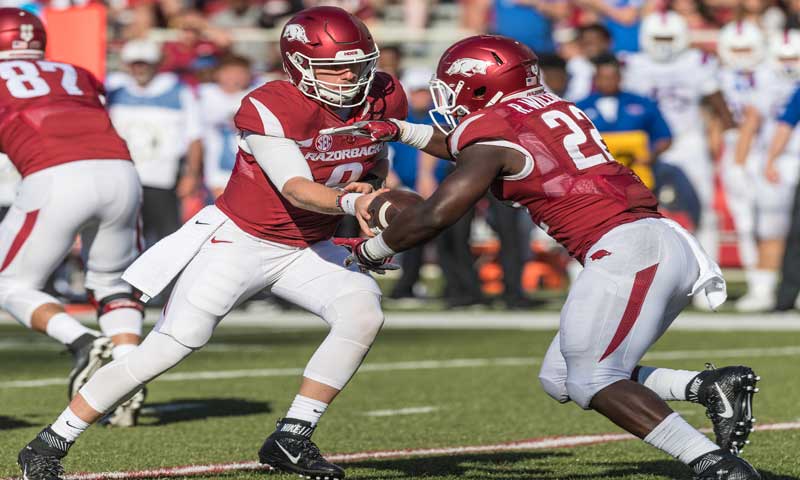 FAYETTEVILLE - Arkansas' mostly struggling defense and Auburn's mostly struggling offense have improved just in time to test each other Saturday evening.
Coach Bret Bielema's 17th-ranked visiting Razorbacks (5-2 overall, 1-2 in the SEC West) and Coach Gus Malzahn's 21st-ranked Auburn Tigers (4-2, 2-1) clash at 5 p.m. Saturday on ESPN at Jordan-Hare Stadium in Auburn, Ala.
Arkansas sports the better ranking, but Las Vegas oddsmakers mostly have rated Auburn a 10-point favorite.
Their Auburn favoritism seems based on the home field advantage of 87,500-plus and a defense that has held five opponents between seven and 19 points. The experts compare an Auburn 29-16 SEC West loss to undefeated No. 6 Texas A&M with Arkansas' 45-24 loss to the Aggies. Even unbeaten, No. 4 Clemson couldn't score 20 on Auburn. Clemson lost 19-13.
So Arkansas' optimism with the Razorbacks balancing 429 yards (200 running and 229 passing) last week on the then-No. 12 Ole Miss is tempered with meeting an Auburn defense alleged to be up to the caliber of A&M and even No. 1 Alabama.
"I compare them to Alabama," Arkansas receivers coach Michael Smith said. "Very physical. Very handsy."
Auburn defensive coordinator Kevin Steele is a former linebacker at Tennessee and Tennessee assistant and Baylor head coach who has coordinated defenses at Clemson and Alabama (pre Nick Saban) and LSU in 2015.
"Kevin Steele and that defense are really performing at a high level," Bielema said. "They have really good players performing extremely well and extremely smart."
Steele has coordinated a much better Auburn defense so far than the heralded Will Muschamp did last year. Muschamp is the South Carolina head coach and former Florida head coach and national champion defensive coordinator at LSU and Texas,
This week Muschamp also couldn't conjure  a  defensive weakness for Auburn.
Bielema and Enos did note Arkansas' offensive confidence soars from beating Ole Miss with Arkansas' running game measuring up to the outstanding passing that junior Arkansas quarterback Austin Allen has exhibited all season.
Arkansas sophomore running back Rawleigh Williams was named the SEC Offensive Player of the Week, netting 180 rushing yards on 27 carries against Ole Miss.
Entering what could have been called "The Losing Tiger Gets Fired Bowl"  when the struggling Auburn Tigers and struggling LSU met on Sept. 24 at Auburn, Auburn won 18-13. Indeed, longtime LSU coach Les Miles did get fired by the following week, while Malzahn started a three-game winning streak.
No coincidence the  Auburn winning streak didn't start until Malzahn, the Fort Smith native and 2006 Arkansas defensive coordinator for Houston Nutt after winning Arkansas high school state championships at Shiloh Christian and Springdale, quit playing Auburn quarterbacks roulette.

John Franklin and Jeremy Johnson, his two fastest QBs, were benched, and junior Sean White installed to start. White has completed 92 of 132 passes for 1,187 yards and a SEC-leading 69.7 percent completion percentage, should capture attention.
"It all starts with him," Bielema said.
Malzahn was known for his uptempo passing offenses at Springdale and Shiloh Christian, but usually has Auburn among the SEC rushing leaders while still emphasizing the pace of his no-huddle offense "as fast as humanly possible," Bielema said.
Bielema and Arkansas defensive coordinator Robb Smith said the Hogs must adjust and reassemble faster between plays Saturday than they sometimes did against Ole Miss.