Hogs vs. #21 Auburn: stakes high for both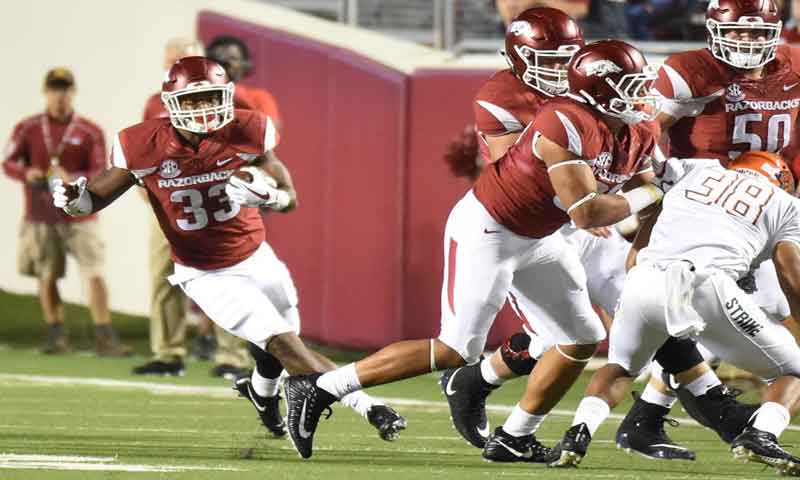 By OTIS KIRK
FAYETTEVILLE - Even though it will be Oct. 21 on Saturday night when Arkansas plays host to No. 21 Auburn, it will mark the first SEC game played in Fayetteville this season.
Arkansas is 0-3 in SEC games. The Texas A&M game in AT&T Stadium in Arlington, Texas, was a designated home game for the Hogs, who have played at South Carolina and at Alabama.
"We're excited to get back home and get in front of our crowd," Arkansas head coach Bret Bielema said. "A 6:30 kickoff should get a lot of people in the stands, get everybody excited, hopefully have a few hours to tailgate and get revved up. Auburn is a team that we have had some good games with, here at home especially, the one last time they were here I believe was a four overtime game.
Arkansas (2-4, 0-3) and Auburn (5-2, 3-1) kick off at 6:30 Saturday night at Reynolds Razorback Stadium on the SEC Network. Auburn tries to stay in SEC West race, while Arkansas hopes to close the season as they did in 2015 after another 2-4 start.
"Last year it went a little sideways (a 56-3 Auburn win). The guys are eager to get back here, get in front of our fans. They run tempo, line-of-scrimmage offense, so anything we can do to create some noise and make it a little bit of havoc in the stadium would be great. Other than that, our guys are excited and getting ready to play."
In 2015 at Reynolds Razorback Stadium, the Hogs won 54-46 in four overtimes. However, last year Auburn hammered the Hogs by 53 points in Jordan-Hare Stadium.
"I think just the way they ended a year ago, it would be fair to say that from the time they walked off the field last year to where we are they've made themselves aware of it," Bielema said. "Obviously some of their coaches, including (head coach) Gus (Malzahn), had already been here. And his story involves the state.
"They've tried to recruit a lot of our players, you know. A lot of our guys who are in-state guys, I would say that most of the time the guys that have multiple SEC offers that Auburn was in the mix for those guys. So there's a lot of personal stories there, too. I think there's a lot in this game that's invested more than just the game itself."
Malzahn is 3-1 against Bielema. Auburn won 35-17 in Fayetteville in 2013 and downed the Hogs 45-21 in Jordan-Hare the following year.

"We have a big game at Arkansas," Malzahn said. "The last time we were there I think it went four overtimes. They got us at the very end. We know we're gonna get their best. We have had a good week of practice. Our guys are ready and looking forward to traveling."
Bielema said senior quarterback Austin Allen could play this week after redshirt freshman Cole Kelley started last week at top-ranked Alabama.
"Yeah, I think you have to (prepare for both)," Malzahn said. "Austin is a very tough guy and I'm sure he wants to play in this game."
While Arkansas comes off a 42-9 loss to Alabama, Auburn blew a 20-0 lead at LSU last week and lost 27-23.
"Yesterday (Wednesday) we may have had our best practice since the season started," Malzahn said. "Our guys practiced very well on a level I liked to see. They are ready to get back on the field."
Auburn's quarterback is Baylor transfer Jarrett Stidham. He has completed 108 of 165 passes for 1,510 yards, eight touchdowns and a couple of interceptions.
"Obviously, he's a guy in their system. In their way of doing things at Auburn, they've had a couple of different looks, different guys, different types," Bielema said. "He's done an extremely good job. You look at the first half from last week, and they're putting up points left and right. Definitely a talented player who understands the vision of his coaches and can execute the offense and has a lot of good options around him."
Paul Rhoads' Razorback defense ranks No. 80 nationally against the run, giving up 173 yards per game, while Auburn ranks No. 23 in rushing offense (222 ypg). The Hogs have allowed 48 points per game in their three SEC losses.
"Completely different offense from what he (Stidham) was in  (at Baylor) to what he's in now," Rhoads said. "I think because of that, you see a level of confidence and familiarity with what's being done in a higher level of execution as the season has taken place. He's a gifted thrower, as well as a person that can execute what's asked of him in the run game.
"From turning bodies and the release of the jet sweep, there's some deceptiveness that goes along and he executes all of that very well. He stands up in pressure, he steps up in pressure and does a good job of creating offense with his arm because of that. He's a tough guy. He's a competitor and a proven winner in both stops."
Stidham has taken his share of shots. Auburn ranks No. 115 nationally after giving up 22 sacks in seven games. Auburn uses a Wildcat package with Kerryon Johnson taking direct snaps. Johnson has rushed for 660 yards (No. 19 in nation) and a FBS-leading 13 rushing TDs.
"You've got to have a specific plan in our mind," Rhoads said. "It is not, 'Okay, he's just the quarterback now and the other guys are the 'backs.' Even their deployment isn't that way. They're unbalanced in it for one; they have motion in it for two. You've got the extra gap created by the quarterback, him carrying the football, so yeah, it demands attention.

"These last two offenses we've faced, especially in comparison to our other five games on the season, these two opponents do a lot of things in their personnel groups to make you rep and be sound, and that's 10 more minutes here, five more reps here and so forth. They challenge you in your preparation."
A viable Razorback running game Saturday night would help Allen or Kelley. Arkansas managed just 27 yards rushing on 29 attempts against Alabama, the nation's top defense against the run.
"Auburn is very good," Enos said. "They are very, very comparable. Not a lot of people have run the ball against them, either. Running the ball comes down to moving the guys up front. Getting on people and getting movement. Playing on their line of scrimmage, not your line of scrimmage. When you do that you are able to run the football. When you aren't then it's very difficult to run the football."
Auburn owns the No. 25 rushing defense in the nation, allowing 118 rushing yards per game.
"I think they are very similar to Alabama," Enos said. "I think Coach (Kevin) Steele is from that tree. You can see a lot of similarities. They are playing a 3-4 and they get into four-down fronts with different guys. They are a very complicated defense. They have a multiple blitz package they can get into at any time.
"Coverage packages are very similar as well. Their linemen play with great leverage and use their hands. Again I have a ton of respect for Coach Steele and the success he has had and his reputation. But obviously he's got those guys playing very fast and very physical."
In the losses at South Carolina and Alabama, Enos' offense rushed a combined 61 times for 133 yards (2.2 ypc). Arkansas passed for 224 yards at South Carolina; 200 yards against Alabama.
"Every week since I have been here in the SEC, I never looked at the opponent and said, 'this is a week off; we're gonna handle these guys.' Every week is a huge challenge. It's a physical league, and you've got to come back Saturday and Sunday and take care of your body. You've got to rest and get in the right frame of mind. Come Saturday you've got a very physical football game with a bunch of very physical guys."