Hogs: run game aids receivers; salty Auburn D; notes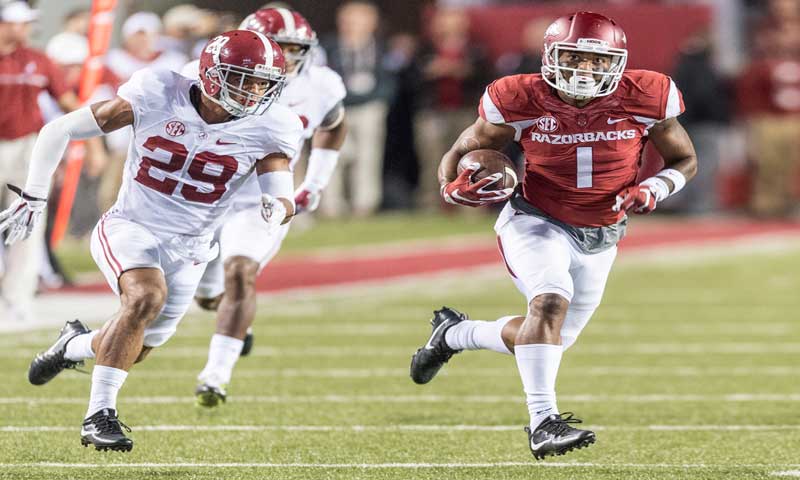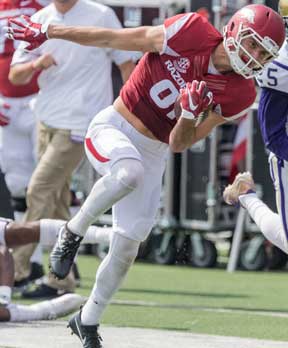 Sr WR CODY HOLLISTER
FAYETTEVILLE - Arkansas' receivers get more opportunities to catch passes when the Razorbacks fall desperately behind and throw nearly every down as in the SEC losses to Alabama and Texas A&M.
But they are in better position to make victorious plays when the running game is vital and the offense balanced (like last Saturday) for offensive coordinator Dan Enos' play-calling.
The 17th-ranked Razorbacks (5-2, 1-2 in the SEC West) defeated then-No. 12 Ole Miss 34-30 behind 200 yards rushing and 229 yards passing. They seek a similar balance at 5 p.m. Saturday against a better defense in No. 21 Auburn (4-2, 2-1). ESPN televised SEC West game.
"Coach Enos has a saying that everyone's job is a lot easier when we can run the ball," Arkansas receivers coach Michael Smith said. "And I truly believe that. Our guys have bought into that. With play-action, it's pretty easy to get open when guys aren't covering you."
There's no play-action threat if there is no running game to respect.
REED RESURGENCE
Although Arkansas quarterback Austin Allen passed for 400 yards against Alabama, it was in a 49-30 defeat with the Razorbacks' falling behind and staying there while rushing for just 73 yards.
Senior receiver Dominique Reed of Camden Fairview and Coffeyville (Kan.) Community College fame enjoyed last Saturday's play-action threat.  Arkansas' fastest receiver and its most dangerous one in 2015 from midseason on, Reed had not made those big plays this season.
That changed fast against Ole Miss. Allen and Reed caught Ole Miss run-conscious for their 51-yard pass and catch down the  middle registering the game's first touchdown.
Reed also recovered the bad shot gun snap exchange between center Frank Ragnow and Allen.
Reed wasn't perfect. He dropped one pass and apparently ran the wrong route on a timing pattern resulting in an incomplete pass, but it was still by far his best game of 2016.
"Whenever you can ignite the crowd like he did scoring that first touchdown, it's definitely a confidence booster," Smith said.  "That helped him and helped our offense and helped Austin developing a little more confidence in him being in the right place.  He and Austin were on the same page.  And he had a big, big fumble recovery. Now we still have the drop to correct.  That's a crucial play.  He has had a good week of practice."
RELIABLE RECEIVERS
Receivers Jared Cornelius, Drew Morgan, Keon Hatcher and Cody Hollister have been Razorbacks reliables, other than Hollister dropping two in the season opener then catching everything thrown to him since.
Cornelius has posted the biggest statistical games (three consecutive with 100-plus receiving yards) and then rushing for the winning TD against Ole Miss while catching three passes for 43 yards.
Morgan was Arkansas' most prolific receiver last year with 63 catches for 843 yards. His 37 catches leads again, though he'll need a flurry of TD catches (two in 2016) to match last year's 10.
"Drew isn't getting in the end zone as much as he did last year, but he is still leading the team in receptions and making the plays when we need him to make the plays and that's his job," Smith said. "He's been consistent all year."
Allen has spread his 19 TD passes around, including five to Hatcher and four each to Cornelius and senior tight end Jeremy Sprinkle of White Hall.
SPRINKLE'S TEST
Sprinkle likely will test his injured leg from last week's game in Friday's practice. Thursday was devoted to meetings and the weight room.
Arkansas' revved -up running game will need to rev another notch.
SHADES OF ALABAMA
Auburn's defense, several Razorbacks coaches and players have said, more resembles the Alabama and Texas A&M defenses that stopped Arkansas than the Ole Miss defense that Arkansas ran through and passed by.
Coach and players have said often that Auburn's front seven compares to Alabama's front seven. Michael Smith said the same about the back end of Auburn's defense.
"Very, very good, compared them to Alabama," Smith of Auburn's secondary. "Very physical defense. Very handsy. It's going to be another challenge my guys are going to have to step up and accept."
TRICKY ELEVATOR
Last time the Hogs went to Auburn the elevator was an unbeatable challenge. The Arkansas assistants scouting the game from the press box, couldn't assist personally with halftime adjustments because the elevator stuck between floors with them on it.
"We hope that doesn't happen again," Morgan said smiling. "But you know, Auburn has their tricks."