Hogs shuffle O linemen, work 2 QBs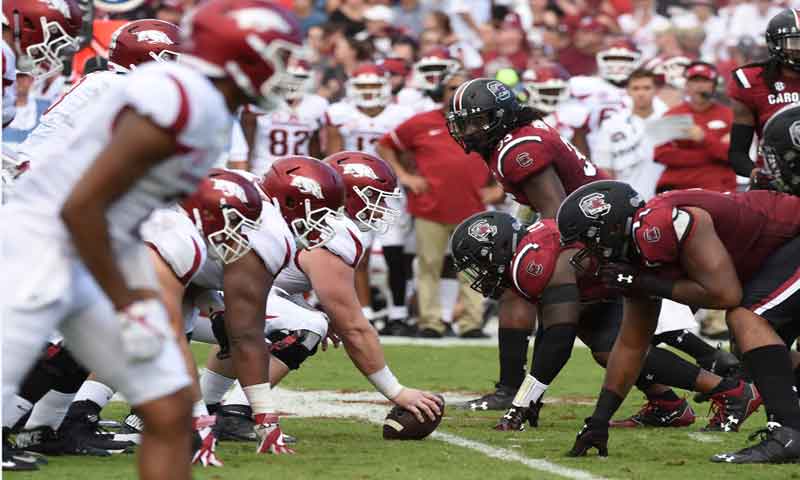 By OTIS KIRK
FAYETTEVILLE - The tight end position will always be key in Bret Bielema's offense, and halfway through the 2017 season, four Razorback tight ends have receptions.
Cheyenne O'Grady (14 receptions for 98 yards and a touchdown) ranks third on the team in receptions. Austin Cantrell has eight catches for 72 yards, while Jeremy Patton has caught two and Will Gragg one. Patton is a junior, while the others are sophomores.

Patton was injured last week in practice and missed the Alabama game. However, Bielema expects Patton and outside linebacker Randy Ramsey back this week for Auburn.
Arkansas and No. 21 Auburn kick off at 6:30 p.m. Saturday in Reynolds Razorback Stadium. The SEC Network will televise the game.
"Randy is a 100 percent," Bielema said. "Jeremy, we didn't expect him to practice [Tuesday], but he went through the entire practice and had no signs of regression today so he's a 100 percent. Johnny Gibson practiced all day yesterday and is a full-go.
O-LINE SHUFFLE
Gibson, a junior, made his first start at left tackle against the Crimson Tide. Gibson has started at right guard, right tackle and left tackle.
"It (left tackle) was a position I played two years," Gibson said. "I played it in high school. Playing left tackle is just stuff I had been doing. Left tackle is the position I have played here for the longest since I have been here.
"I feel I'm a natural for the left side. Moving to the left side isn't hard thing to do. To me, the hardest thing to do is remember on a certain play you are at the tackle position, not the guard. I have played both since I have been here. Listening to Coach (Kurt) Anderson and doing what he tells me."
Other than junior Hjalte Froholdt at left guard, the other starters against Alabama were new to their positions. Senior Frank Ragnow moved to right guard from center, junior Brian Wallace at right tackle, and junior Zach Rogers manned the center slot in his first collegiate start.
"Zach is very smart," Gibson said. "He knows what everyone is supposed to do. So it wasn't a problem moving Frank to guard and Zach to center."
STARTING QB
And Bielema said senior quarterback Austin Allen might return for the Auburn game.
"Austin Allen continues to make great strides," Bielema said. "He was on the side doing drop throws and different things that get you excited. He didn't practice, but I think the possibility of him playing on Saturday is real, and I think it's important to him and everyone around him. So it will be fun to get him back out there."
Redshirt freshman Cole Kelley (6-7, 268) likely starts again this week, and even if Allen returns, it's expected Kelley will play.
"Yeah I did a few good things, but I did a lot of bad things," Kelley said. "Against teams like Auburn and Alabama, against defenses like that you can't do that. You have to be pretty much perfect. You can't make any mistakes. It's gonna be magnified. It's gonna be a turnover is what I'm saying."
Bielema has full confidence in Kelley, who completed 23 of 42 passes to eight receivers for 200 yards and one touchdown with an interception at Alabama.
"You know Cole's an exciting player," Bielema said. "When we recruited him out of high school, he has a certain DNA to him. He's a very aggressive, very confident, very likable. He's a guy who people can get around.
"We've used him at times in the course of the fall, even when Austin was healthy, to kind of bring in a spark, do some different things. He took his first chance and ran with it. Obviously we lost the game, but I think anybody who watched it probably gained some respect for Cole Kelley and the way he does things."