Hogs: 2015 loss still miffs Auburn's Malzahn; more notes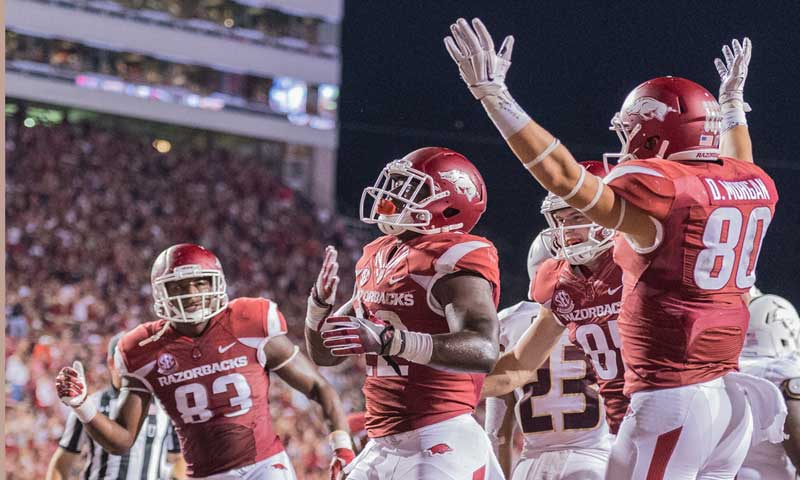 FAYETTEVILLE -  Only Barry Lunney remains from the Arkansas staff shafted on the Razorbacks' last visit to Auburn.
So the Arkansas tight ends coach, the Razorbacks' eye in the game-day press box, was asked if he had pre-planned provisions for Auburn's elevator.
"Yeah, we'll need a fan, some food, a chair or two," Lunney said, laughing after Wednesday's practice. "I have thought about it, trust me. I hope it doesn't happen again this year, I assure you."

No. 17 Arkansas (5-1, 1-2 in the SEC West) and No. 21 Auburn (4-2, 2-1) clash at 5 p.m. Saturday on ESPN at Jordan-Hare Stadium.
On Arkansas' last visit to Auburn, Ala., in the 2014 season-opening 45-21 loss, Lunney, former offensive coordinator Jim Chaney and former secondary coach Clay Jennings were stuck in a balky elevator between halves. They never did get to the dressing room to make halftime adjustments with players.
"Maybe we will have an elevator walkthrough," Lunney said, again laughing.  "Just one of those freaky things that can happen anywhere any time."
How long were they stuck between floors before freed. "Literally three to five minutes maybe," Lunney said.  "But in my mind an hour."

MALZAHN STILL MAD
Auburn coach Gus Malzahn's staff had no elevator issues last year at Reynolds Razorback Stadium, but Malzahn still feels the shaft of last year's 54-46 loss to the Hogs in four overtimes.
""When you think about it, it still makes me mad, but that's last year," said Malzahn, a Fort Smith native and former championship high school coach in Arkansas and the 2006 Razorbacks' offensive coordinator . "You got to figure out a way – that's history, there's nothing you can do about it - I try not to think about things I can't control any longer."
SPRINKLE HOPEFUL
The Razorbacks can't control if Mackey Award watch list candidate and fifth-year senior tight end Jeremy Sprinkle can recover from his injured foot during Saturday's 34-30 victory over Ole Miss to play Saturday. Lunney believes he will even with just a Friday practice as prep.
"I think he'll be ready to roll," Lunney said. "He's played a lot of football for us and knows our system pretty well. One of his greatest assets is he's smart and knows the offense. Looking for him to hopefully do some good things for us on Saturday."
CANTRELL READY
Arkansas coach Bret Bielema, offensive coordinator Dan Enos and Lunney have increased confidence in Austin Cantrell, the redshirt freshman backup tight end from Roland, Okla.
Cantrell (6-4, 269) won the backup/second tight end or H-back in two tight ends sets because of his blocking but also is blossoming as a receiver. He has caught seven passes for 60 yards, including a 14-yarder from quarterback Austin Allen against Ole Miss.
"He just continues to get better," Lunney said.  "He has the body and build of a 30-year-old and the eligibility of a redshirt freshman. That's a good combination. He has done some nice things for us in games. We felt like he really took a step forward in the passing game last week and made a very critical play for us in Sprinkle's absence."

FIRST TRUE SEC ROADIE
Although they beat TCU at Amon Carter Stadium in Fort Worth and lost to SEC West rival Texas A&M at the Dallas Cowboys' AT&T Stadium, Saturday night marks the Razorbacks' first true SEC road game this season.
Any advice for the younger players' first visit to Auburn?

"I would just say focus," senior receiver Drew Morgan of Greenwood said. "When you go into a hostile environment like Auburn, it's one of those where it takes your breath away, and sometimes lulls you out of your focus of the game. If you just lock in 110 percent, everything will just fall right into your hands. You just have to focus, lock in, ignore the crowd, ignore everything. Just lock in and do your job and do it to your fullest ability."
For noise, Morgan said 87,000-plus Jordan Hare Stadium isn't louder than the 75,000 or so that have packed Reynolds Razorback Stadium the past two Saturdays when Arkansas lost to No. 1 Alabama and beat No. 12 Ole Miss.
"Oh, there's nothing like our home field," Morgan said. "Everyone talks about Auburn and Alabama's home field and LSU's being Death Valley and it's just so loud, but literally, I was feeling the ground shake (last week at Razorback Stadium). Like my whole body felt like it was vibrating."
BIG VIBRATIONS
Arkansas' offensive line colliding with Auburn's defensive line should create seismic vibrations, regardless of crowd noise.
"They are a really good defensive front," Arkansas  senior left offensive tackle Dan Skipper (6-10, 319) said.  "Montravius Adams and Carl Lawson (Auburn's top defensive tackle and defensive end) are among the best in the nation at what they do."
Is the Tigers' D-line comparable to No. 1 Alabama and No. 6 Texas A&M?
"Absolutely," Skipper said. "We are in the West. Everyone has got tough guys and deep guys, there is no drop-off. There are young guys that haven't played a lot but are very well-coached."