#1 England vs. #2 Hector showcases top talent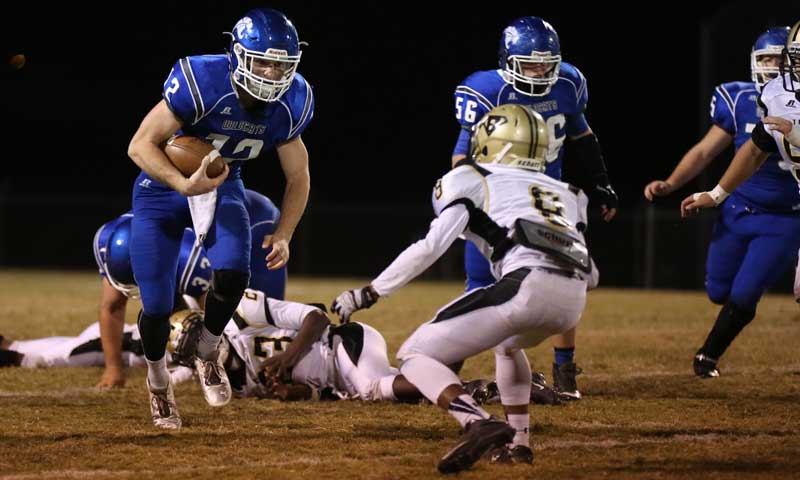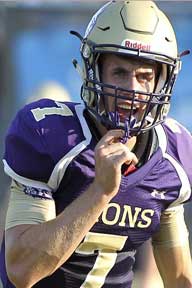 Sr QB BRAYDEN BRAZEAL
The most anticipated Class 2A game of the year takes place this week in Lonoke County, and it won't lack for star power.
Top-ranked and undefeated England plays host to No. 2 (and first-year conference foe) Hector. England won the 5-2A title last season, while Hector won three straight 4-2A titles before getting realigned this fall into its new conference.
Hector humbled England 56-14 in the second round of the 2013 playoffs, but "we started eight freshman that night. Those guys are now seniors, and they haven't forgotten," England coach Terry Farmer says.

England posted its first impressive win of 2016 over Class 4A (current No. 7) Hamburg 42-28 during the Arkansas Blue Cross and Blue Shield Kickoff Classic. The Lions then topped current Class 3A No. 4 Junction City 31-26. Hector owns wins over Class 3A Paris and Class 2A No. 5 Bearden.

Friday night's Hector vs. England showdown hinges on a pair of dynamic quarterbacks. Hector senior QB Tanner Gaines (6-2, 195) committed to Arkansas Tech in September. Gaines completes 65.4 percent of his passes this season (106 of 162) for 1,553 yards and 15 touchdowns with just four interceptions. Gaines also leads Hector's ground assault with 102 carries for 741 yards and 11 TDs.
England senior QB Brayden Brazeal (6-0, 165) "wants to use this game to prove he's a college quarterback," Farmer says. Brazeal triggers an impressive offense that puts up 511 yards and 52 points per game. He's completed 102 of 139 passes this year (73.4 percent) for 1,921 yards and 25 touchdowns. But his most impressive statistic: only one interception in seven games.
Brazeal also averages 5.5 yards per carry. "We could run him more, but we want to keep him healthy for 15 weeks," Farmer says.
Brazeal gets recruiting interest from most in-state Division II schools. Tulane is evaluating him, and Army invited him for an official visit.
While Class 2A's elite QB's get more of the publicity, England tight end/defensive end B.J. Thompson (6-6, 210) draws the attention of college recruiters. Thompson owns 12 Division I offers, and the list expands as Thompson continues impressing. Arkansas State, Cincinnati, Indiana, Kansas, Memphis, Tulsa and Washington State are among the schools who've offered Thompson.
Thompson caught 42 passes for 677 yards and 10 TDs last season, and racked up 25 tackles. He's snagged 23 passes this year for 371 yards and five TDs, and collected 15 tackles (8.5 tackles for loss) and 5.5 sacks.

"(Thompson) has the potential and upside," Farmer says, "but most colleges don't know where to play him. They mostly look at him as a defensive end or outside linebacker, but lately some have talked to him about playing outside receiver or tight end."
Senior tackle Syn'quan Hollis (6-3, 240) has drawn interest from Ouachita Baptist. Hollis made 17 tackles this year, including four tackles for loss.
Marc Westbrook (5-8, 150) lacks size, but has the desire to play small-college football. Westbrook leads England this year with 34 catches for 725 yards and 10 TDs. He's intercepted two passes in limited time on defense. "He'll have to walk-on and earn a spot," Farmer says, "but he has great hands and runs great routes."
England running back Malik Coleman (5-9, 180) should play next season for a junior college. Coleman has 75 carries for 626 yards and eight TDs this year, and on defense he's made 19 tackles and two sacks.
England has applied the mercy-rule by halftime in its four conference games, often backing off the second half. The Lions attempted just one second-half pass Week 6, a 63-21 win at Conway Christian.
  HOOTENS.COM RANKS, MAKES PICK AND OFFERS MORE ANALYSIS on Hector at England, all Class 2A games.
"Our stats aren't gaudy," Farmer says. "We could put up some huge numbers, but we've run between the tackles and haven't thrown much in the second half of our games."