Hogs: QB Kelley, receivers improving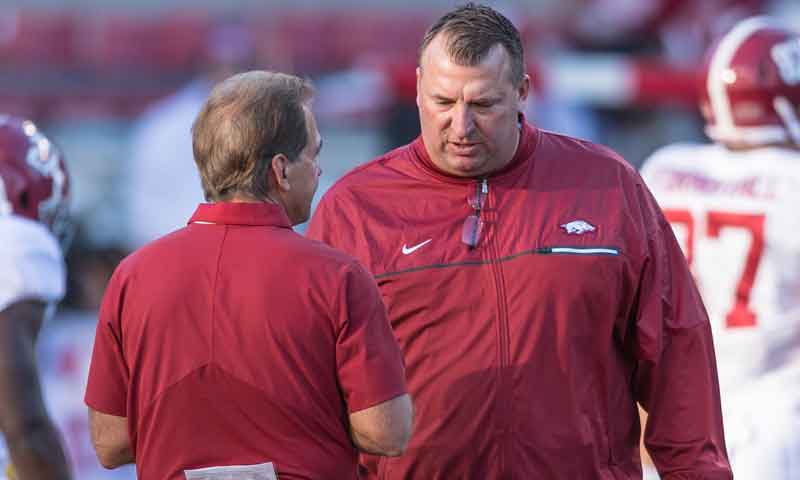 By OTIS KIRK
FAYETTEVILLE - Arkansas snapped the football 72 times Saturday night compared to 64 for top-ranked Alabama, but the Razorbacks mustered  only 227 yards of offense.

Those 227 included 27 rushing yards on 29 attempts in the 41-9 loss, but there were positives in the passing game
Sophomore wide receiver Brandon Martin caught four passes for 34 yards at Bama, just one week after his first reception (15 yards) as a Hog at South Carolina. Martin, the nation's top junior college wide receiver, had been injured prior to the South Carolina game.
"Doing a lot better," Arkansas receivers coach Michael Smith said of Martin. "I think you saw last week he had a lot of confidence in some of the things he did. He's been coming in and meeting with me. They're on fall break and he came in today to try and get ahead on the game plan. We met for about a half an hour.
"That's my biggest challenge to him, to keep trying to learn as much as possible. When he plays fast, I think people saw last week he has the talent to do it for us. I think he had one time in the game Saturday that he didn't execute the assignment he had the way he needed to. We're going to get that corrected."
Redshirt freshman quarterback Cole Kelley took over for injured starter Austin Allen at Alabama. Kelley completed 23 of 42 passes for 200 yards and one touchdown with an interception. Kelley completed passes to eight receivers.
"We've got some great athletes out there," Kelley said. "That's always a plus."
Sophomore receiver Jordan Jones of Smackover caught four passes for 72 yards at Bama, including a 46-yarder.
"There were some times we were getting open, and unfortunately we weren't able to get the ball to them," Smith said. "But we didn't play good enough to win. That's our main goal as a wide receiving corps is that we go out and play good enough to help this team win."
Smith called Jones' 3-yard catch against three Alabama defenders "very impressive."
"When a guy goes in traffic like that, it's always good to see," Smith said. "We want our guys to be fearless and I don't know if he could've dropped it as hard as Cole threw it to him. I was excited for him. To score a touchdown against Alabama, I don't care what time of the game it is, it's something he'll have as a memory for the rest of his life."
Smith recruited QB Kelley (6.7, 268) out of Lafayette, La. "He's a big boy," Smith said, "and he's playing in a big-boy league, and he's going to do big-boy things for us."
Kelley said he was a "good sore" after Alabama hurried him 11 times and sacked him five times. "It felt good to get out there and play a full game again," Kelley said. "It had been since high school, and I really  missed it."
Arkansas has missed Donald W. Reynolds Razorback Stadium the past two weeks. Saturday's 6:30 kickoff against No. 21 Auburn marks the first SEC game at home this season.
"I am very anxious," Kelley said. "We've got to find a way to win this weekend."