Hogs: It's next play vs. hurry-up Auburn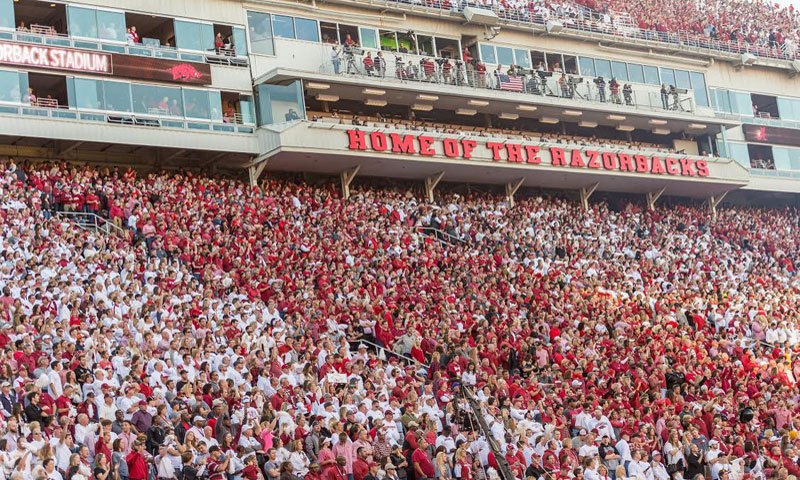 FAYETTEVILLE - Josh Liddell figures it's a snap to play against Auburn.

It better be, the Arkansas junior free safety from Pine Bluff Dollarway says. Otherwise, the Auburn Tigers will snap the ball and hit a big play before the Razorbacks' snap to attention.

Coach Gus Malzahn's 21st-ranked Auburn Tigers (4-2, 1-2 in the SEC West) play host to the No. 17 Razorbacks (4-2, 1-2 in the SEC West) in Saturday's 5 p.m. ESPN-televised game at Jordan-Hare Stadium in Auburn, Ala.

The Tigers allegedly accelerate up-tempo faster than the Ole Miss Rebels. Ole Miss sometimes snapped the ball quicker than the Arkansas defense realigned between plays though the Razorbacks did defeat the then 12th-ranked Rebels, 34-30 in last Saturday's SEC West game at Reynolds Razorback Stadium.

"Auburn is the ultimate tempo team," Liddell said.  "They run plays as fast as they can. They snap the ball less than nine seconds from running their previous play. So we have to be ready for that."

Ole Miss sometimes caught the Hogs either bemoaning or celebrating the previous play, Liddell said.

"We are going to cut that out," Liddell said. "You can't worry about what happened last play. You can't celebrate. You can't high five each other. You just have to get the call, line up and get ready for the next play. That's the key against Auburn."

"It's was the No. 1 emphasis today in what we're trying to accomplish," secondary coach Paul Rhoads said. "They're always a number of things that go into it. Post-snap attention to the next play. Getting calls sooner and getting calls that you can align to faster is a piece of it. And then just the urgency of our kids to recognize formations and get aligned and get their eyes where they're supposed to be all plays into that urgency of tempo offenses."



LIDDELL'S BEST, NO JOSHING


While noting what the Razorbacks didn't do quickly enough against Ole Miss, it should be noted Liddell and the entire defense played their best game against the SEC's most explosive offense.

Particularly Liddell, with his season-high nine tackles and a pass breakup, one week after a rough outing during Arkansas' 49-30 SEC loss to No. 1 Alabama.

"He played well," Rhoads said.  "Very productive. Of the seven games we've played thus far, I'd say it was his best game and I told him as much on Monday when we reviewed the tape. He tackled better."

That, Rhoads said, stood out to even the casual fan.

"The thing about a safety, and not just with coaches and media, but everybody in the stands knows when a safety misses a tackle," Rhoads said.  "And he missed a couple tackles in the previous game. Those tackles that he missed, he made most of them on Saturday. Now, he missed one for a touchdown that we'd like to have back, but he improved greatly in that area."



CLEAN SLATE


Liddell knows well the plays he made and missed last week. He tried to erase the slate after each play against Ole Miss and certainly cleans the slate to start against Auburn.

"We made plays that saved touchdowns and when you don't make plays that save touchdowns you can't harp on them," Liddell said. "That's the main thing we did last week."

Did the Ole Miss victory boost the entire defense's confidence

"We made some mistakes, but our confidence is never down," Liddell said. "There  were plays we may have missed but we got those things corrected.  And we moved on to the next week. I do believe I played a lot better.  The defense played a lot better as a whole."



TOUTING AUBURN


It must continue improving, Liddell said, with Auburn coming off a bye week and winning its last three games with Sean White established after some early season, three-man quarterback roulette.

White poses a more conventional QB challenge compared to the run-pass scramblers Arkansas has faced in SEC games against Texas A&M's Trevor Knight, Alabama's Jalen Hurts and Ole Miss'  Chad Kelly.

"Their quarterback is very accurate," Liddell said. "I believe he is very talented and has good skills. He's not a tremendously gifted runner, but he can run a little bit.  He runs enough to keep you honest. He protects the football and doesn't throw interceptions or fumble the ball. He's very good."



NO SAFETY IN NUMBERS


And the Hogs open very thin at safety. Junior De'Andre Coley, the alternating top reserve to free safety Liddell and strong safety Santos Ramirez, must sit out Saturday's first half because of his automatic ejection for a targeting penalty while blocking Ole Miss receiver Van Jefferson during nickel back Henre Toliver's interception of a Kelly pass.

"It's an extremely careful situation with Dre not being there," Liddell said. "We have to be smart. We can't have any costly penalties."