RECRUITING: Ozark's Skillbillies chase 4-4A title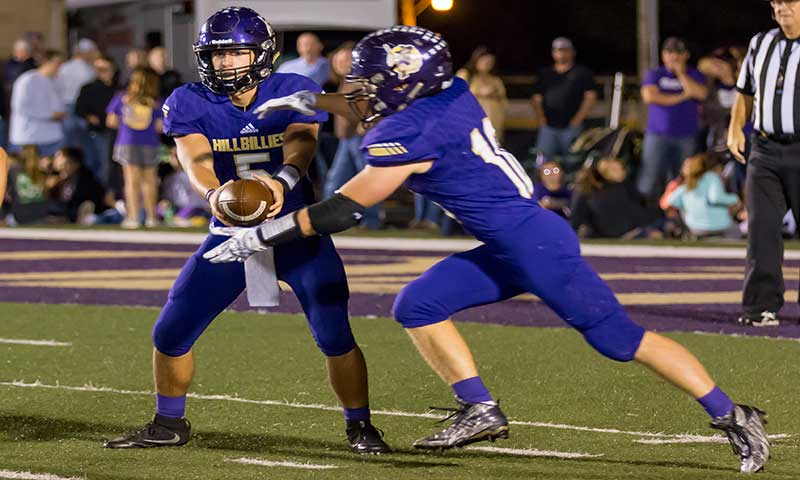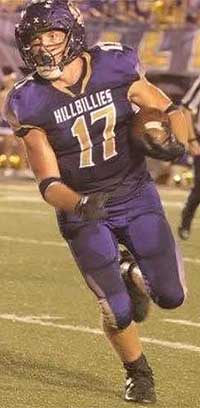 Jr BRYANT BURNS
Class 4A No. 6 Ozark can secure at least a share of its first conference title since 2011 with two more victories in the final three weeks.
The Hillbillies (5-2), who finished as state runners-up in 2012, play host to Dover this week on senior night before finishing the regular season at Waldron and Elkins. They've outscored conference opponents this year by an average of 35-9.
Like most contenders, Ozark has playmakers. Senior quarterback Dawson Dietz (5-11, 185) earned all-state honors last season with more than 2,500 yards and 18 touchdowns. This fall, Dietz (#5 in Alan Wagoner file photo above) drives an offense that puts up 419 yards weekly, and he hasn't played in the second half of two blowout victories.
Dietz has completed 83 of 122 passes (68 percent) this season for 1,227 yards and 11 TDs with five interceptions. He's thrown just two interceptions in the past six games, "and his ability to control the ball helps us win," Ozark coach Jeremie Burns says.
Dietz offers a dual-threat with 4.7 speed, running 52 times for 370 yards (7.1 yards per carry) and five TDs.
Dietz connected on five of eight passes for 72 yards and two TDs and rushed six times for 117 yards and a score Week 2 against Clarksville. He threw for 220 yards and ran for two TDs in last week's mercy-rule win over Pottsville.
But Dietz hopes to attend pharmacy school and notified recruiters visiting Franklin County last spring that he wasn't interested in playing college football.
Ozark's top prospect, junior tight end/defensive end Bryant Burns (6-3, 215), owns a scholarship offer from Ouachita Baptist, and most in-state D2 schools have evaluated him. He visited Arkansas two weeks ago and plans to take another visit next season. Burns, who missed his eighth-grade year after kidney surgery, has started for the varsity since his freshman season.
Bryant Burns was one of 20 prospects from Arkansas, Oklahoma and Tennessee invited to meet with CBS recruiting analyst Tom Lemming two weeks ago prior to the Arkansas-Alabama game.
Burns (4.7 laser speed at the Nike Combine) has caught 20 balls this fall for 439 yards and five TDs. He's had multiple receptions in every game, including two for 141 yards and a pair of scores Week 3 at Charleston.
"He's been around football all his life and grew up in the field house," Jeremie Burns says of his son. "He has a knack for knowing what to do and how to get open."
Junior defensive end Eli Munnerlyn (6-1, 190) should develop into a college prospect. Munnerlyn (4.8 speed) missed time early in the season with injuries but has nine tackles in three conference games.
Ethan Foster (6-1, 155), another junior, likely gets an opportunity to punt in college. Foster averages 45 yards per punt this year and laser-timed 4.5 speed at the Nike Combine in Dallas. Foster displays athletic prowess as a receiver, averaging 12.8 yards per catch. "He flips the field on punts," Burns says. "Kickers don't always get noticed, but he's one of the best in the state."
Junior Daniel Woolsey (5-10, 195) was slated as Ozark's feature back this year before injuring his quad in the preseason. He returned Week 5 against Dardanelle, playing limited snaps (seven carries for 40 yards), then re-injured it last week against Pottsville and won't return this fall. Most D2 schools have inquired about Woolsey, the coach says.
A pair of sophomores, running back/receiver Tyler Sanders (5-8, 165; 4.6 speed) and offensive lineman Lawson Jackson (6-2, 220) should grow into college prospects. Sanders, while filling in for Woolsey, paces Ozark's rushing attack this fall. Sanders has 85 carries for 760 yards and nine TDs. He ran for 198 yards and three TDs against Class 5A Clarksville and two weeks ago carried 13 times for 142 yards and a pair of TDs against Dardanelle.
Jackson, whose brother Colton played at Arkansas State and brother Hunter plays at Ouachita Baptist, "is getting there," Burns says. "He'll be a big-time recruit if he keeps getting bigger and stronger."