Hogs: SEC honors its top rusher, Rawleigh Williams; notes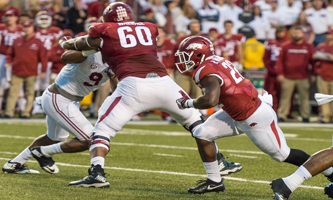 FAYETTEVILLE - For his 180 yards rushing Saturday in Arkansas' 34-30 victory over then 12th-ranked  Ole Miss, sophomore running back Rawleigh Williams was named SEC Offensive Player of the Week Monday by the SEC Office in Birmingham, Ala.
Currently the SEC's leading rusher, Williams played seven games as a true freshman, his season terminated by a broken neck from which he has made a remarkable recovery.
His 785 yards rushing for the 5-2 overall/ 1-2 in the SEC,  No.17 Razorbacks, makes Williams the SEC's leading rusher going into Saturday's 5 p.m. ESPN televised Arkansas vs Auburn game in Auburn, Ala.  

UA COACHES HONOR 3
Arkansas coach Bret Bielema said Monday that  Williams was the coaching staff's offensive MVP vs. Ole Miss and said senior defensive tackle Jeremiah Ledbetter and punter Toby Baker were the defensive and special team MVPs.
"Rawleigh Williams  literally gets better every game," Bielema said. "If you think about it, he obviously played half the year last year and we're halfway through this year. He's really got one year of college football under his belt. For him to do the things he did on Saturday, not just running the football, but also block protection. The play he made down on the goal line with the option was an unbelievable one on one play."
Baker averaged 46.2 on five punts, including 53- and 54-yarders, the 54 against the wind. Three Baker punts were downed inside the 20 and one just missed being downed at the one before rolling into the end zone.
For his performance, media voted Baker the Crip Hall Award as Arkansas' outstanding senior in its homecoming game at Reynolds Razorback Stadium.
Bielema added the game's special team's MVP to Baker's honors on Monday.
"Without a question it was Toby Baker," Bielema said. "Just another unbelievable performance. Actually flipped the field for us twice. Then the one time into the wind was phenomenal."
Ledbetter made five tackles vs. Ole Miss, including the late fourth-quarter sack of Ole Miss quarterback Chad Kelly. Coupled with an illegal procedure penalty, it set up the fourth and 16 for Ole Miss' last offensive play, a Kelly scramble stopped short of a first down by safety Santos Ramirez's fumble-causing hit that knocked the ball 7 yards backward and out of bounds.
"Jeremiah Ledbetter has really just been a steady performer for us all year and really kind of captivated the opportunities on Saturday that he got," Bielema said Monday. "Some of those things don't come about very often for a D-tackle and he really performed well."
WRAPPING UP RAMIREZ PLAY
Both postgame Saturday and in his Monday press conference, Bielema complimented Ramirez for "laying the wood" to Kelly but noted Monday the key on fourth down should not be dislodging the ball but a sure tackle preventing the first down.
"I think Santos can be a player beyond probably anything he's ever dreamed of being," Bielema said.  "But on that last play, he went for the whack shot, which caused the ball to come out. But we'd probably prefer a lower hit and a wrap-up tackle, because he spun out of it. If he doesn't lose the ball, he could run for the first down. So there's a tremendous learning curve there for Santos."

COLEY TO SIT A HALF
Against No. 21 Auburn (4-2, 2-1 in the SEC) the Razorbacks need safeties Ramirez and Josh Liddell playing well and durably.
Because of his second-half targeting penalty for his his block on Ole Miss receiver Van Jefferson after nickel back Henre Toliver's interception, Arkansas junior safety De'Andre Coley was ejected from the game and must sit out the entire half against Auburn.
Coley is the top alternate safety and interchanging with junior free safety Josh Liddell of Pine Bluff Dollarway and strong safety Ramirez.
Sophomore Reid Miller (three tackles on special teams) at safety, or possibly moving Toliver to safety with cornerback Ryan Pulley then moving to nickel and senior DJ Dean playing corner, are the likely first-half options at Auburn, if either Liddell or Ramirez gets injured or needs a breather.
"We have got guys we feel very confident in," Arkansas defensive coordinator Robb Smith said.  "Reid Miller will get some more snaps this week in practice in case we need him. But we like the guys we have back there. Henre has played corner, and he has played safety.  There are some guys we have that have got to be interchangeable and make sure when the situation arises that we can get six defensive backs out on the field."

HOGS WORK; SPRINKLE SITS
Since the UA is on a two-day fall break Monday and Tuesday, Bielema used Sunday as the NCAA mandated off-day and had the Razorbacks practice Monday.
Senior tight end Jeremy Sprinkle of White Hall likely won't practice until Wednesday or Thursday, Bielema said. Sprinkle is "a little banged up," Bielema said Monday.