Class 7A Week 8 Rankings, Notes & Picks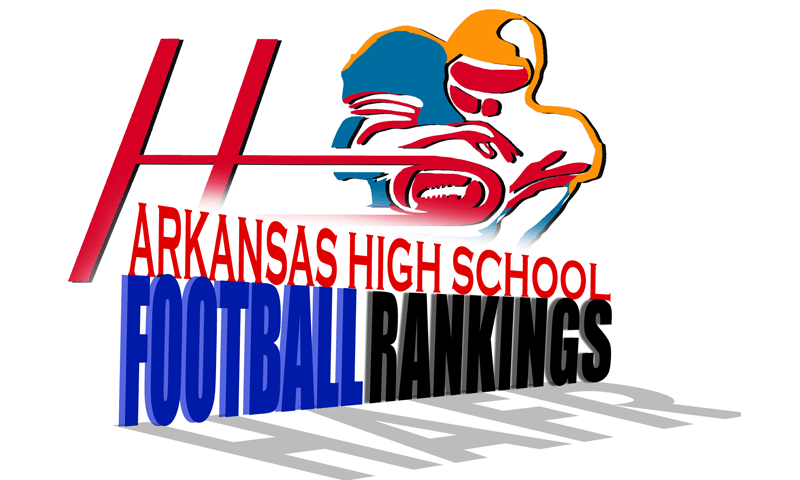 Hootens.com Rankings
Class 7A, Week 8, 2016
Copyright Hooten Publishing, Inc.
1. North LR (7-0)
2. Springdale Har-Ber (6-1)
3. Bentonville (5-2)
4. Fayetteville (6-1)
5. Cabot (6-1)
6. Bryant (5-2)
7. FS Northside (5-1)
8. FS Southside (2-5)
9. Conway (1-6)
10. Rogers (5-2)
11. Bentonville West (2-5)
12. Springdale (3-4)
13. LR Catholic (1-6)
14. LR Central (3-4)
15. Van Buren (2-5)
16. Rogers Heritage (0-8)

HOOTENS.COM GAME OF THE WEEK
No. 4 Fayetteville at No. 2 Springdale Har-Ber
Barring a major upset the next two weeks, this decides the West title. Har-Ber can win it outright while Fayetteville looks to earn a share of the league crown with Har-Ber and Bentonville.
Fayetteville lost to Bentonville 24-21 last month.
Har-Ber's only loss came Week 3, at Jenks, Okla., 44-22. Har-Ber scored its six wins by a 45-8 margin, including a 29-15 win over Bentonville two weeks ago. It's speedy defense (17 sacks, 8 interceptions) dominates with seven tackles for loss weekly. Tevin Eckwood returned an interception 58 yards to score in last Friday's mercy-rule win over Bentonville West. Har-Ber's offense rushes for 290 of its 407 yards weekly.
Fayetteville quarterback Taylor Powell, a Wake Forest commit, chases the Class 7A career TD pass record with 90 heading to Har-Ber. Former Fayetteville High star and current Jacksonville Jaguar QB Brandon Allen holds the record with 99. Powell completed 23 of 28 for 303 yards and  four TDs in three quarters vs. winless Heritage last Friday. Barrett Banister caught nine of Powell's passes for 114 yards and two TDs while Terrance Rock carries 13 times for a career-high 195 yards and two TDs plus a 40-yard scoring catch.

TV SHOW
Hooten's Arkansas Football TV show airs 10:30 a.m. Saturday's on KATV (Channel 7) this fall.

LAST WEEK
Hooten's Arkansas Football correctly predicted winners in 6 of 8 games involving Class 7A teams. For the season, hootens.com is 54-18 (75 percent).

WEEK 8 PREDICTIONS (favored team in CAPS followed by point spread)
7A Central
CONWAY (4) at LR Central: Conway fumbled a snap on the 2-yard line with 12 seconds remaining in last week's 28-21 loss to FS Northside. Afterwards, Coach Clint Ashcraft told his team "we're in a must-win situation" the rest of the way. Five of Conway's six losses have been by seven points or less. LR Central pushed Cabot last Friday but remains winless in conference play.
NORTH LR (14) at FS Northside: Winner takes over sole possession lead in the conference. Northside rides a 5-game win streak but part-time QB Max Frazier (high ankle sprain at Conway) is likely out, forcing lightning-fast standout QB/CB Trey Norwood (5-11, 175) to play every snap. Norwood has committed to Coach Bobby Petrino and the University of Louisville and leads a salty secondary. North LR hasn't been challenged for four quarters this season.
Cabot at BRYANT (1): Cabot standout quarterback Jarrod Barnes could return from injury this week. The Panthers are undefeated when he's healthy but barely .500 since his injury. Cabot rallied from behind and needed a defensive stand in the fourth quarter to win at LR Central last Friday. Bryant relied on its solid defense and superb tackling early this season but has scored 41.6 points over the past three weeks. The Hornets ride a 3-game win streak after scoring 30 points in the third quarter to win at FS Southside last week.  "We get better every day," says Bryant first-year coach Buck James. "We're becoming a pretty good football team."
FS SOUTHSIDE (3) at LR Catholic: Southside in danger of missing the playoffs for the first time since 2007 but favored at No. 13 ranked LR Catholic and plays host to No. 14 LR Central next week. Catholic's porous defense gives up 47.5 points per loss, including 66 last week at North LR.

7A West
Fayetteville at SPRINGDALE HAR-BER (7): Game of the Week.
Rogers at BENTONVILLE (10): Bentonville junior receiver Kam'Ron Mays-Hunt caught eight passes for 86 yards and a TD in the third quarter, helping the Tigers turn a 10-0 halftime lead into a 38-0 win at Springdale last week. Bentonville safety Aaron Estrada intercepted two passes at Springdale. Rogers chases 8 or more wins for the first time since 2006.
SPRINGDALE (3) at Van Buren: Springdale battled well for a half last week against Bentonville (10-0 at the break), but the Bulldogs threw three interceptions and finished with just 35 yards on 26 rushes in a 38-0 loss. Van Buren trailed just 9-7 at Rogers last week before self destructing with three fumbles and a 7-yard punt to lose 26-7. Walter Green carried 10 times for 98 yards, including a 60-yard sprint for Van Buren's TD. Comparing scores: Springdale lost 42-40 at Bentonville West, which won at Van Buren 42-14 two weeks earler.
BENTONVILLE WEST (9) at Rogers Heritage: First-year program Bentonville West trailed Har-Ber 38-0 at halftime last Friday and finished with just 128 yards offense. Sophomore Cory Patton rushed for 70 yards and sophomore Jadon Jackson caught four passes for 55 yards. Comparing scores: West whipped Van Buren 42-14 in the conference opener while Heritage lost at Van Buren 32-14 two weeks ago.