Class 6A Week 8 Rankings, Notes & Picks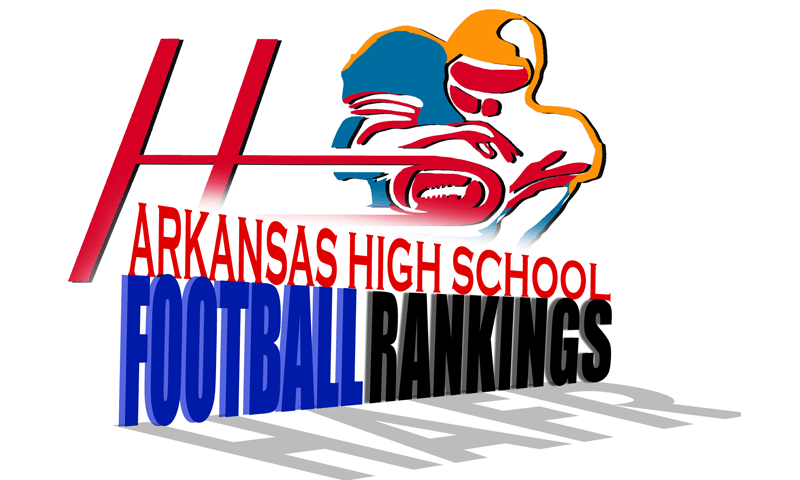 Hootens.com Rankings
Class 6A, Week 8, 2016
Copyright Hooten Publishing, Inc.
1. Greenwood (7-0)
2. Russellville (6-1)
3. Jonesboro (6-1)
4. Pine Bluff (4-2)
5. Benton (5-2)
6. West Memphis (5-2)
7. Lake Hamilton (4-3)
8. Marion (4-3)
9. Searcy (4-3)
10. El Dorado (3-4)
11. Texarkana (2-5)
12. Mountain Home (1-6)
13. Siloam Springs (1-6)
14. Sheridan (1-6)
15. Jacksonville (2-5)
16. LR Hall (2-5)

HOOTENS.COM GAME OF THE WEEK
No. 5 Benton at No. 1 Greenwood.
Greenwood gains 248 yards passing and 246 yards rushing weekly, outscoring opponents by average of 42-18. Senior Luke Hales and junior Connor Noland share time at quarterback. Hales completes 65 percent of his passes for 112 yards weekly. Noland, a baseball and football commit to the Arkansas Razorbacks, completes 66 percent for 126 yards per Friday and has nine TDs with just one interception this season. Greenwood's 27-24 win over Russellville last week was their lowest points total of the season. Greenwood led 21-3 at halftime, holding Russellville to just four first downs in the first half.
Benton lost at Russellville 45-24 but has scored 161 points to win its past three games and Coach Brad Harris' defense allows 13.8 points per Friday. Brandon Hunter has totaled 1,211 yards (811 rushing) and 16 TDs to lead Benton while Ty Callahan and Trey Pepper have both caught 37 passes for close to 400 yards each. QB Nate Beck completes 63 percent of his passes for 162 yards weekly. Benton linebacker Brayden Harris (48 tackles) provides power at fullback. Dawson Morris leads the Panther defense with 50 tackles while Chandler Clift has five QB sacks this season. Benton is healthy, welcoming back three offensive line starters at full speed this week. Benton can't wait two quarters to figure out it can play with Greenwood like Russellville seemed to do last week. Key matchup to watch is Benton's solid defensive front against Greenwood's rushing attack, especially junior running back Kenny Wood (737 yards, 6.5 yards per carry) and the bullish QB Hales (6-2, 220).

LAST WEEK
Hootens.com correctly picked winners in six of eight games involving 6A teams. For the season, hootens.com has correctly predicted 63 of 79 winners (80 percent).

WEEK 8 PREDICTIONS (favored team in CAPS followed by point spread)
6A EAST
LR Hall at MOUNTAIN HOME (8): Mountain Home wins its second conference game in a season, something the Bombers haven't done since 2011. Mountain Home fumbled three times in last week's 42-16 loss at Marion. LR Hall lost at Jacksonville 32-28 last Friday. Mountain Home beat Jacksonville 34-27 two weeks ago.
Marion at PINE BLUFF (18): Pine Bluff mercy ruled Searcy last Friday, a week after its upset loss at Jonesboro. Marion, riding a three-game win streak, rushed for 295 yards in a 35-14 win at Searcy before passing for 247 yards in last week's 42-16 win over Mountain Home.
Searcy at JONESBORO (13): Jonesboro totaled 452 yards offense last Friday but threw three interceptions and failed to score 40 points for the first time this season, losing at West Memphis 40-38. Jonesboro, favored the next three weeks, looks to win out and earn a share of the league title. A West Memphis loss at Pine Bluff next week likely gets the Hurricane a No. 1 seed and possible semifinal matchup with Russellville. Searcy beat West Memphis 27-20 before losing the past two Fridays to Marion and Pine Bluff by a combined 103-42.
WEST MEMPHIS (35) at Jacksonville: West Memphis chasing its first winning season since 2012 and the Blue Devils have won three of their five games decided by 10 points or less this fall, including last week's 40-38 upset of Jonesboro. Jacksonville won its second game of the season last Friday. The Titans have wins over Mills and Hall by a combined 5 points.

6A WEST
Benton at GREENWOOD (12): Game of the Week.
RUSSELLVILLE (14) at Texarkana: After losing three straight by a combined 132-31, Texarkana smoked Sheridan 42-7 last Friday. The Razorbacks likely finish as the No. 5 or No. 6 playoff seed depending on its Week 10 showdown with rival El Dorado. Russellville must regroup after putting a lot into last Friday's 27-24 loss at top-ranked Greenwood. The Cyclones totaled 431 yards and sacked Greenwood's QBs three times, holding the Bulldog offense to season low 27 points (6 points in the second half).
Sheridan at LAKE HAMILTON (25): Lake Hamilton and Sheridan will both be underdogs at No. 5 Benton and No. 1 Greenwood to finish the regular season. Three weeks ago Lake Hamilton won 34-17 at Texarkana, which mercy ruled Sheridan 42-7 last Friday. Lake Hamilton (3-1 in league play) scored a season high 56 points whipping Siloam Springs last week.
EL DORADO (4) at Siloam Springs: El Dorado probably earns a playoff spot with a win, likely finishing as the No. 5 or No. 6 seed depending the outcome of its Week 10 matchup at rival Texarkana. Siloam Springs and El Dorado rallied in the final seconds at home to beat Sheridan earlier this season. Since then, Siloam has lost the past three Fridays by a combined 161-33.