Class 5A Week 8 Rankings, Notes & Picks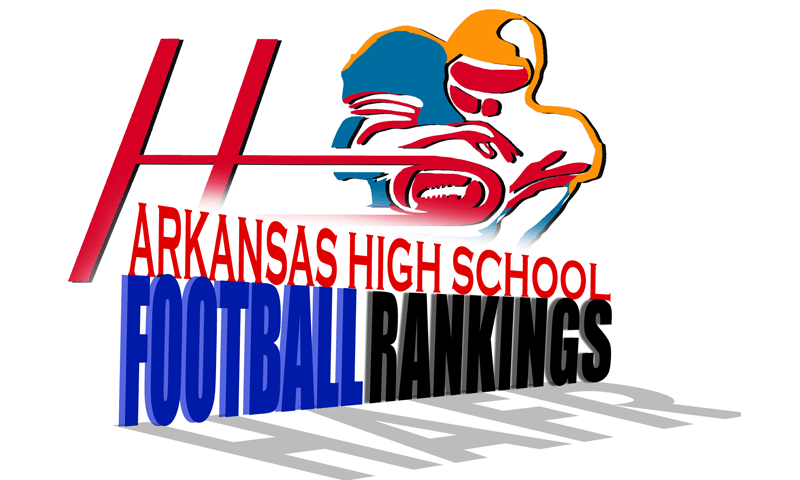 Hootens.com Rankings
Class 5A, Week 8, 2016
Copyright Hooten Publishing, Inc.
1. Pulaski Academy (6-1)
2. Wynne (7-0)
3. Morrilton (2-5)
4. Sylvan Hills (6-1)
5. Alma (4-3)
6. Batesville (4-3)
7. LR McClellan (5-2)
8. Watson Chapel (5-2)
9. Greenbrier (6-1)
10. White Hall (6-1)
11. Blytheville (5-2)
12. Harrison (6-1)
13. Forrest City (5-2)
14. HS Lakeside (3-4)
15. Nettleton (5-2)
16. LR Christian (2-5)
17. Valley View (4-3)
18. Farmington (3-4)
19. De Queen (3-4)
20. Hot Springs (2-5)
21. Camden Fairview (2-5)
22. Vilonia (4-3)
23. Maumelle (1-6)
24. Beebe (2-5)
25. Magnolia (2-5)
26. Mills (3-4)
27. Paragould (2-5)
28. LR Parkview (1-5)
29. Hope (0-7)
30. Clarksville (1-6)
31. Greene Co. Tech (0-7)
32. LR Fair (1-6)

GAME OF THE WEEK
No. 11 Blytheville at No. 6 Batesville
Both lost to Wynne this year (Blytheville 57-32 in Week 4 and Batesville 63-21 in Week 7). The winner likely gets the No. 2 playoff seed. Blytheville's 33-14 win over Batesville last season was its first in the series since moving to Class 5A in 2008. The Chickasaws clobbered Valley View 51-14 last week, breaking a 14-14 first quarter tie with an offensive onslaught. Only two seniors start on offense, "and that worries me," Blytheville coach Ben Fisher says. Senior QB Desmond Moore ran four times for 139 yards and two TDs against Valley View. Moore completes 52 percent of his passes this year (50 of 96) for 612 yards and seven TDs, and he's rushed 46 times for 384 yards and six TDs. Senior Demekko Clark didn't play in fourth quarter last week after taking a face mask to the shin. X-rays were negative and he'll likely play this week, Fisher says. Clark has 125 carries for 1,226 yards and 17 TDs this year. Blytheville senior safety Malik Smith and linebacker Corey Chunn are the top tacklers.

It's homecoming in Batesville and the Pioneers continue battling injuries. They played their fifth different middle linebacker last week at Wynne, as the Yellowjackets scored on seven of eight possessions in the first half. "It's no time for us to curl up in a corner in the fetal position," Batesville coach Dave King says. "We've got to plug the dam to make the playoffs." Batesville senior QB Zach Griffin completes 52 percent of his passes (66 of 126) for 1,014 yards and eight TDs, but he's thrown nine interceptions. Senior Kylan Robinson injured his ankle last week against Wynne. Robinson has 55 carries for 522 yards and three TDs and 28 receptions for 539 yards and two TDs in 2016. Senior end Blake Franks paces the Pioneers with 57 tackles, including 15 tackles for loss.

TV SHOW
Hooten's Arkansas Football TV show airs on KATV (Channel 7) at 10:30 a.m. Saturday's this fall.

LAST WEEK
Hootens.com correctly predicted 15 of 16 games (94 percent). For the season, Hootens.com has correctly predicted 132 of 153 games (86 percent).

WEEK 8 PREDICTIONS (favored team in CAPS followed by point spread)
5A CENTRAL
Mills at BEEBE (6): Mills and LR Christian are tied for fourth-place in the conference and they meet next week. Beebe could make the playoffs if it wins out and LR Christian losses twice. Mills led LR Fair 14-0 at halftime last week, while Beebe trailed LR McClellan 28-0 at halftime. Beebe senior halfback Nathan Burnett has nine TDs this fall.
LR MCCLELLAN (2) at LR Christian: These teams split their only two previous meetings, with LR Christian winning 35-0 Week 10, 2014, keeping the Lions out of the playoffs. This could be another tricky game for LR McClellan because LR Christian's passing attack causes match up issues. The Lions have put up at least 50 points in five games this season. Senior Pierre Strong ran 12 times for 200 yards and three TDs against Beebe. LR Christian junior QB Jackson Bowersock has passed for more than 2,300 yards and 24 TDs this fall. He threw three TDs and ran for another in last week's 51-7 win at LR Parkview.
LR Fair at SYLVAN HILLS (35): The War Eagles haven't won on the field (two forfeit victories) since beating now-defunct North Pulaski 20-0 Week 1, 2013. Sylvan Hills senior QB Jordan Washington passed for 123 yards and two TDs and ran for 102 yards and a TD in last week's 12-point loss at No. 1 Pulaski Academy.
PULASKI ACADEMY (38) at LR Parkview: This is the first meeting between these teams. Pulaski Academy won its 45th straight conference game last week, stopping Sylvan Hills 35-23. The Bruins intercepted two passes and blocked a punt. LR Parkview trailed LR Christian 37-0 in the second quarter last week. The Patriots give up 45 ppg.

5A EAST
Blytheville at BATESVILLE (1): Hootens.com Class 5A Game of the Week.
FORREST CITY (2) at Nettleton: The winner takes a big step toward the playoffs. Nettleton senior Melvin Isom ran for three TDs in last week's 35-point win at Greene County Tech. Forrest City wins games with its passing attack. Mustang seniors Noah Thomas (26 catches, 443 yards and seven TDs) and Trajan Norment (26 catches, 490 yards and nine TDs) are the top receivers.
Greene Co. Tech at VALLEY VIEW (14): Valley View has won its only two meetings over Greene County Tech by a total of 76-54. Valley View junior QB Joseph Waleszonia has more than 1,400 yards and 18 TDs this fall. Valley View senior linebacker Gannon Winstead returned an interception 34 yards to set up a TD in last week's loss at Blytheville. Winless GCT surrenders 43 ppg.
WYNNE (33) at Paragould: Paragould typically plays well against Wynne, winning twice in the past nine years. But the undefeated Yellowjackets steamroll opponents in 2016 by an average of 33 ppg. Wynne held Batesville to 95 yards in the first half last week, while senior Devontai Pounds ran for two TDs, returned a punt of a TD and intercepted a pass (the second straight game he's returned a punt for a TD and intercepted a pass).

5A SOUTH
Hope at CAMDEN FAIRVIEW (11): Camden Fairview keeps alive its playoff hopes with consecutive wins (the Cardinals beat De Queen by 13 points last week). Winless Hope surrenders 42 points weekly. Senior Chris Hargraves has more than 1,000 yards rushing this fall.
Hot Springs at WHITE HALL (7): Hot Springs coach Chris Vereen always has the Trojans keyed up to play his alma mater. Hot Springs' 24-point win last year snapped a three-game losing streak in the series. The Trojans have gotten better the past three weeks (sandwiched wins over Hope and Magnolia around a heart-breaking one-point loss at De Queen). Hot Springs senior Erick Guadron kicked two field goals in last week's 28-13 win over Magnolia. White Hall must regroup after last week's disappointing five-point loss to rival Watson Chapel (gave up winning TD with 34 seconds left). Bulldog senior Lance Smith ran for 172 yards and four TDs against Watson Chapel.
WATSON CHAPEL (21) at Magnolia: Expect an emotional letdown from Watson Chapel. The Wildcats beat White Hall in the final minute last week, with junior QB Jakobi Jackson throwing the winning 65-yard TD pass. Jackson passed for 370 yards and five TDs and ran for 54 yards. Magnolia led Hot Springs 7-0 in the first quarter last week before losing 28-13.
De Queen at HS LAKESIDE (14): HS Lakeside has beaten De Queen the past two seasons by a total of 16 points. The game last year was delayed three days after Lakeside's bus crashed Friday on the way to the game, and the Rams threw the winning TD pass in the final minute on Monday for a 22-21 triumph. Lakeside continues alternating sophomore Taylor Gilham and senior Fisher Alexander at QB. Gilham has passed for 682 yards and five TDs, while Alexander has 672 yards and six scores.

5A WEST
Harrison at ALMA (8): The winner takes over the league's No. 2 position heading in the final two weeks. Alma blanked Clarksville 35-0 last week. Alma senior QB Noah Dotson has ran 88 times for 478 yards and three TDs this season, while completing 91 of 163 passes for 1,436 yards and 12 TDs, with just two interceptions. Harrison continues alternating senior Taner Edwards and junior Noah Ditmanson at QB. Edwards has passed for 496 yards and three TDs and rushed for 148 yards and two TDs, while big-play Ditmanson has passed for 403 yards and six TDs and rushed for 337 yards and six scores.
GREENBRIER (28) at Clarksville: Greenbrier could host Alma next week for at least a share of the conference title. The Panthers put up 442 yards per week. Senior Cody Hopper ran for the winning TD against Harrison last week, and he's rushed for 528 yards and three TDs this fall. Clarksville's offense has scored just nine TDs this season.
Farmington at MAUMELLE (4): Farmington beat Vilonia 32-13 last week, jumping to a 16-7 halftime advantage. The Cardinals ran for 304 yards. Maumelle lost at Vilonia 7-0 Week 5. Maumelle sophomore QB Xavion Morgan completed 11 of 27 passes for 272 yards and three TDs last week against Morrilton, including an 81-yard TD strike after scrambling from pressure.
Vilonia at MORRILTON (21): Morrilton has won six straight on the field (two straight officially after four forfeitures). The Devil Dogs likely make the playoffs with two more wins, and could host a home game with some help. Morrilton senior QB Caleb Canady has passed for 1,402 yards and 18 TDs this year, while junior Danny Smith has rushed for 643 yards and nine TDs.