RECRUITING: Riverview tough, trending up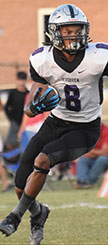 SR Ashton Williams
With each victory, Riverview raises the standards for its toddler football program.
Fielding its first varsity team in 2008, Riverview advanced to the Class 3A playoffs five times from its inaugural season until 2013.
After bumping to Class 4A, Riverview has qualified once for the playoffs, finishing third in the 2-4A in 2017 while winning a school record seven games.
But reaching the playoffs is no longer the goal for Searcy's youngest football program. These Raiders can lock up their first league title with four more victories. They (5-1) already have won their opening three conference games for just the second time in program history. Watch highlights of the Riverview's win last week over Mills and postgame reaction HERE.
The turnaround coincides with Drake Widener taking over the program in January. Widener coached Des Arc to a 34-14 record from 2015-2018, winning the 2016 6-2A title.
Riverview can move to 4-0 for the first time ever in conference play this week at winless Stuttgart. Riverview has never beaten Stuttgart.
Although the expansive school located off Highway 167 is highly visible when driving through Searcy, most of its students don't identify as Searcy natives. The Riverview school district encompasses surrounding rural areas Georgetown, Griffithville, Higginson, Kensett and Judsonia.
"A lot of these kids come from families with chicken houses or farms," Widener says. "I feel I'm cut from the same cloth as some of them, and it's a good fit.
"Our culture has become the weight room. The first thing we did was develop toughness through the weight room. We want to be tougher and outwork our opponents. That work ethic fits our persona. We don't mind working hard."
Widener demanded discipline and accountability in the spring, which shaved participation from 45 to 32 players.
"The first two months we didn't work on football because we were spending all our time doing up-downs," the coach says. "But we have 32 players who understand what it takes to get to this point."
The Raiders led Mills 31-7 at halftime last week and staved off a late rally for a 37-27 win. "We needed to learn that you play how you prepare," Widener says. "We didn't prepare or practice well all week, and it showed in the second half. This week has been the most focused in practice we've been this year."
Senior quarterback Logan Miller (5-9, 185) has emerged as Riverview's top big-play threat. Miller (in Mary Kay Hill photo above) ran for 277 yards and four touchdowns and threw a 20-yard TD pass against Mills. Miller has carried 123 times this year for 1,025 yards (8.3 yards per carry) and 15 TDs, and he's hit timely passes for 279 yards and a pair of TDs.
Every in-state Division II school has inquired about Miller, "and his recruitment will heat up once our season is over," Widener predicts. Miller triggers everything the Raiders do at QB, but he could play slot receiver or safety in college.
With 4.6 speed, Miller makes cuts at full speed "and plays like he's a 4.4 (speed)," the coach says. "He's a true slash guy, an athlete."
Senior running back/slot receiver Ashton Williams (5-10, 150) garners attention from all in-state D2 schools. Williams has rushed 69 times this fall for 628 yards (9.1 ypc) and nine TDs. He's caught more passes than the rest of the Raiders combined, hauling in 15 for 145 yards and two TDs.
As a cornerback, Williams (4.5 speed) has recorded 12 tackles, three pass breakups, one interception and a forced fumble. "He's a college corner because of his speed and quick hips," Widener says. 
Senior linebacker Santos Gutierrez (5-10, 185) paces Riverview with 41 tackles, despite not playing the past two weeks with an injury. Gutierrez should return this week at Stuttgart, "and he's our guy on defense," the coach says. "Everything goes through him." Widener believes an in-state D2 will sign Gutierrez.
A few underclassmen and sophomores could develop into college prospects, if they progress in the weight room, Widener says. 
The talent pool doesn't dry up with the varsity. Riverview's undefeated junior high plays host Thursday to Stuttgart for the conference championship.
"They've never had success like this," Widener says, "so we have to learn how to handle it. We've told them winning a conference championship is a war of attrition. It's a matter of being prepared and focused each week."