Hogs happy with QB Kelley; more notes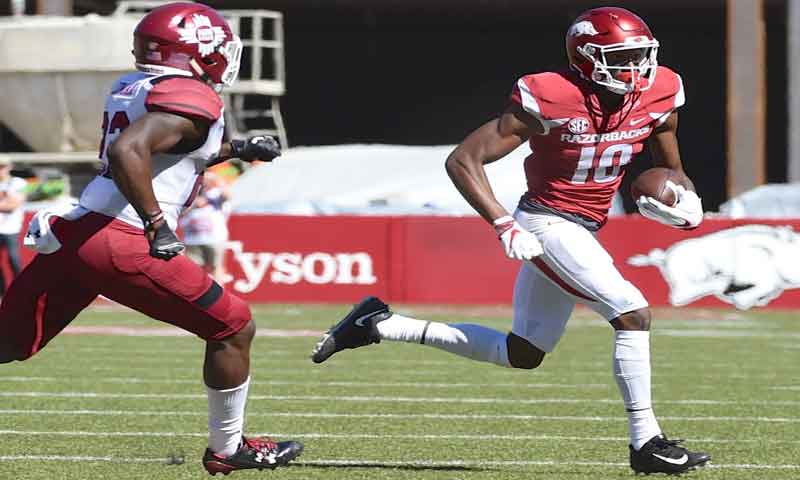 By OTIS KIRK
FAYETTEVILLE - Arkansas head coach Bret Bielema and offensive coordinator Dan Enos praised redshirt freshman quarterback Cole Kelley on Monday for his performance against Alabama.
Alabama torched the Razorbacks 41-9 Saturday night, but Kelley completed 23 of 42 passes for 200 yards and a touchdown. Bielema said senior QB Austin Allen (shoulder) is unlikely to play this week against Auburn. Allen did make the trip to Alabama.
"Cole got all the reps last week as the one," Bielema said. "Ty (Storey) went all week as the two. Austin really did a nice job in the course of the (Alabama) game, I thought, to help Cole handle the game.

"But Austin is a little bit different situation this week. There is a chance by the end of the week. Until then, we'll continue to rep Cole and Ty. Jack Lindsey was technically our third-string quarterback."
Arkansas did go up-tempo against the Tide with Kelley at QB.
"It was something we were able to capitalize and use with Cole that truly gives him our entire offense but at a tempo," Bielema said. "And then we also went before the end of the half with two-minute, which is primarily one offensive package with a huge emphasis in the throwing game. They both look similar, and it's something we're excited with the way Cole handled it. But for our offense, defense and special teams to work together our huddle system is something we definitely will use."
Kelley operated the tempo offense just before halftime on the drive that took the Hogs to the Alabama 3-yard line.
"I think it was good for Cole. It allowed him to not stand in the huddle for a long time," Enos said. "Just get lined up and play the next play. It kept him going, kept him thinking, and he likes to have the ball in his hands anyway. In some of these scenarios there were quarterback reads, run-pass options, and I think he really responded very well to that."
And if Bielema likes the up-tempo, there could be more going forward.

"Since I have been here we haven't had that in our system, the ability to do that," Enos said. "We kind of pick and choose. Coach Bielema has a lot to do with that. When he gets a feel for the game in the flow of the game, he makes suggestions on when we should do it and if we should do it.
"Again, I think it will be a week-to-week thing, a game-to-game thing. Some games you are huddling and the rhythm is going good. You know we don't need it right now or we're not moving the football. You have to pick and choose and then we're able to jump into it."
Kelley completed passes to eight receivers, including four to Smackover's Jordan Jones for 72 yards and a TD. Sophomore Deon Stewart caught a team-high six balls for 65 yards.
"I thought he played very well," Enos said. "I base a lot of my stuff on the communication he and I had during the game. This is my 27th year with quarterbacks and I have been in a lot of quarterback dialogues during games. I can tell a lot about a guy by how he's communicating with me: his mindset, his demeanor, what he's seeing and what he's not seeing. I was talking to a very poised, confident player, and the moment wasn't too big for him. He was communicating with me clearly. He was making good decisions."
Enos noted that any struggles Kelley had against the Tide weren't the first for a QB facing them this season.
"For every quarterback I have seen play against that defense, there are plays where you say, 'why did I just do that right there?' They make you do that," Enos said. "They are very fast and very physical and they're very complicated. They do a great job pre-snap showing you one thing and then when the ball is snapped showing you something different.
"I thought Cole made some tremendous plays. The times we got the ball down inside their 5-yard line three times was because of Cole Kelley. Plays he made and things he did. Whether it was on third down or the big post to Jordan Jones on second down. Just seeing things and making good decisions. If you asked me the best thing he did on Saturday, he competed and competed to win the football game every play he was in there. He wanted to give his team a chance to win and competed at that level. Again if a guy is gonna do that there's a lot of things you can build on."
Kelley, a redshirt freshman QB, made his first collegiate start in a hostile situation against possibly the nation's best defense. Alabama hurried Kelley 11 times and sacked him five times.
"I do sense our team has confidence in him," Enos said. "Yes, I do. I've felt that even as far back as fall camp and the spring. He's a real likable guy first and foremost. He's got a really good personality. I think the guys respect his work ethic. I think they respect his ability, and that's where it starts for me.
Kelley and the Razorbacks return home to host Auburn at 6:30 Saturday night on the SEC Network.