Class 6A Week 8 Rankings, Notes & Picks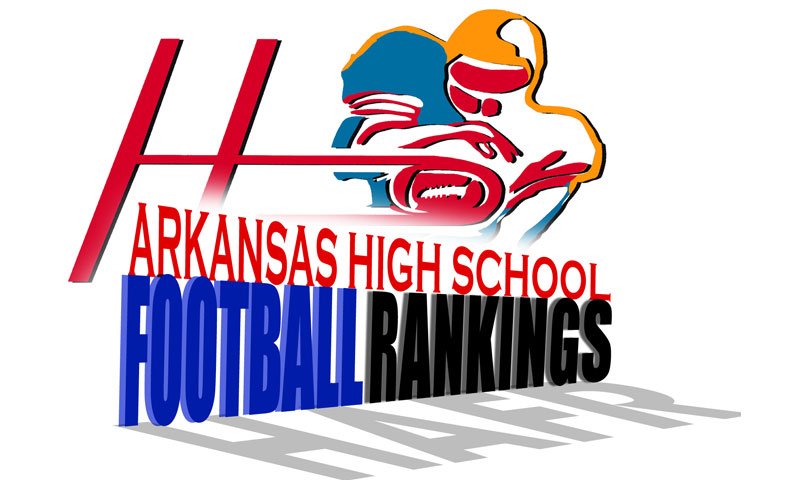 Hootens.com Rankings
Class 6A, Week 8, 2017
Copyright Hooten Publishing, Inc.

1. Greenwood (7-0)
2. El Dorado (6-1)
3. Pine Bluff (6-1)
4. West Memphis (7-0)
5. Benton (5-2)
6. Texarkana (4-3)
7. Searcy (5-2)
8. Jonesboro (4-3)
9. Marion (3-4)
10. Russellville (3-4)
11. Lake Hamilton (3-4)
12. Siloam Springs (2-5)
13. Jacksonville (3-4)
14. Mountain Home (0-7)
15. Sheridan (0-7)
16. LR Hall (1-6)

GAME OF THE WEEK
No. 1 Greenwood at No. 5 Benton
Benton's five-game winning streak ended last week at El Dorado, but the Panthers can get back in the conference title hunt with a win over Greenwood. Benton forced four El Dorado turnovers and led 20-17 in the third quarter but lost 27-20. It was Benton's first loss in the past six games vs. El Dorado. Benton sophomore quarterback Peyton Hudgins completed 14 of 25 passes for 183 yards with a scoring toss to Gavin Wells. Running back Beau Brewer recorded two 1-yard TD runs.  Greenwood, the top scoring offense (43.1 ppg) and defense (12.1 ppg) in Class 6A, expanded a three-TD halftime lead at Russellville last week en route to a 38-13 win, avenging a loss in last year's Class 6A state final. Greenwood is the 6A West's last unbeaten team, and the Bulldogs finish at Benton, at home for Sheridan and at Lake Hamilton. Senior QB and University of Arkansas commit Connor Noland completes 68 percent of his passes for 1,517 yards and 19 TDs with four interceptions. Senior running back Kenny Wood has rushed for 1,010 yards and 16 TDs. Junior receiver Peyton Holt has 55 catches for 801 yards and 12 TDs. Senior Nick Vota paces Greenwood with 92 tackles (22 for loss), while Camden Beshears and John Womack have recorded 55 stops apiece.

LAST WEEK
Hootens.com correctly predicted the winners in eight of eight games (100 percent) last week involving 6A teams. For the season, hootens.com has correctly picked 55 of 64 games (86 percent).

TV SHOW
Hooten's Arkansas Football airs 10:30 a.m. Saturdays on KATV (ABC Little Rock) Ch. 7, covering the Razorbacks, high school teams and players to watch.

WEEK 8 PREDICTIONS (favored team in CAPS followed by point spread)
6A EAST
PINE BLUFF (10) at Marion: Marion is tied for third in the conference with three other 2-2 teams. The Patriots amassed 454 yards of offense last week, converting five of 11 third downs and four of five fourth downs in a 41-20 win at Mountain Home. Senior QB Jacob Green passed for 309 yards and five TDs (to three receivers). Pine Bluff slipped Searcy 57-34 when its defense scored a TD for the third straight week. Landers Auto Group Super Teamer Jyrimee Thompson collected six catches for 112 yards and four TDs. Pine Bluff's skill players could cause fits for Marion.
Jonesboro at SEARCY (2): Teams are 2-2 in the league. Jonesboro trailed visiting West Memphis 19-0 at halftime last week and allowed more than 300 yards rushing. Jonesboro senior QB A.J. Aycock completed 13 of 23 passes for 260 yards and two TDs to Daishon "Chunky" Fountain. Searcy trailed Pine Bluff by three points but  allowed the Zebras to score the game's final 20 points in a 57-34 loss. Searcy outgained Pine Bluff 445-444, but three Lion turnovers led to 21 Zebra points. Each team can throw the ball, but the team able to establish the more effective running game likely wins.
Jacksonville at WEST MEMPHIS (21): Jacksonville is tied with three other teams with a 2-2 league record. The Titans' Shawn Ellis scored three TDs and Shawn Ellis returned an interception for a score, while Josh Huber kicked a 22-yard field goal in last week's 38-6 win at Hall. West Memphis, the top scoring defense in the league (13 ppg), limited Jonesboro to a season-low 17 points and 72 rushing yards while senior end Verndarious Hodges racked up four sacks. West Memphis wins if it isn't looking ahead to next week's trip to Pine Bluff, which likely decides the 6A East title.
MOUNTAIN HOME (7) at Hall: Loser likely misses playoffs. Hall carries a 51-game conference losing streak, which dates to October 1, 2010 when the Warriors won at Mountain Home 50-35. Mountain Home intercepted three Marion passes last week and the Bombers' young secondary (starts two sophomores) improves every week. Mountain Home's ball-control offense snaps an eight-game losing streak.

6A WEST
GREENWOOD (17) at Benton: See hootens.com Game of the Week.
Siloam Springs at EL DORADO (20): Siloam Springs amassed 309 yards last week in a 34-27 loss to Lake Hamilton. Junior QB L.T. Ellis passed for 249 yards and two TDs, while junior playmaker Kaiden Thrailkill totaled 115 yards and two scores. El Dorado earned the playoff tiebreaker over Benton in a 27-20 home win. El Dorado limited Benton to 91 rushing yards, while QB Darius Holly passed for 237 yards and a TD with one interception. El Dorado's defense continues to play well as the Wildcats move closer to a first-round playoff bye.
Russellville at TEXARKANA (3): Teams are 2-2 in the 6A West and own 18 tiebreaker points apiece. Winner likely finishes fourth and earns a home playoff game. Russellville finishes at Texarkana and home for El Dorado and Siloam Springs. Russellville threw four interceptions in last week's 38-13 loss at Greenwood, its first interceptions thrown this year. Texarkana slammed Sheridan 35-21 behind 184 rushing yards and three TDs by Jordan Hall. Drake Browning and Sean Foreback added scores for the Hogs. Texarkana's undersized but speedy defense makes enough plays to spark the Razorbacks.
LAKE HAMILTON (10) at Sheridan: Loser likely misses playoffs. Sheridan carries a 16-game losing streak, 11 in conference games. Landers Auto Group Super Teamer Jackson Coleman has caught 16 passes for 244 yards and a TD. Sheridan committed two turnovers last week in a 35-21 loss at Texarkana. Lake Hamilton, which has improved every week, snapped a three-game losing streak in a 34-27 win at Siloam Springs, led by senior Jacob Nichols' 218 rushing yards and two TDs.