HOGS: Boyd OK, but Whaley out; notes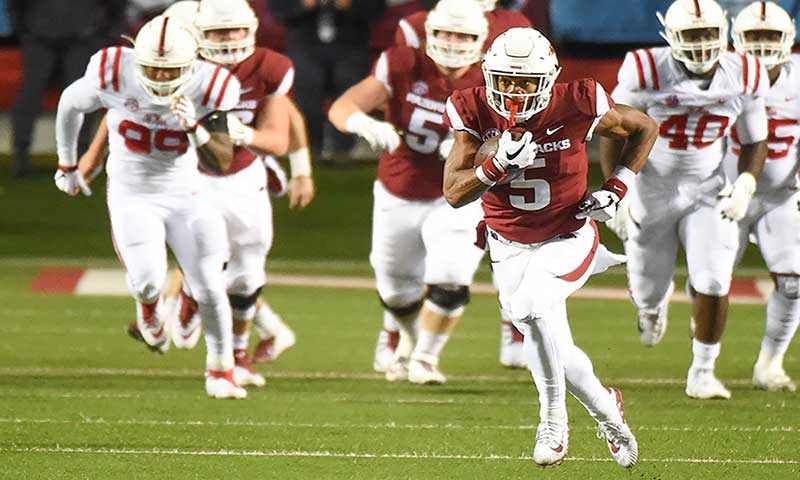 FAYETTEVILLE - Arkansas coach Chad Morris said Monday that running back Devwah Whaley is out, quarterback Ty Storey is being reevaluated and running back Rakeem Boyd and defensive end McTelvin "Sosa" Agim should play in Saturday's 11 a.m. non-conference game against visiting Tulsa (1-5).
Ole Miss defeated Arkansas 37-33 Saturday in Little Rock. 
WHALEY SURGERY
Whaley was scheduled for surgery Monday on his injured ankle. "We hope to get him back some time in November," Morris said.
Whaley is expected to miss Saturday's game and the Oct. 27 game against Vanderbilt at Reynolds Razorback Stadium.
Arkansas gets its open date during the Nov. 3 weekend before finishing with SEC games against LSU on Nov. 10 in Fayetteville, Nov. 17 at Mississippi State and Nov. 23 at Missouri.
Boyd carried seven times for 109 yards, including a 69-yard TD against Ole Miss, before aggravating an old back injury and exiting during the first half. Boyd appears OK now, Morris and offensive coordinator Joe Craddock said Monday.
Sophomore Chase Hayden, finishing Saturday's game after Boyd and Whaley went down, and junior T.J. Hammonds back up Boyd at running back.
Agim appears recovered from Saturday's knee injury to play against Tulsa, Morris said. 
STOREY BY THE HOUR
Storey, the fourth-year junior QB, took a hard hit ending with his head hitting the War Memorial Stadium turf as he battled for 10 yards and a first down on second and 10.
"We'll know more on Ty Tuesday and where we're at with him," Morris said. "And then from there we'll just re-evaluate it and see how it goes from there."
Craddock said the evaluation with Storey is "by the hour right now.
"I talked to Dave (Polanski, the head football trainer) right before we came in here, and he said Ty's feeling a little bit better than he has been, so that's good," Craddock said. "But you know, it's football. You have to have the next guy ready to go."
KELLEY AND NOLAND
Saturday night's "next guy" was sophomore Cole Kelley, confusing the SEC Network TV crew who thought freshman Connor Noland of Greenwood had moved ahead of Kelley, a starter for four games last season and two games this season.
Kelley (6-7, 250) played in Saturday's first half in goal-line/short-yardage packages designed for his size, and he threw a 39-yard second-quarter TD pass after Storey was shaken up for the first time on a hard hit.
Kelley finished Saturday's game that Arkansas led 33-24 going into the fourth quarter.
"Yeah, I'm not sure where they got that, but they've been splitting reps," Craddock said, explaining Noland has improved.  "Connor has really understood the offense a little bit more than he has since we started. He's learning and he's getting more comfortable, and I think that may be why he's been a little bit better during practice."
However, Craddock said Saturday's setting made Kelley the obvious choice since he already had played in the game and is far more experienced.
"Putting Connor in an SEC game in the fourth quarter would be unfair to him," Craddock said. "Cole has played a lot of football.  He's played against Ole Miss before (starting Arkansas' lone SEC victory of last season). We just felt like he gave us the best chance to finish it off."
PULLEY UNCLARIFIED
Because his game-ejecting unsportsmanlike conduct penalty in the waning seconds vs. Ole Miss did not involve a fight, it appears the SEC office won't suspend Arkansas cornerback Ryan Pulley from playing the first half against Tulsa.
Morris, noting Pulley's status from the ejection still hasn't been officially clarified, implied he may have disciplinary plans of his own.
"I thought there were some things we did that were not what we're about," Morris said. "I was disappointed."
Morris and defensive coordinator John Chavis said redshirt freshman Montaric Brown is next in line behind Pulley at corner.
RICK'S RECOVERY
Morris opened his Monday press conference extending "thoughts and prayers" to Rick Schaeffer, the former UA sports information director and ever active Razorback historian still involved in hosting the Radio Network's pregame and providing statistics during the broadcast.
Schaeffer became ill before Saturday's game at Little Rock and was rushed to the University of Arkansas Medical Science Hospital. Schaeffer was resting comfortably after heart surgery Monday and could be released Tuesday, Arkansas associate AD Kevin Trainor said.