RECRUITING: 6-0 Paris Eagles soar into Atkins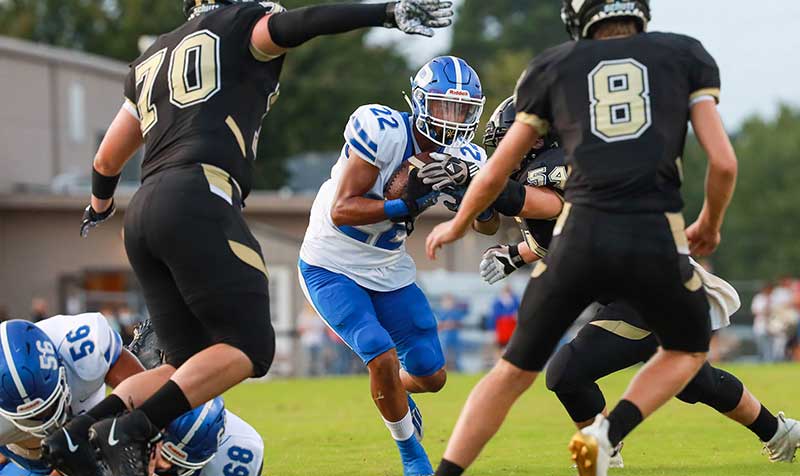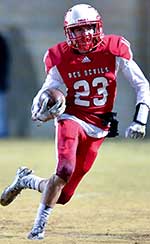 Atkins SR Kreed Stubbs
Paris is 6-0 for the first time since 1956, when the Eagles went 10-0-1 and outscored opponents 323-19. They tied Booneville 0-0 in the season finale (no playoffs back then), finishing as the only unbeaten team in Class A.
Paris isn't as dominant as its counterpart of more than six decades ago. But the 2020 Eagles have won their opening six games by an average of 30 points. A 4-3A road victory over Atkins this week would equal the win total of the past three seasons combined.
Paris' recent rocky history magnifies what it has accomplished this fall. Third-year coach Tyler Clark took over the program in 2018, and Paris subsequently went 0-10.
Clark, a Russellville native, assisted on Warren's 2014 state championship team, he coached at Marion for two years before taking over the Paris program.
"When I got here, we switched from the Wing T to the Spread," Clark says. "After two weeks, I realized when I would tell our receivers to run a post route, they had no idea what I was talking about. So we had to scale back and start from zero. We spent most of the first year teaching terminology and fundamentals."
The foundation solidified last fall when Paris won three games.
Fortunes swung this summer when junior running back Duke Walker (6-0, 185; 4.6 speed) moved from Ozark. Walker, who as a freshman committed to play baseball at Missouri, helped fuel Ozark's run to the Class 4A semifinals a year ago. When injuries mounted late in the season, Walker (in Richey Miller photo above) logged six carries for 83 yards and a touchdown in a seven-point quarterfinal win over Pea Ridge.
This fall, Walker has carried 50 times for 492 yards (9.8 yards per carry) and seven touchdowns. He has logged 32 tackles and an interception in the secondary. "He's a playmaker," Clark says.
Walker's backfield mate, senior Ely Fore (5-11, 185), "looks the part of a college football player," the coach says. "He's fast (4.5 speed) and runs with power."
Fore's 53 carries this fall have netted 338 yards and a pair of TDs. Clark predicts multiple in-state Division 2 offers this winter Fore.
Junior quarterback Chase Watts (5-10, 160) "has talent,," Clark says. "He's made himself into a great high school player with film work." Watts averages 11.5 yards per carry while running for eight TDs. He has completed 42 of 76 passes (55 percent) for 594 yards and 10 TDs.
Senior receivers Blake Martines (5-3, 110; 4.5 speed), and Tyler Gierke (5-8, 150) and junior Keller Keen (5-7, 155; 4.5 speed) "are fast and good for our scheme," Clark says. Junior Cooper Haley (6-4, 160) has developed into the top possession receiver.
Paris' powerful linemen open those running and passing lanes. Explosive senior right tackle/defensive end Adam Chandler (6-2, 235) has drawn recruiting interest from in-state D2 schools.
Senior Jimmy Dikeman (6-3, 305) and junior Mequeil Ellingberg (6-2, 230) are possible D2 linemen prospects. At noseguard, Dikeman "is dominant," Clark says. He has 37 tackles this fall and forced two turnovers this fall. Ellingberg "has a motor and plays smart," the coach says. Ellingberg has logged 24 tackles this year and returned three fumbles for TDs.
Junior left tackle Ryan Post (6-4, 280), a 16-year old who enrolled in elementary school a year early "has a high ceiling," Clark says. "He's a throwback guy, plays mean and nasty."
Junior linebacker Nate Henderson (5-9, 150), "is our defensive leader," Clark says. "He always finds a way to make plays."
Henderson has 46 tackles this fall, and returned a fumble for a TD. At West Fork in Week 2, Hendrson intercepted a pass and returned it for the clinching TD in the third quarter. On fourth-and-goal in the fourth quarter, he made a solo tackle to seal the victory.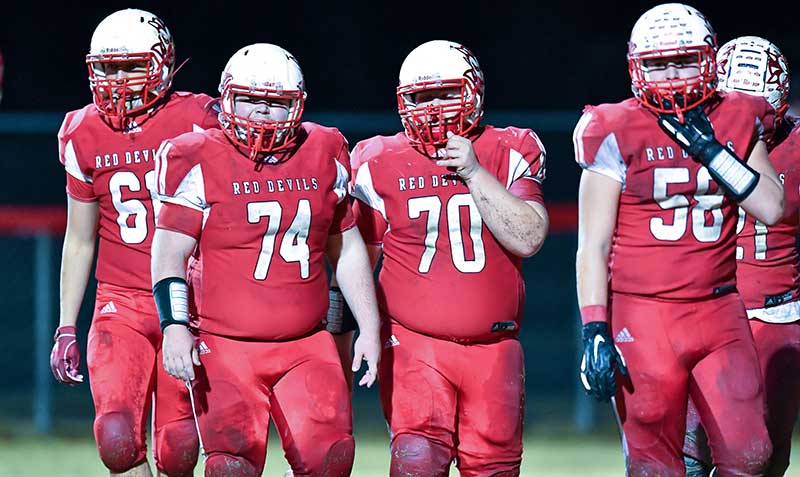 While Paris' start has surprised, Atkins (5-1) has enjoyed recent success. The Red Devils won at least seven games each of the past four years. This fall, they outscore opponents by an average score of 40-23 behind veteran linemen

Tyler Leggitt, Hunter Morgan, Payten Sutterfield, Josh Carpenter (left to right in in Ted McClenning photo) and Brayden May.
Matt Porter elevated from defensive coordinator to head coach in late May after former coach Tommy Cody retired. Porter spent the previous six seasons assisting at Atkins, including the past two as defensive coordinator.
The Red Devil offense rolled the past two weeks, putting up more than 50 points against Perryville and Danville. "I'm really an offensive guy and coached defense out of necessity," Porter says. "I have the same beliefs about offense as Coach Cody, so we haven't changed much. I think not having a transition has helped."
Senior Donovan Nooner (6-0, 190) has developed into Atkins' workhorse. Nooner, who tallied just 374 yards last fall in a pass-heavy scheme, has emerged in 2020 with 98 carries for 927 yards and 11 TDS. In last week's shootout with Danville, Nooner erupted for 312 yards and four TDs.
Nooner desires to play college football "and should be getting a lot of looks," Porter says. "He's made himself into a player with his work ethic." The coach projects Nooner to sign with a D2 school in the spring.
Senior receiver Kreed Stubbs (6-0, 175) popped up on national recruiting radars last fall after clocking 4.4 speed at several combines, including a camp at LSU. 
"The best thing is that he runs 4.5 with his pads on," Porter says. "I've never seen anyone catch him."
Stubbs (in Ted McClenning photo) caught 62 passes last year for 1,413 yards and 24 TDs. He owns scholarship offers from Arkansas Tech and Henderson State.
Stubbs isn't putting up mind-numbing numbers this fall (22 catches, 483 yards and six TDs) because the Red Devils have a dependable running attack and a first-year quarterback. "He's doing everything he can to help us win," the coach says. "He has great hands and doesn't mind blocking."
Porter believes senior receiver Trenton Casto (6-1, 175) was on the cusp of getting multiple D2 offers before dislocating his hip Week 3. Casto averaged 15 yards per catch before the injury. "He's an unbelievable leader and wants to be a coach," Porter says. "Hopefully, he can play in college or be a volunteer coach. He has a great football mind."