Ta'amu, Ole Miss gut Hogs 37-33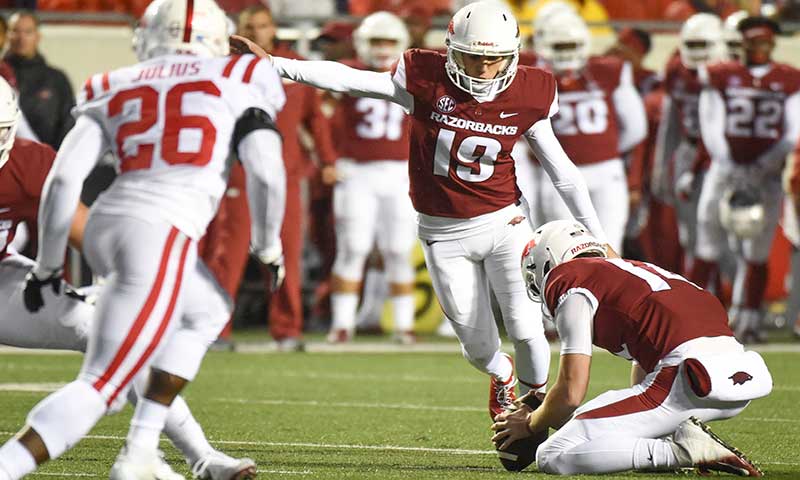 LITTLE ROCK - The Arkansas Razorbacks lost their starting quarterback and top two running backs Saturday night, and they seldom could locate Ole Miss quarterback Jordan Ta'amu.

The defense losing containment of Ta'amu ultimately caused Arkansas to lose a two-point lead and the SEC game, 37-33 to the Rebels with 42 seconds left on a rainy night at War Memorial Stadium.

Ta'amu completed 26 of 35 passes for 387 yards and two touchdowns with one interception. He ran 17 times for 141 yards net with an 18-yard TD.

With the Rebels trailing 33-31 and booted back to their 3 with 2:02 left on Reid Bauer's 64 punt, Ta'amu hit a second-and-10 20-yard pass to A.J. Brown digging the Rebels out of their hole. He then completed a 48-yard pass to Braylon Sanders with linebacker Scoota Harris making a TD-saving tackle at the 29. Ta'amu then ran 15 to the 14.

Rebels running back Scottie Phillips (18 carries for 90 yards) took it from there with a 9-yard run and 5-yard TD as the Rebels completed a seven-play, 97-yard drive in 90 seconds  to doom first-year coach Chad Morris' Hogs to their sixth consecutive defeat.

"We knew Ole Miss was one of the top offensive units in the country," Morris said. "They made some plays on that last drive. A guy (Ta'amu) who rushes for 154 and passes for 387, he had a heck of a night. His ability to see the field when the pocket is collapsing around him makes him one of the top quarterbacks in our league running and passing the football."

While lauding Ta'amu, Morris wasn't going to swap UA QB Ty Storey's toughness for anybody. The Arkansas fourth-year junior completed 12 of 16 for 122 yards and a TD and rushed nine times for 73 yards, absorbing blows than a punching bag.  He came out of the game and re-entered after taking a first-half hard shot before being knocked out of the game, buckling after he had stood his ground rather than sliding exactly to net a 10-yard first down on Arkansas' first series of the second half.

Storey will be checked for concussion protocol.

"I thought Ty Storey was the toughest football player in the stadium without a doubt," Morris said. "I loved the way we ran the football. When we had Devwah (12 carries for 67 yards exiting in the third quarter with an injured ankle) and  Rakeem (seven carries for 109 yards before injuring his back in the second quarter) going at the pace where they were very effective. I wish they could have finished the game, but it's next man up."

On Saturday night's heartbreaker that they led from 3:24 of the first quarter until the final 42 seconds, the Razorbacks fall to 1-6 overall, 0-4 in the SEC heading into next Saturday's 11 p.m. non-conference game against the Tulsa at Reynolds Razorback Stadium in Fayetteville.

Second-year coach Matt Luke Rebels (5-2, 1-2) next play host to reeling Auburn, which lost Saturday at Tennessee.

With Ole Miss trailing 33-24 with 2:33 left in the third quarter after Arkansas' Connor Limpert kicked his fourth field goal in four attempts, Ole Miss went 84 yards in seven plays from 7:09 to 4:15 in the fourth quarter. Ta'amu followed his 11-yard pass to running back Isaiah Woullard by rushing 27 yards from the Arkansas 29 setting up running back Woullard's 2-yard TD.

Arkansas backup QB Cole Kelley, throwing a 39-yard TD pass to La'Michael Pettway the first time he replaced Storey, completed a  21-yard pass to Pettway in the fourth quarter but threw incomplete on third and 5 before Bauer punted the Rebels 97 yards from the end zone that they reached in seven plays.

Kelley threw Arkansas' lone interception with the Hogs desperate at their 28 after Ole Miss went ahead for keeps.

The 10-3 lead that Arkansas took during Saturday's first quarter and  27-17 for Saturday 'first half  marked the Razorbacks' first first-quarter lead and first halftime lead since leading Colorado State 7-3 in the first quarter and 13-9 in the season's second game.

The Rebels and Razorbacks each capped their game's first drive with field goals.

Ta'amu's 49-yard pass A.J. Brown was the impetus before defensive end Sosa Agim's stop of Ta'amu's third down scramble preceded Luke Logan's 32-yard field goal at 12:49.

His kicking position pushed back by defensive end Jamario Bell of Junction City's third down sack of Ta'amu, Logan missed a 43-yard field goal attempt during the second quarter.

Logan missed again, a 28-yarder in the fourth quarter after Arkansas linebacker Scoota Harris leveled Ta'amu for six  on his third and nine keeper to the Arkansas 11.

Connor Limpert, who kicked the game-winner  with four seconds left when Arkansas defeated Ole Miss, 38-37 last year in Oxford Miss. answered with a 43-yard first-quarter field goal and kicked a 38-yarder for  27-10 lead with 2:36 left in the half before Ta'amu quarterbacked a 10-play 77-yard drive tallying a 6-yard TD pass to DaMarukus Loge an Logan's PAT to pull the Rebels trailing, 27-17 just 33 seconds before intermission.

Storey, who completed a 35-yard pass to wide open running back Rakeem Boyd on the drive to Limpert's first field goal, utilized Boyd for three runs for 31 yards on Arkansas' next possession before connecting with tight end Cheyenne O'Grady for the 39-yard touchdown pass and the 10-3  lead at 3:24 of the first quarter marking Arkansas first SEC game lead in its four SEC games.

Arkansas cornerback Ryan Pulley's interception of a Ta'amu pass in the end zone thwarted a Rebels' bid before Boyd made it 17-3 popping through the middle unstopped for a 69-yard touchdown with 31 seconds left in Arkansas' 17-3 first quarter.

Boyd, 7 carries for 109 yards and 2 catches for 36 yards  and Storey both were injured during Arkansas' next series after Ta'amu's 18-yard touchdown run cut the lead to 17-10 at 12:23 of the second quarter.

Storey would return; Boyd would not.

Whaley, 12 carries for 67 yards and returned after missing two games with a concussion, filled in admirably until exiting injured during the third quarter.

Already hit on a targeting foul ejecting Ole Miss defensive back Vernon Dasher from the game, Storey got shaken up by an Ole Miss hit upon catching a trick play pass from receiver Jared Cornelius at the Ole Miss 39.

On the next snap,backup quarterback Cole Kelley connected with receiver La'Michael Pettway in the end zone's right corner for a 39-yard touchdown at 10:50 and a 24-10 lead.

Arkansas never punted in the first half and Ole Miss punted but once.

The game was played ranging from a steady rain to a downpour but the crowd, 51,438 tickets were distributed, stayed practically as one to the finish.

"I want to thank our fans," Morris said. "The environment, considering the weather, was incredible."