#22 Hogs vs #12 Ole Miss: run D key in shootout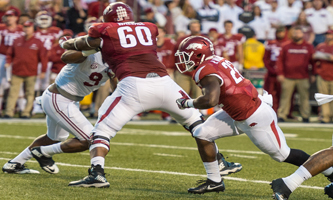 FAYETTEVILLE
- Running into trouble in a passing duel concerns the 22nd-ranked Arkansas Razorbacks against No. 12 Mississippi.
Coach Bret Bielema's Razorbacks (4-2 overall, 0-2 in the SEC West) and Coach Hugh Freeze's Ole Miss Rebels (3-2, 1-1) clash at 6 p.m. Saturday on ESPN at Reynolds Razorback Stadium.
The competing quarterbacks, Ole Miss senior Chad Kelly, and Arkansas junior first-year starter Austin Allen, rank 1-2 in SEC quarterback rating.
Kelly sports a 163.20 efficiency rating, completing 115 of 174 for 1,596 yards with 13 touchdowns vs. four interceptions. Allen of Fayetteville sports a 158.07 QB efficiency rating completing 119 of 187 for 1,632 yards with 15 TDs with five interceptions.
Both throw to Mackey Award candidate tight ends. Senior tight end Evan Engram leads Ole Miss with 30 catches for 479 yards and four TDs, while Arkansas senior Jeremy Sprinkle of White Hall has caught four TDs among 18 receptions for 194 yards.
Five Rebel receivers range from 139 to 305 receiving yards. Four Razorbacks receivers range from Cody Hollister's 120 to Jared Cornelius' 408 receiving yards with Cornelius surpassing 100 yards the past three games, including against undefeated Alabama and Texas A&M.
Senior Drew Morgan of Greenwood is the most prolific with 33 catches. Senior Keon Hatcher has scored the most with five touchdowns.
An air show might still be determined on the ground.  For even in passing duels, the team that best runs the ball and stops the run generally prevails.
Take last year's 53-52  Arkansas vs. Ole Miss overtime game at Oxford, Miss.  Kelly and  Brandon Allen, Austin's older brother now with the NFL's Jacksonville Jaguars, waged a terrific passing duel.
Yet the game ultimately was determined by two runs, running back Alex Collins picking up 26 yards on fourth and 25  running off tight end Hunter Henry's lateral with Henry about to be tackled well short of the first down. Brandon Allen ran in the game-winning two-point conversion.
And Kelly ran wild for Ole Miss with 110 yards on 11 carries.
In its two SEC games, albeit against now-No. 6 Texas A&M and No. 1 Alabama, Arkansas could not stop the run nor run the ball well.
The Razorbacks trailed in both games, the Alabama game from the get-go.  Persistently having to pass rendered Austin Allen a one-dimensional target. He was sacked six times by Alabama and constantly hit upon delivering passes against A&M and Alabama.
Running game production and protecting Allen must improve or else, Arkansas sophomore running back Rawleigh Williams asserts.
"Man we just have to keep him (Allen) off the ground," Williams said. "He's taking some hits that he shouldn't take, and that's just us not paying attention to detail like we should."
Ole Miss is no Alabama or Texas A&M defensively and has suffered injuries at safety. But cat-quick defensive end Marquis Haynes has recorded three sacks among five tackles behind the line.
While most known for Kelly's throwing, the Rebels, enjoying a bye week while the Hogs were battered by Alabama, amassed 263 yards rushing in their last game, a 48-28 victory Oct. 1 over Memphis in Oxford.  Ole Miss running backs Akeem Judd and Eugene Brazley surpassed 100 yards apiece.
Arkansas is more vulnerable on defense now. Mainstay linebacker Dre Greenlaw is out a minimum four to six weeks with a broken  foot.
Freeze was asked about attacking Greenlaw's replacements, first-time starting junior Dwayne Eugene and true freshman backup De'Jon "Scoota" Harris.
"I know Coach Bielema will get whoever he has ready to play," Freeze said. "We've had injuries defensively and it's next man up. I'm sure they'll do the same and get their kids ready to play."
The Rebels have the confidence of playing Alabama much closer (48-43 loss on Sept. 17 in Oxford) than Arkansas did in Fayetteville.
Then again, Ole Miss beat Alabama in 2014 and 2015 and lost 30-0 to Arkansas in 2014 and again last year in Oxford. The Rebels  had  it won until the "Hunter Heave that Freeze admits makes him heave while Arkansas fans  repeatedly replay it.
"I don't voluntarily watch it, I assure you," Freeze said. "If I were to go see it, it still would make my stomach turn."