Recruiting: stout seniors, top prospects propel LR Christian near top of Class 5A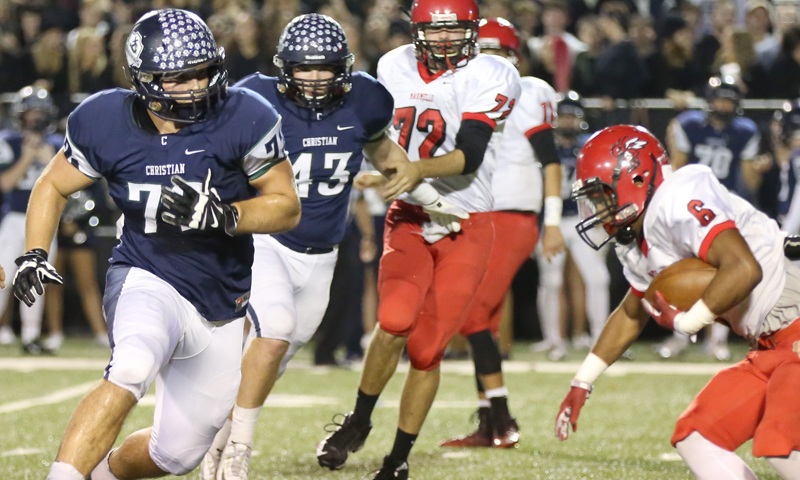 Little Rock Christian finished as state runner-up in 2007 and won a combined 15 games in 2008-2009. But the Warriors bottomed in 2010-2012 with just eight victories.
Former Greenwood assistant and Mena coach Jeff Weaver took over the program in 2013, raising expectations in three seasons. Weaver's Warriors won four games in 2013 and six last fall, advancing to the playoffs for the first time since 2009.
The turnaround at Class 5A No. 2 Little Rock Christian (6-0) coincides with 25 strong-willed seniors and improvements in the off-season weight program, which Weaver credits to assistant coach Buck James.
"We've got a lot of seniors, and they have high aspirations," Weaver says. "We've made tremendous strides in the weight room. We aren't getting beat at the line of scrimmage this year."
| | |
| --- | --- |
| | |
| | Sr RB DAMAREA CROCKETT |
The expectations grew two years ago when Damarea Crockett (6-0, 210) moved from Camden Fairview. Crockett clocked 4.43 speed at the Arkansas Razorback camp after his sophomore season. He ran for 1,178 yards and 17 touchdowns in 2014 while nursing an ankle sprain for half of the season.

Deft hands helped Crockett land some big-time recruiting attention. Crockett caught 21 passes for 221 yards and a pair of scores in 2014, which resulted in interest from teams operating the Spread. The senior committed to Boise State in July "and he's proud to be a Bronco," Weaver says, although many Division I programs continue courting him.

Crockett's stock soared after an impressive performance in March at the Nike Combine in Dallas. He blazed the shuttle in 4.01 seconds and recorded an amazing 40.3 inch vertical. Crockett landed more than a dozen scholarship offers, including Arizona State, Arkansas State, Colorado State, Louisiana Tech, Louisiana-Monroe and Vanderbilt.

Crockett (12 TDs) averages 7.9 yards per carry this fall. He ran 15 times for 229 yards and four TDs and caught a TD pass Week 4, a 62-20 win over Farmington. "Those are good numbers because he's playing mostly in the first half," the coach says. "When he gets off the bus, they are trying to stop him."

Senior quarterback Kyron Sanders (5-9, 170) and receiver Joe Hampton (6-1, 180) benefit as opponents scheme to slow Crockett. Sanders, a move-in from Magnolia, completes 68 percent of his passes this fall, throwing for more than 1,400 yards and 18 TDs with just two interceptions.

Sanders scorched Harrison Week 5, completing 16 of 22 passes for 382 yards and five TDs when Harrison ganged up on the line of scrimmage to slow Crockett. Sanders has visited Henderson State and Ouachita Baptist this fall and could get more interest as the season progresses.

Hampton emerged as Sanders' top target this fall. Hampton clocked 4.45 speed at the University of Arkansas camp two years ago but missed most of last season with a severely broken finger. Hampton snagged a momentum-changing, 64-yard catch-and-run at Harrison when the Wildcats trailed 7-0 in the first quarter. He caught a 32-yard TD in the second quarter before sitting out most of the second half after Little Rock Christian built a commanding advantage. Hampton caught TD passes of 60, 34 and 56 yards in the first quarter of last week's 40-23 win over Vilonia (the Warriors led 40-0 at halftime).

Sanders has 35 catches for 679 yards and eight TDs this fall. "He's gone off," Weaver says. "He's proving every week that he's the real deal."

Army, Fordham, Missouri State and Southeast Missouri are among the school's who've offered Hampton. Arkansas Tech, Harding and Ouachita Baptist are among the in-state Division II's who've offered.
| | |
| --- | --- |
| | |
| Sr DL DYLAN HAYS | |
Little Rock Christian's recruiting gem could get mined from the defensive line. Senior Dylan Hays (6-4, 255) missed some of last year with a knee injury, "but we've known all along that he's a stud," Weaver says. "Dylan is one of the top two or three defensive linemen in the state."

Hays (300-pound bench press) has 44 tackles and three sacks this fall. "It all starts with Dylan Hays," the coach says. "He demands a lot of attention from the offense."

Hays owns scholarship offers from Missouri State and UCA and every in-state Division II program. "He didn't have a lot of film coming into this year because of his knee injury," Weaver says. "I expect him to get more offers by February."

Senior outside linebacker Stone Boshears (6-1, 230) led LR Christian with more than 100 tackles a year ago, and he's racked up 44 stops and three sacks this fall. Against Vilonia last week, Boshears crashed through the hole, wrapped up Vilonia's top running back, driving him backward and slamming him into the ground. The running back missed the remainder of the game.

"That was a text book Stone Boshears tackle," Weaver says. "He reads and reacts quickly." Boshears owns offers from Harding and Ouachita Baptist.

The Warriors, who've applied the 35-point sportsmanship rule to every opponent this fall, travel to Greenbrier this week for the 5A West conference championship.




"