Hogs vs Bama: Depth, talent, history favor Tide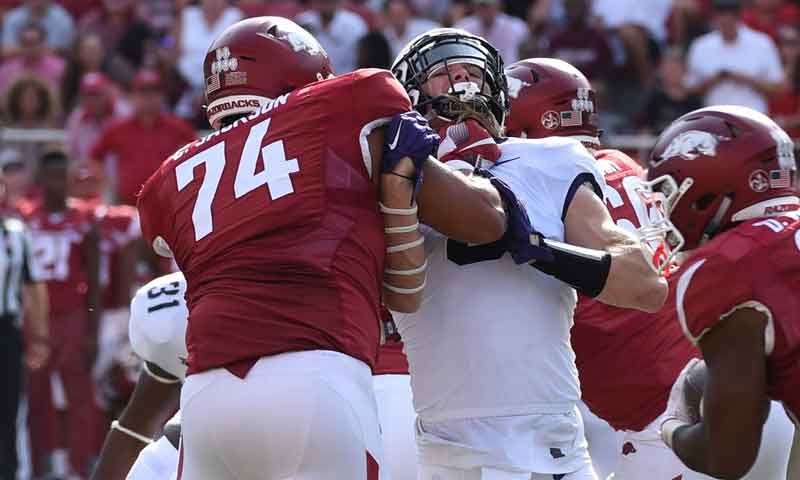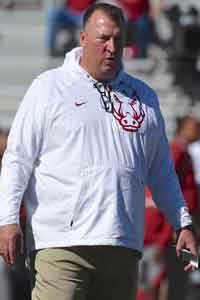 Hog HC Bret Bielema
FAYETTEVILLE - The odds for Arkansas' game at Alabama were formulated long before this week.
Arkansas (2-3, 0-2) and Alabama (6-0, 3-0) play their ESPN-televised game at 6:15 p.m. Saturday at Alabama's 101,000-seat Bryant-Denny Stadium.
The AP preseason All-SEC first-team included one Razorback, senior center Frank Ragnow, and zero Razorbacks on the preseason All-SEC second team. Alabama running back Bo Scarborough and linebacker Rashawn Evans were named preseason All-SEC second team.
As for the preseason All-SEC first team, the Tide proliferated like ants at a picnic. Alabama quarterback Jalen Hurts, receiver Calvin Ridley, offensive linemen Jonah Williams and Ross Pierschbacher, defensive linemen Da'Shawn Hand and Da'Ron Payne and Alabama safeties Minkah Fitzpatrick and Ronnie Harrison adorned the AP's Preseason All-SEC first team.
All the Alabama elites have lived up to the  billing in the six games thus far. Coach Nick Saban's Crimson Tide boasts a significant first-team talent advantage over Coach Bret Bielema's Razorbacks, which filters down to a major depth advantage.
Alabama's depth is exemplified outscoring its opposition in the second half, 14-0 against Florida State; 13-7 after leading Fresno State 28-3 at half;  17-13 against Colorado State after leading 24-10 at half; 28-0 over Vanderbilt after leading 21-0 at half; 31-0 over Ole Miss after leading 35-3 at half.
However, last week Texas A&M surprisingly outscored Alabama 16-10 in the second half, but the Tide still prevailed after building a 17-3 first-half lead.
In contrast, Arkansas has lost its three games against Power 5 opponents: 28-7 to TCU of the Big 12, 50-43 in overtime to Texas A&M, and  48-22 at South Carolina. Those teams outscored Arkansas in the second-half 14-0, 33-22 and 31-12.
Depth in all phases rides heavily with the Tide. Alabama ranks first nationally in run defense (73 yards per game), fourth nationally in scoring defense (10.3 ppg), fifth in total defense (259 ypg), 11th in turnovers gained (13) and 25th in pass defense (186 ypg).
The Tide traditionally forces running teams to pass, which is not good for an Arkansas team that wanted to run last week but couldn't against a South Carolina defense that ranks No. 57 nationally in rushing defense. SC ranks 39th in scoring defense, allowing 21 points per game.
Between sacks, harassing hits and interceptions, the Tide makes good passing teams pay a price. Alabama exacted a winning cost from Arkansas last year with three interceptions and three sacks and countless QB hits after the pass even as Austin Allen passed for 400 yards and three TDs in a 49-30 Bama win.
Allen injured his throwing shoulder at South Carolina. He will either play at less than 100 percent, or redshirt freshman backup Cole Kelley will make his first start. Third-team Arkansas QB Ty Storey of Charleston could play, too, with the Tide's potential to inflict physical and mental damage on QBs.
The Tide feasts on turnovers, securing 13 in six games (nine on interceptions and four on fumble recoveries).
Offensively, Alabama has committed one turnover (best in the nation) in six games to Arkansas committing eight turnovers in five games. Arkansas ranks No. 89 nationally in turnover margin, gaining six turnovers.
Nothing adds up on any level for an Arkansas victory, but the Razorbacks say they believe they can prevail even though Bama has beaten Arkansas 10 consecutive seasons.
"I think we all know we haven't put our best product own the field yet, and and we all know our best is yet to come," Arkansas senior noseguard Bijhon Jackson of El Dorado said. "We are optimistic that if we go out and do our jobs the best we can we are going to have a really good chance."
They must do their jobs better, Jackson knows, without trying to do more than what's assigned to each Razorback, which led to breakdowns at South Carolina.
"I'm just going to make sure I give it all I've got," Jackson said.  "Stay disciplined and not try and be Superman. Just stay in gap and try to knock that center back and keep the reads clean for the linebackers. Facing No. 1, it's a chance for us to put ourselves on the map and make up some ground that we didn't get the early part of the season."
That would cover more than some ground. It would be the biggest odds-defying upset of the season so far.