HOGS, Ole Miss eye first SEC win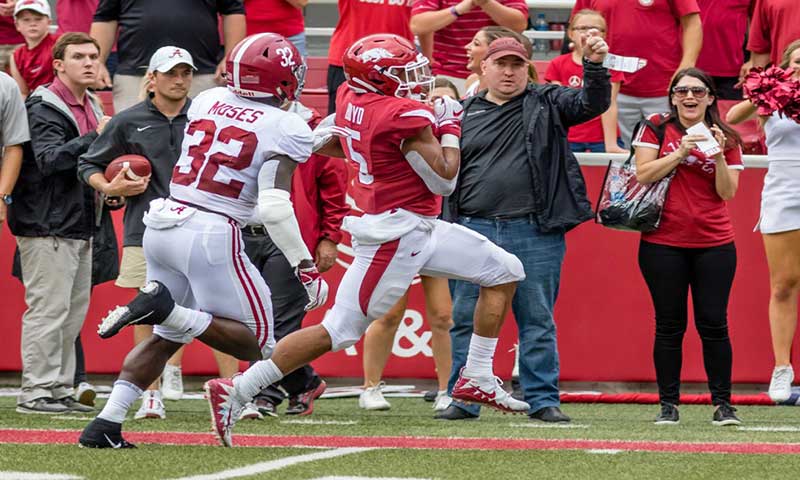 FAYETTEVILLE - Like they say at Oaklawn Park in Hot Springs: "Somebody's going to win."
Either Arkansas or Ole Miss will crack the SEC win column Saturday night at War Memorial Stadium in Little Rock. Kickoff is set for 6:30 with a 90 percent chance of rain.
Coach Matt Luke's Rebels are 4-0 in non-conference, but they have lost their two SEC games, 62-7 to No. 1  Alabama and 45-16 at No. 13 LSU.
Arkansas (1-5, 0-3) has lost five straight since opening the season with a 55-20 win over Eastern Illinois, their lone opponent from the lower FCS (Football Championship Subdivision).
Since then, the Razorbacks blew an 18-point lead during the third quarter to lose 34-27 at Colorado State of the Mountain West. Conference USA member North Texas embarrassed the Hogs start to finish 44-17 at Reynolds Razorback Stadium.
The past three games vs. all SEC foes, the Razorbacks lost 34-3, 24-17 and 65-31 to then-No. 9 Auburn, No. 22 Texas A&M and No. 1 Alabama.
Heavy underdogs in all three SEC games after going 1-2 as favorites in their non-conference games, the Razorbacks defensively played well against Auburn. They had the ball and were down seven before falling to A&M at the Dallas Cowboys' AT&T Stadium. Last Saturday in Fayetteville with 31 points and 405 yards total offense, Arkansas scored more points and made more yards than anybody has scored and amassed this season on undefeated Alabama.
So, though observers wondered if the Hogs would win a game immediately after the debacle against North Texas, most see Arkansas finally picking on somebody its own size even as Ole Miss rates a seven-point favorite among the Las Vegas casinos.
Arkansas' offense and special teams improved immensely against Alabama over its performances against North Texas and Auburn.
The Arkansas defense, even allowing for Alabama's pick six of Ty Storey for a TD among its 65 points, didn't fare as well against Alabama as previous foes, but the Tide has rolled unstoppably against all in its path. Even while beaten, Arkansas' defense never quit against the Tide.
"I think anytime you are around each other as much as we are and when you go through adversity like we have you find the growth," Morris said. "You find what you are really about. You force yourself to continue to grow. When you go through adversity you become closer, you become better. I think the staff has become better. I think the players have become better and closer. That's why you have seen the progress you have seen."
However, Ole Miss remains the favorite with cause. Arkansas hasn't beaten a Power Five team since last year's 38-37 victory over Ole Miss on Connor Limpert's field goal with four seconds left.
Ole Miss smarts from that field goal extending Arkansas' four-game winning streak over the Rebels. Last Saturday, Ole Miss pounded Louisiana-Monroe 76-21.
A year ago, Rebels quarterback Jordan Ta'amu beat out Shea Patterson, the QB starring as a graduate transfer at Michigan.
This season in total command, Ta'amu has completed 120 of 187 for 1,911 yards with 13 TDs with four interceptions.
Rebels receivers A.J. Brown (44 receptions for 586 for four TDs),  D.K  Metcalf (28 for 520 yards and five TDs) and tight end DeMarcus Loge (25 for 386 with a TD) can bedevil any secondary. Skill-wise, the Rebels receivers rank with Alabama's. While no (Alabama QB) Tua Tagovailoa, Ta'amu ranks with the best of the rest of SEC QBs.
As Arkansas enthuses that junior college transfer running back Rakeem Boyd (in Crant Osborne photo) became Arkansas' first 'back to top 100 rushing yards (15 for 102) on Alabama since two-time Doak Walker Award winner Darren McFadden in 2007, Ole Miss JUCO transfer running back Scottie Phillips averages 7.1 per carry.