Hogs: wins better than stats; O line strains; notes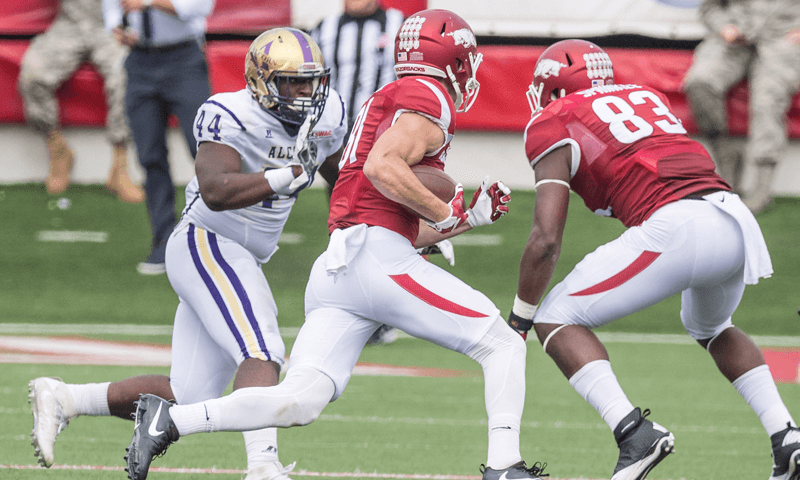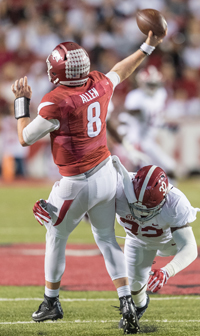 Jr QB AUSTIN ALLEN
FAYETTEVILLE
- With tongue in cheek Wednesday evening, a reporter asked if the Razorbacks think Ole Miss might pay extra attention to their tight end.
Arkansas tight ends coach Barry Lunney allowed himself a small smile.
"Yeah - they probably will be," Lunney said. "I  don't know if they'll be anticipating lateraling the ball in the first quarter of the game, but they probably will be paying attention to our guys, to Jeremy (Sprinkle)."
No. 22 Arkansas (4-2, 0-2 in the SEC West) and the 12th-ranked Ole Miss Rebels (3-2, 1-1 in the SEC West) clash at 6 p.m Saturday on ESPN at Reynolds Razorback Stadium.
Last season off the miraculous "Hunter Heave" when Razorback tight end Hunter Henry caught a last-gasp fourth-and-25 pass and lateraled it with offensive tackle Dan Skipper tipping to running back Alex Collins who ran ran 26 game-saving yards to the Ole Miss 11, Arkansas went on to beat Ole Miss 53-52 in overtime in Oxford, Miss.
"Obviously a fun memory for all involved for a lifetime, but we need to go out and make some new memories this week," Lunney said.
Henry, the 2015 Mackey Award winner as the nation's best tight end, is a NFL rookie with San Diego, but White Hall's Sprinkle, now a Razorback senior, caught four passes against Ole Miss last year. Sprinkle is one of 30 Mackey Award candidates now.
This season Sprinkle has caught 18 passes for 194 yards and six touchdowns. "He's having a good year so far," Lunney said. "We need it to be a great one. We need him to play big on Saturday."
BIG STATS BUT NO WIN
Coach Bret Bielema, offensive coordinator Dan Enos and receivers coach Michael Smith all lauded the receivers and tight ends for amassing 400 yards and catching 25 of quarterback Austin Allen's  48 passes Saturday's 49-30 SEC loss to No. 1 Alabama.
All liked the passing yards, but not the defeat.
"We threw for 400 yards, but that didn't win the game for us," offensive line coach Kurt Anderson said.  "Obviously we need to run the football but situations dictate how that happen. We fell behind 14-0 and we had to play catch-up."
STRAINING TO IMPROVE
Anderson said his line must literally strain to run-block better for 'backs Rawleigh Williams, Devwah Whaley and Kody Walker and better protect quarterback Allen. Allen was sacked six times by Alabama and hit after nearly every pass he threw, it seemed.
 "Our point of emphasis all week has been six seconds of strain," Anderson said.  "To be successful in this league and in football in general, the average football play lasts six seconds. They've got to strain from the start of the snap to the echo of the whistle."
Rawleigh Williams said picking up the running game lies in "just attention detail."
"Everybody has to strain through the whistle. I think we've done a good job through practice this week of getting the running game going so hopefully it'll translate to Saturday," Williams said.
What about protecting his quarterback?
"Man we just have to keep him off the ground," Williams said. "He's taking some hits that he shouldn't take and that's just us not paying attention to detail like we should and we've kinda had a come-to-Jesus meeting with ourselves and know that we have to pick it up."
MORGAN OK
Arkansas senior receiver Drew Morgan of Greenwood, with a team-high 33 receptions for 344 yards yards (third on team), practiced Wednesday after being limited due to a couple of hard shots to the back during the Alabama game.
"He is practicing hard and knowing Drew he will be out there Saturday," Austin Allen said.
Against Alabama, Morgan caught five passes for 43 yards while junior Jared Cornelius, five for 146, surpassed 100 receiving yards for a third consecutive game. Keon Hatcher caught four balls for 39 yards with two TDs. Cody Hollister caught two for 43, and Camden's Dominique Reed caught one for 20. Sprinkle caught three passes for 37 and a TD.
"They have been playing well all year," Austin Allen said. "They are some hard-nosed football players and working hard to get open. They had a little chip on their shoulder.  The way they played against Alabama was really, really special.  I really commend them."
Receivers coach Michael Smith said, ""That is what I expect from Jared Cornelius. That is what I expect from Drew Morgan and the rest of those guys."