Hogs: turnover at linebacker; Taiwan's talk; notes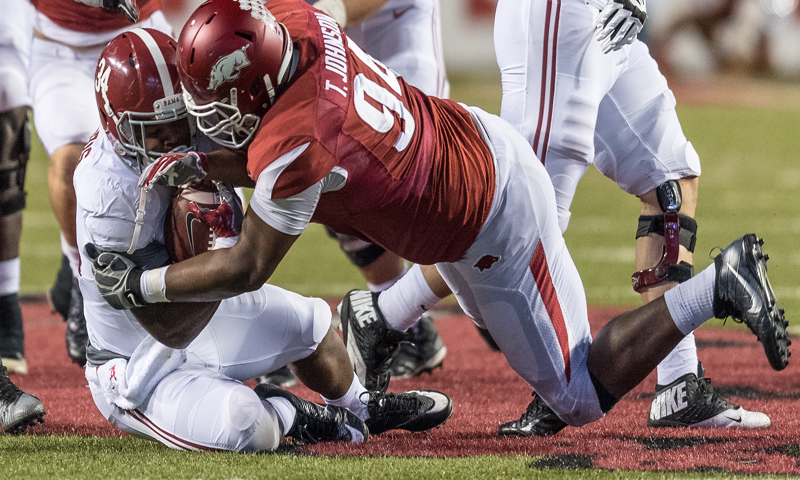 FAYETTEVILLE - Freshman De'Jon "Scoota" Harris filled in first for injured Arkansas starting linebacker Dre Greenlaw, but junior Dwayne Eugene finished last week's loss to Alabama and likely will start Saturday against Ole Miss.
Nationally No. 22 Arkansas (4-2 overall but 0-2 in the SEC West with losses to No. 6 Texas A&M and No. 1 Alabama) plays hosts to No. 12 Ole Miss (3-2, 1-1 in the SEC West) at 6 p.m. Saturday on ESPN at Reynolds Razorback Stadium in Fayetteville.
Sophomore two-year starting weakside 'backer  Greenlaw, heretofore the Razorbacks' leading tackler, broke his foot during the second series against Alabama. Greenlaw is expected to miss a minimum four to six weeks and possibly the remainder of the season.
Heralded freshman Harris did some good things with four tackles and he forced an Alabama, but he missed some tackles and early showed "the game was too big for him," Arkansas coach Bret Bielema said.

EUGENE'S "GOOD DAY"
Junior two-year letterman reserve linebacker/special teamer Eugene relieved and intercepted a pass and made three tackles. Eugene worked Tuesday on the first team alongside senior middle linebacker Brooks Ellis.

"He had a good practice," Ellis said of Eugene after Tuesday's practice in pads. ""He works harder than anybody out there. He puts in overtime all the time. He's a hard worker. He makes plays all over the field. He cares more than anybody. That's huge. That's what we need, somebody that will get out there and do his job."
Will intercepting against Alabama give Eugene a confidence boost?
"That was huge for him," Ellis said. "That gives him added confidence especially now that he's going to be playing."

Arkansas linebackers coach Vernon Hargreaves said Tuesday night that finishing with a pick against Alabama should bolster  Eugene's confidence against Ole Miss.
"I hope so. It helped mine," Hargreaves said, laughing. "It was a heck of a play, and obviously assisted by Brooksie cause he went and did what he was supposed to do. But Dwayne was exactly where he was supposed to be, so hopefully that has boosted his confidence and I expect him to continue to get better."
How have Eugene and Scoota Harris responded in practice with Greenlaw out?
"Oh, they're fine," Hargreaves said. "That's what they came here for. I'm looking forward to those guys stepping up to the challenge. I think they are. They understand what needs to happen, and they need to accelerate their getting-better. That's where we are right now."

HOGS INCENTIVES MADE IN TAIWAN
Senior defensive noseguard Taiwan Johnson gave the Hogs an all-is-not-lost talk post Alabama, Bielema said Monday.
"The message was not to hold our heads down," Johnson said.  "Keep our heads up. We lost to the No. 1 team in the nation and we will remember that. Everybody was excited for the game, and we have high expectations for ourselves.  Just because we failed doesn't mean you have to take a step back. We lost the game  but if we just continue to take steps forward we can correct the mistakes we made, and we can really improve as a team."
With nine starters back, there were high preseason expectations for this defense that has struggled.
"I am not trying to live up to anybody else's expectation," Johnson said.  "I just try to live up to my own and what this team can do. So that will come when it comes. We are just trying to be the best D-line we can be."

What are his defensive expectations for Arkansas vs. Ole Miss?
"Our expectations are to have a bigger impact on the game," Johnson said.  "Affect the quarterback. Make plays and really have a chance to decide the outcome if we play well."

KELLY'S CHALLENGE
Ole Miss senior quarterback Chad Kelly is among the best run-passers in the SEC, using his elusiveness mostly to buy time to pass but sometimes taking off for big gains on scrambles and designed runs.
"Chad Kelly is way different," Johnson said. "He is a great passer. That's  known. He is so elusive and that's one thing people might not focus on.  Chad Kelly gets out of sacks and makes big plays. He knows how to throw the ball down the field, and that's one thing he brought against us last year, his elusiveness."
Kelly completed 24 of 34 passes for 368 yards against Arkansas last year, but the Razorbacks won 53-52 in overtime at Oxford, Miss.