Hogs: Bielema aplogizes for ref smack; more notes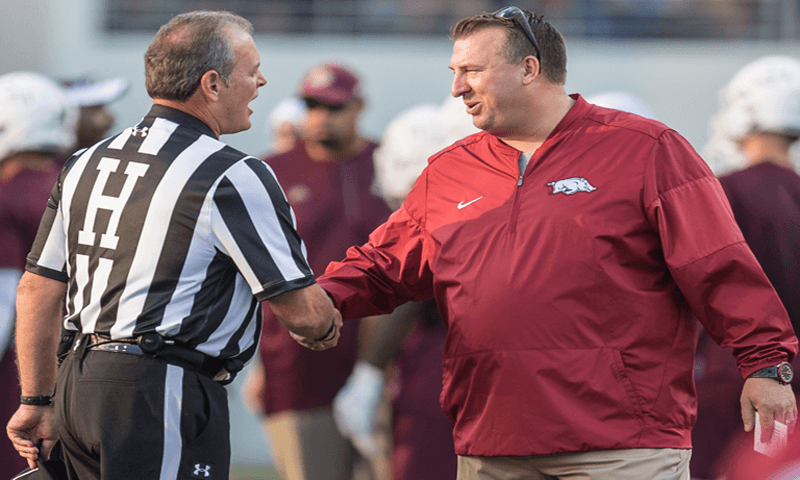 Jr QB AUSTIN ALLEN
FAYETTEVILLE -  On Wednesday's SEC Coaches teleconference, Arkansas coach Bret Bielema voluntarily apologized for his Monday comments regarding SEC official Stan Weihe.
Weihe was the umpire during Arkansas' overtime loss in 2014 against Texas A&M and the umpire in Arkansas' 49-30 loss Saturday to Alabama.
Weihe called Arkansas offensive tackle Dan Skipper for "tripping" in the 2014 A&M game, voiding running back Jonathan Williams' 57-yard run to the A&M 1. Last Saturday, Weihe's holding penalty call on offensive tackle Brian Wallace, though Bielema said the umpire is just supposed to be focusing guard to guard, voided quarterback Austin Allen's touchdown pass to Drew Morgan.
After Adam McFain salvaged three Arkansas points with a field goal, Bielema was flagged with a 15-yard unsportsmanlike conduct penalty upon giving Weihe an earful on the field.
During his Monday press conference, Bielema said, "I can be rest assured, and all Hog fans can, that we'll never see that official again. That's been guaranteed to me. That makes my heart and my wife's heart probably feel a little bit better."
Bielema wasn't asked about that incident Wednesday, but he voluntarily apologized when closing his portion of the teleconference that was devoted to No. 22 Razorbacks (4-2, 0-2 in the SEC) playing host to 12th-ranked Ole Miss Rebels (3-2, 1-1) at 6 p.m. Saturday on ESPN at Reynolds Razorback Stadium.
"I do want to apologize," Bielema said. "Obviously, I made a comment to the media on Monday about an official from an occurrence a couple of years ago. I disagreed with a call that was totally correct that was in regard to player safety. He made the correct call and I didn't appreciate it at the time, but I do appreciate player safety. This Saturday had blown into that.  I made reference on Monday that he wouldn't be involved in our games and that was premature to say and act. He is a very good official, and if he is there this Saturday we will hug him up and it will be on the field of play or in the locker room and not at midfield like my last flag.  It will be something we can all grow from and move forward."
RAGNOW, ALLEN HONORED
Razorbacks Frank Ragnow and Austin Allen received honors Wednesday.
Junior center Ragnow was declared by the Capital One Orange Bowl- Football Writers Association of America's nominee this week for the Capital One Orange Bowl-FWAA Courage Award.
Ragnow's father, Jon, died of a heart attack Oct. 1, just hours after the Razorbacks defeated Alcorn State.
Bielema and his wife, Jen, accompanied Ragnow that night on a hastily arranged flight to Minnesota. Ragnow remained in Minnesota through his father's funeral last Thursday, returned to Fayetteville to practice Friday and started and played every snap Saturday against No. 1 Alabama.
Alabama coach Nick Saban spoke to Ragnow postgame.

"He's a fine young man and a fine player," Saban said. "For him to have to go through that, our thoughts and prayers to his family. I just wanted to tell him that."
Bielema talked repeatedly of Ragnow's courage and leadership. Arkansas offensive coordinator Dan Enos was amazed how well Ragnow played given his father's unexpected death coupled with just one practice before the game.

"He did awesome, man," Enos said. "It's amazing how well Frank did, under the circumstances. It's mind-blowing to me that a young man of that age to handle, emotionally and mentally, what he had to handle as a family and then come play the No. 1 team in the country on national TV, with one practice. The way he played was off the charts good."
Allen, a junior two-year letterman from Fayetteville but a first-year starter after understudying his brother Brandon, was added Wednesday to the Manning Award Watch List, it was announced in New Orleans.
The Manning Award, named for retired NFL and college great Archie Manning and his NFL and college QB sons, Peyton (retired) and Eli of the New York Giants, is awarded in December to college football's outstanding QB.
Austin Allen has forged to prominence this season by competing 119 of 187 passes for 1,632 yards, including 400 against reigning national champion Alabama, with 15 touchdowns.