#5 Sylvan Hills at #1 PA features top recruits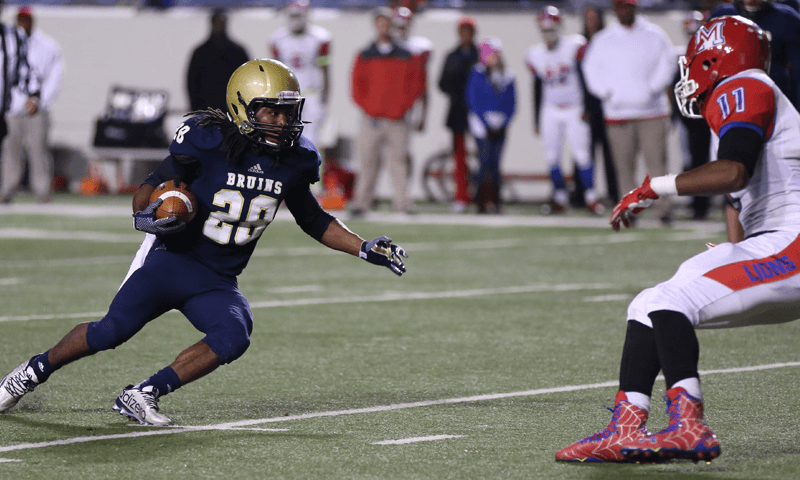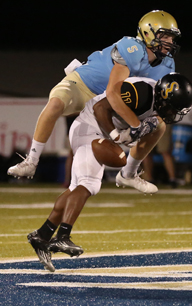 HAYDEN HENRY
The senior plays defense on a team recognized nationally for offensive fireworks, and he may be the third or even fourth most recognized football player in his family.
Older brother Hunter Henry and dad Mark Henry started at Arkansas, and his sophomore brother Hudson "Hud" Henry (6-3, 205) is regarded as one of the top sophomore prospects in the state.
Hunter, a rookie tight end with the San Diego Chargers, has 13 catches for 227 yards and two TDs in four games this fall, while dad Mark started at center on consecutive Southwest Conference championship teams.
But Hayden Henry (6-3, 210) makes his mark as a hard-hitting safety for Pulaski Academy. (Photos by Rhonda Sharp)

"He's on a different level than everyone else," PA coach Kevin Kelley says. "His game comprehension is amazing. He knows what's going on, because he's been around football his entire life. He just gets it."
Hayden Henry has 24 tackles this fall, and he's intercepted three passes, knocked down five passes and forced one fumble. Henry, a three-year starter, walks up to outside linebacker in some sets. He racked up 89 tackles a year ago.
Air Force and Navy have offered him scholarships, along with Harding and Ouachita Baptist. "He's so physical and has great ball skills that most defensive backs lack," Kelley says. "I think he'll play at a big-time school. It's a matter of him waiting for the offer."
Hayden Henry isn't the only reason college coaches trek to West Little Rock. Running back Jaren Watkins (5-5, 155) has 87 carries for 962 yards and eight TDs this fall, after rushing for 2,067 yards and 24 TDs as a junior. The versatile Watkins also excels as a receiver (13 catches for 151 yards and three TDs this fall).
Watkins clocked 4.41 speed at a national combine in May. He owns multiple offers from in-state Division II schools, but "two Division I schools are mulling offers," Kelley says. "College coaches love his film, but they are worried about his size."
Pulaski Academy senior left tackle Seth Martin (6-2, 280) leads the Bruins this season in knockdown and pancake blocks. Martin owns scholarship offers from Air Force, Louisiana-Monroe and Navy.
"Coaches are worried about his size, but he makes up for it with power (400-pound bench press)," Kelley says. "He makes no mental mistakes and can get downfield in the screen game."
Bruin junior quarterback Layne Hatcher (6-1, 195) could develop into one of the state's top recruits next season. Hatcher, a QB in the Bruin system since third grade, completes 129 of 197 passes (65.5 percent) this season for 1,882 yards and 26 TDs. The all-state wrestler passed for 4,667 yards and 55 TDs last fall as a sophomore.
Hatcher's only official offer comes from Ouachita Baptist, but he visited Louisville a day after the Bruins beat McCracken County (Kentucky) 56-14 in Week 3. Alabama coaches say he's one of eight junior QB's they are evaluating for next season.
Juniors Tra Johnson (6-2, 170) and Luke Counts (6-6, 255) should be highly recruited next season. Johnson, a receiver, has 19 receptions for 388 yards and eight TDs this fall. Counts started every game at right tackle the past two seasons. Counts sent out his first highlight tape last week "and someone will take him because of his size," Kelley says.
Pulaski Academy hasn't lost a conference game since Week 10, 2009, and had just two conference losses since 2006. That streak gets tested this week by undefeated Sylvan Hills (ranked No. 5 by Hootens.com).

Sylvan Hills doesn't lack for talent, either. Senior QB Jordan Washington (6-3, 200) has passed for more than 900 yards and rushed for more than 400 yards on limited opportunities in five games this fall (injured shoulder and played just six snaps at receiver in last week's 55-18 win over Mills).
Washington has offers from Southeast Missouri State and UCA, but expects more over the next three months.

"The problem is colleges don't know exactly where to play him," Sylvan Hills coach Jim Withrow says. "They aren't sure if he's fast enough to be a receiver, and they are unsure about him at quarterback. But all of them agree he's one of the best athletes in the state. I expect the Division I offers will come late, probably after the season. I'm telling him just be patient and let things play out. Most colleges tell me he's the No. 1 athlete on their board who they haven't offered, so I think they are letting it play out, and when someone doesn't pan out, he'll be the next guy they go after."
Sylvan Hills right tackle Garon Martin (6-5, 270) began picking up college interest over the summer. Most instate Division II schools are evaluating him, along with senior safety Cameron Flippo (5-11, 160; 4.6 speed) and receiver Jamar Lane (5-11, 160). Lane (4.6 speed) didn't play last season but impresses college coaches with his athletic ability.