HOGS: speedy Warren wows; more notes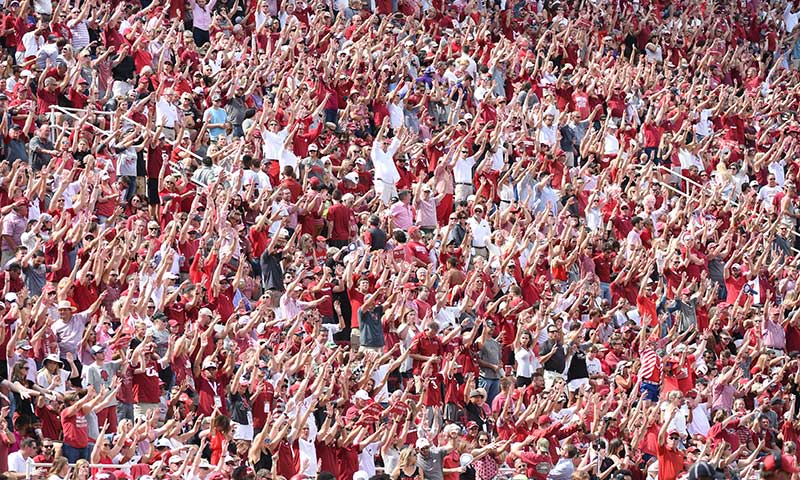 FAYETTEVILLE - Players who celebrate in the end zone usually get this coaching reminder: Act like you've been there before.
But what if he hasn't been there before?
That was De'Vion Warren's case last week when he caught a 17-yard TD pass in the Razorbacks' 65-31 loss to No. 1 Alabama.
Fortunately, the sophomore from Monroe, La., followed his instincts for his first Arkansas TD catch. Neither Arkansas head coach Chad Morris nor his assistants had cause to remind Warren to act like he had been there before.
"It was amazing," Warren said. "As you saw I didn't know what to do, so I just celebrated with my teammates as we always do. Celebrate as a brotherhood. That's it."
HAPPY RETURNS
Warren has been there before, just not as an Arkansas receiver. He returned a kickoff end zone to end zone for the 100-yard TD as Arkansas' final score in last year's 52-20 SEC loss to Auburn.
He almost repeated the feat against Alabama. Warren broke a 78-yard kick return to set up a drive capped by 6-foot-7 backup quarterback Cole Kelley's QB sneak.
It was Warren's only return, having fair caught the others. Warren explained the fair catches automatically starting Arkansas at its 25.
"I have to understand Alabama kicks you high and puts a lot of air under the ball," Warren said. "We've got to be smart about it and make sure the offense has great field position when they get on the field."
But the last one set up for a return.
"Yeah, I got one pretty good return," Warren said. "We blocked it well and coach said, 'We've got nothing to lose, come on let's get some motivation and return one.' We blocked it well as a team. It was good to be able to make an impact like that in the game even late like it was."
NEED FOR SPEED
Given the Hogs' need to capitalize on what speed they have on offense, and given Ole Miss' injuries and inexperience in the secondary, it seems Warren should have a increasing role in the receivers rotation.
"Only the game plan will tell," Warren said. "I just try to play my role as the week goes on. Just go 100 percent every practice. I'll just continue to grind like I always have and always will and hopefully I'll move up."
Given that Warren appears recovered from a foot injury that sidelined him earlier in the season, his role increase seems likely.
"De'Vion is just really now back to full speed," Morris said. "He's such an electric return guy and does some really good things when we get the ball out on the edge to him. We need to continue to find ways to get him the ball."
Play-calling offensive coordinator Joe Craddock knows the numbers to call now that Warren is fit to answer.
"Ever since the spring we've been very excited about De'Vion and the things that he brings to the table," Craddock said. "Obviously, getting off the injury and missing a couple of games, we had to get him back in shape, make sure he knew what he was doing, get some reps in practice. We felt like this was a game to get him in there a little bit, see what he could do."
Craddock calls Warren a playmaker who will improve weekly. "He's a guy who can be deadly with the ball in his hands," the offensive coordinator said.
Warren played against outmatched lower division  Florida A&M a year ago at War Memorial.
"I like playing anywhere, actually," Warren said.  "It's football. You've got to love it. Wherever it's played, we could play in Alaska. Just being able to go out there and play."
GOOD TO BE HOME
For senior nickel back Kevin Richardson of nearby Jacksonville, playing Saturday night in Little Rock is significant. Richardson was there in 2014 when Arkansas played its last SEC game at War Memorial, losing 45-32 to Georgia.
Arkansas lost in Little Rock to Toledo 16-12 in 2015 but the past two years it clobbered lower division Alcorn State 52-10 and Florida A&M 49-7.
"I'm really excited to go down there and see War Memorial under the lights again with a Razorback (SEC) game," Richardson said. "It's been forever."
The Razorbacks practiced Thursday and will fly Friday to Little Rock. The Rebels will bus from Oxford, Miss., to Little Rock. Kickoff is set for 6:30 Saturday night at War Memorial Stadium.