Recruiting: Parkview rises w/hard work, fresh talent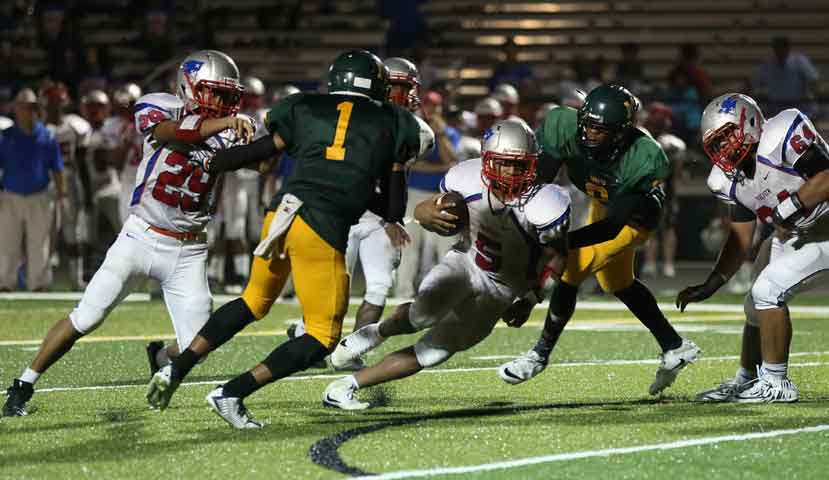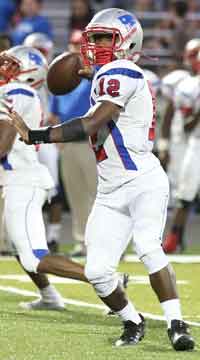 Parkview QB Geary Allmon
LITTLE ROCK - Brad Bolding needed Little Rock Parkview as much as it needed him.
Bolding, ousted after eight seasons at North Little Rock (2007-2014), inherited a mess in January when named Parkview's third coach in three months. Bolding spent the previous two seasons in private business but itched for a return to the sideline.
Parkview's former coach, William Hardiman, was terminated last fall while on leave from the district. Interim coach Kenny Stephens led the Patriots to one win in 2016 (53-13 over Little Rock Fair) while trying to salvage a program that won 11 games from 2014-2015, the most successful stretch in two decades.
Parkview has won four games this fall, bolstered by a current three-game win streak. The Patriots (80-man roster) visit Class 5A No. 3 Little Rock Christian this week.
The success didn't materialize in the past month. Opposing coaches and parents noticed Parkview's improved work ethic and discipline during summer team camps and seven-on-seven competitions.
An infusion of talent and confidence has taken the Patriots to their first 3-0 conference start in more than 30 years and the cusp of the playoffs. At least one Division II school has attended every Parkview game this season, Bolding says.
Senior Zach Smith (5-10, 185) (in Rhonda Sharp photo above) has rushed for more than 400 yards while splitting carries this fall. He ran for 103 yards and a  touchdown in last week's 35-14 win over Beebe. Smith logged seven carries for 63 yards and three TDs the previous week at LR Fair.
Smith power cleans 315 pounds, clocks 4.37 speed and vertical jumps 40 inches. "He's starting to transfer his measurables to the field," Bolding says. "He realizes if he's a 4.3 on the field, not many people are going to catch him. With his strength, he can run people over." Most in-state Division II schools are looking at Smith.
But Parkview's biggest influx of talent comes from North Little Rock transfers Joe Howard (5-11, 175), Tyrell Hadley (5-8, 165) and Trevon Hadley (5-11, 205), all of whom lived in Little Rock while attending North Little Rock, Bolding says.
Howard caught 14 passes for 275 yards in an all-conference campaign last fall for North Little Rock. He has more than 500 yards this season. Howard (4.5 speed) grabbed five receptions for 99 yards Week 3 against his former team, then caught two passes for 82 yards and a TD and threw a TD pass the following week against Mills. Every in-state Division II school and UCA are evaluating Howard. Arkansas State has shown interest.
Howard doubles at cornerback/safety for the Patriots, developing into a team leader over the past month. Against Beebe, Howard knocked down a fourth-down pass 40 yards down field instead of intercepting it. "Ninety-nine percent of high school kids intercept that pass just to get an interception," Bolding says. "You don't coach too many like him with a high football IQ who can pick up things in practice the first time you go over them."
The Hadley brothers are difference-makers, Bolding says. Tyrell Hadley (4.5 speed) averaged 18 yards per kickoff return, 12 yards per reception and 8 yards per carry last season for North Little Rock. He's emerging as one of Class 5A's premier playmakers this fall with more than 700 yards. Hadley ran for 147 yards and two TDs in the first half at Fair, and for 74 yards and two TDs at North Little Rock.
Trevon Hadley paced North Little Rock in 2016 with 103 tackles, and he paces Parkview in tackles this year. He racked up a team-high 16 stops against run-oriented Beebe. Hadley also works at fullback, where Bolding believes he'll play in college. Trevon Hadley carried 11 times for 62 yards and a TD against Benton and blasted 13 yards for a TD against Mills. "He's our most physical player," the coach says. UCA and every Division II school are recruiting him.
Junior quarterback Geary Allmon (5-9, 175) worked at receiver in the spring and early summer, but moved back late this summer to QB where he started every game in 2016. Allmon has passed for more than 800 yards this fall, including 174 yards and three TDs against Beebe. Allmon could emerge as a Division II recruit next season.
"It's been a blessing from God," says Bolding, who publicly rededicated his life to Christ in August. "We have a good senior group that has bought in to our process. I made changes to my life, and I'm blessed to have a job in Little Rock and work in this community."