Hogs: defending Bama's QB a real pain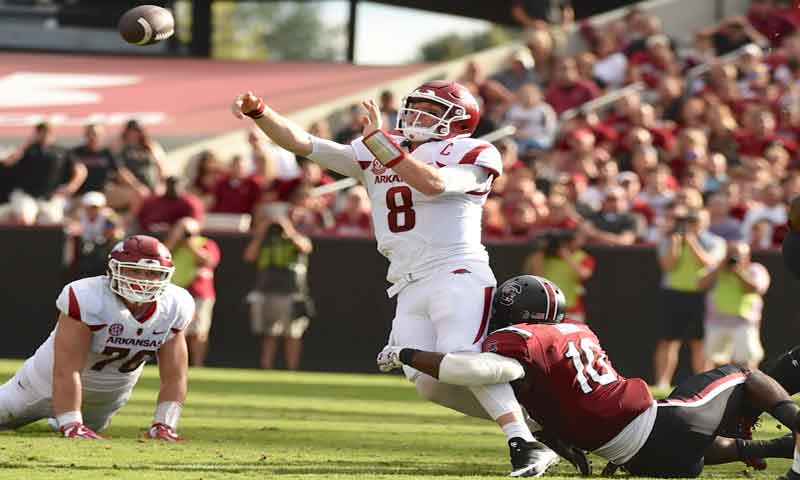 FAYETTEVILLE - Arkansas head coach Bret Bielema made an unscheduled media appearance after Wednesday's practice, otherwise reserved for defensive players and coaches.
With the SEC teleconference derailed by technical difficulties in the morning, Bielema updated on the two players Wednesday night. Starting quarterback Austin Allen and offensive lineman Johnny Gibson, injured during last week's 48-22 loss at South Carolina, should be able to play Saturday night at No 1 Alabama.
Although Allen (throwing shoulder) is "not there yet," Bielema said.
Arkansas (2-3, 0-2) is a 30-point underdog at Alabama (6-0, 3-0). Kickoff is set for 6:15 on ESPN at Bryant-Denny Stadium.
Bielema said the staff "held our breaths" pending Sunday night's MRI showing no structural damage to Allen's shoulder, and that Allen has gradually increased a limited practice routine Tuesday and Wednesday.
"Just a little stiff and sore at the beginning of the week, but he's out there," Bielema said. "As a quarterback, the biggest thing you have to do is function and throw the football," Bielema said. "If he's as good as he was going into last week, he for sure would.
"But he's not quite there yet. I think a lot depends on how well he recovers from tonight (Wednesday's practice), and we'll look at that tomorrow (Thursday's practice). We know we have to protect Austin better."
The Hogs cannot afford Allen or backup Cole Kelley, the redshirt freshman who will start if Allen doesn't, absorbing the type of pounding from the Tide that Allen has taken thus far this season.

KELLEY, STOREY PREPARE
Kelley and Ty Story, last year's backup and current No. 3 QB, have gotten more work this week with Allen limited.
"It was good for Cole to get out there, and I think Ty Storey has had a good couple of weeks during the bye week and everything else," Bielema said. "He's a guy who probably manages and handles the game a little more like Austin as far as game-plan wise. Different from Cole. So whoever is out there will get their chance, but I feel good about them."
GIBSON PRACTICES FULL TILT
Regarding fourth-year junior Gibson of Dumas, Bielema said, "Johnny looks good. Did everything out there today. I don't expect any problems or issues with him.  He's been in the training room and it paid off today. He had a good practice. A really spirited practice."
HURTS CAN HURT BOTH WAYS
Sophomore QB Jalen Hurts leads the 6-0 Tide in rushing with 69 carries for 557 yards with five TDs, partly because Alabama alternates four tailbacks which keeps any from amassing big numbers. He has completed 63 percent of his passes, 70 for 111 for 870 yards and seven TDs without an interception. Hurts is tied for No. 24 nationally in total rushing yards.

Hurts' run-pass dual threat creates "big-time" stress on his linebackers, Arkansas inside linebacker coach Vernon Hargreaves said.
"It makes for a tough day," Hargreaves said. "If it looks like it's going to become a pass, that doesn't necessarily mean it's going to be a pass. So, he can beat you and get a first down. Our job playing behind the line is to play the run and the pass. In addition to tackling those other big jokers out there, we have got to tackle him, too."
Hurts' runs are by design or scrambles, Hargreaves said. "They have a package for him where it is designed runs, and some of them are when everything breaks down and he gets the first down on his own. Those are the ones that get you. Because you feel you've got everything covered, and then he goes and gets the first down anyway."
Running QBs devastated Arkansas' 4-3 defense last season, but it seems this year's 3-4 defense has better defensed mobile QBs.
"How we are deployed with the defenses that we play gives us more eyes and allows us to have more people who can get him on the ground," Hargreaves said. "The kid at Texas A&M (Aggies quarterback Kenny Hill) got away from us one time but other than that we were pretty good."
A&M's freshman QB Kellen Mond carried 10 times for a team-high 109 yards. A&M ran for 285 yards and three TDs as a team. Alabama ranks No. 7 in the nation in rushing offense, averaging 302 yards (6.4 ypc) per game.
Arkansas sophomore defensive end McTelvin "Sosa" Agim said Hurts has morphed from freshman flash to a savvier, swifter sophomore with a strong arm.
"His arm has gotten better," Agim said. "He knows when to take off and run with it. He knows when to sit in the pocket better now. His legs have gotten better. He looks like he's faster this year. I feel like overall he's just become a better football player. He's like Joe Cool back there. He's just calm the whole time."