Class 7A Week 7 Rankings, Notes & Picks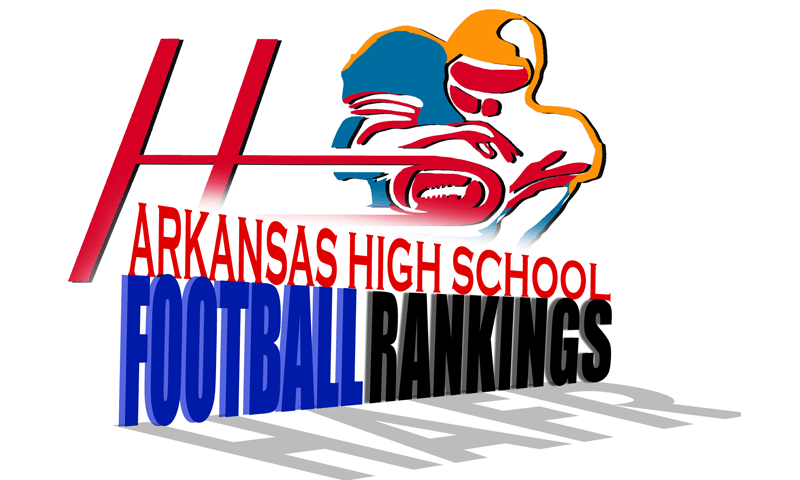 Hootens.com Rankings
Class 7A, Week 7, 2016
Copyright Hooten Publishing, Inc.
1. North LR (6-0)
2. Springdale Har-Ber (5-1)
3. Bentonville (4-2)
4. Fayetteville (5-1)
5. Cabot (5-1)
6. FS Northside (4-1)
7. FS Southside (2-4)
8. Conway (1-5)
9. Bryant (4-2)
10. Rogers (4-2)
11. Bentonville West (2-4)
12. Springdale (3-3)
13. LR Catholic (1-5)
14. LR Central (3-3)
15. Van Buren (2-4)
16. Rogers Heritage (0-6)

HOOTENS.COM GAME OF THE WEEK
No. 6 FS Northside at No. 8 Conway.
Northside shut out Bryant and LR Central to start league play but needed a 63-yard pass on third-and-9 and a defensive stand inside it's own 10-yard line in the final four minutes to rally by LR Catholic 26-19 last Friday. In fact, the Grizzlies only managed one other offensive TD, an 80-yard run up the middle by tailback Hunter Pendalton (5-6, 130). Northside's defense allows just 8.25 points over the past four games. Grizzly two-way standout Tre Norwood, committed to Coach Bobby Petrine and the University of Louisville, caught the game-winning pass last Friday.
Conway stayed close in four of its first five games (losing by just 5.5 points) before breaking through at previously unbeaten and No. 3-ranked Cabot last week. The Wampus Cats forced three turnovers in its fifth win over Cabot in seven seasons. Conway gains 150 yards rushing and 105 yards passing weekly. Conway hasn't attempted more than 17 passes in a game since tossing 42 times in a season-opening loss to Springdale, 37-30.

TV SHOW
Hooten's Arkansas Football TV show airs 10:30 a.m. Saturday's on KATV (Channel 7) this fall.
LAST WEEK
Hooten's Arkansas Football correctly predicted winners in 5 of 8 games involving Class 7A teams. For the season, hootens.com is 48-16 (75 percent).

WEEK 7 PREDICTIONS (favored team in CAPS followed by point spread)

7A Central
FS Northside at CONWAY (4): Class 7A Game of the Week.

LR Catholic at NORTH LR (35): Catholic sophomore sensation Samy Johnson totaled 304 all-purpose yards, including a 75-yard TD run in last week's narrow loss at FS Northside, 26-19. The Rockets won't be as evenly matched with unbeaten and unchallenged North LR, which outscores opponents 51-13. The Charging Wildcats looked especially sharp last Friday, invoking the mercy rule on FS Southside with 3:09 left in the third quarter. North LR's defense scored two touchdowns and a safety, homecoming maid Savana Melton kicked eight PATs and a consistently stout running game was complimented by senior quarterback Trey Cox's 193 yards passing. A rematch of North LR's intense preseason scrimmage with Springdale Har-Ber seems likely in December. It would be North LR's first state title game appearance in the modern playoff era.
CABOT (14) at LR Central: Cabot's 16-game, regular-season win streak ended with last week's 37-14 loss to rival Conway. Panther QB and Arkansas Razorback commit Jarrod Barnes, hobbled by a high-ankle sprain on the second half kickoff return, couldn't outrun a Conway defensive lineman for a high snap in the third quarter. The turnover set up a Conway TD and later the Wampus Cats intercepted a Barnes pass. The upset delayed Cabot coach Mike Malham from becoming the state's second all-time winningest coach but he gets victory No. 290 this Friday. LR Central won its three non-conference games but has been outscored 109-24 in league play.
Bryant at FS SOUTHSIDE (7): Shut out by FS Northside in the conference opener, Bryant scores 41 points back-to-back weeks for wins. FS Southside got mercy-ruled at No. 1 North LR last week, trailing 51-10 with 3:09 left in the third quarter.
7A West
SPRINGDALE HAR-BER (35) at Bentonville West: Har-Ber, barring an upset by Fayetteville next week, headed for top playoff seed and probably a rematch in December with North LR, which it beat 3-0 in a intense two-quarter preseason scrimmage. Har-Ber allows just 12 points per game in conference play with 11 sacks, 8 fumble recoveries and 6 interceptions this season. Har-Ber QB Payton Copher turned in his best performance of the season last week, completing nine of 14 passes for 110 yards and rushing for 152 yards in a 29-15 win over Bentonville. Har-Ber trailed 3-2 at halftime before exploding for 20 points in 6:15 of the third quarter. Bentonville West stung Springdale 42-40 last week, knocking away a two-point pass with 1:41 left. Then the Wolverines pounded the Bulldogs with runs to expire the clock. Two weeks ago, West turned it over on four consecutive possessions with fumbles and trailed 43-0 by halftime at Fayetteville.
Rogers Heritage at FAYETTEVILLE (22): Fayetteville wins with less flare this fall, possibly priming for another deep playoff run. An upset at Har-Ber next Friday likely means the Purple Dogs get a share of the league crown. Rogers Heritage has officially lost 17 straight games. The War Eagles committed turnovers on five consecutive possessions last Friday at Van Buren.
Van Buren at ROGERS (9): Rogers won the last two conference meetings in 2013 and 2014. Van Buren beat Rogers as a non-conference opponent int 2011 and 2012. Rogers looks for its fifth win under first-year Coach Mike Loyd. The Mounties totaled just three wins over the past two seasons. Rogers hung with defending state champ Fayetteville last Friday, trailing just 26-17 midway through the third quarter. Van Buren celebrated homecoming last Friday, handling winless Heritage 32-14 for just its second victory in 13 outings. Van Buren got 140 yards rushing from Walter Green and its defense forced Heritage turnovers on five consecutive series. Heritage lost to Rogers 35-34 a week earlier.
BENTONVILLE (20) at Springdale: Bentonville QB Canaan Ross accounted for 257 yards, including seven passes for 129 yards to Kam'Ron Mays-Hunt in last week's 29-15 loss at Springdale Har-Ber. The Tigers can still earn a share of the league title by winning out and with a Fayetteville upset at Har-Ber next Friday. Springdale drops to 0-3 since the tragic death of all-state senior receiver Kyler Williams. The Bulldogs last beat Bentonville in 2006.