Class 5A Week 7 Rankings, Notes & Picks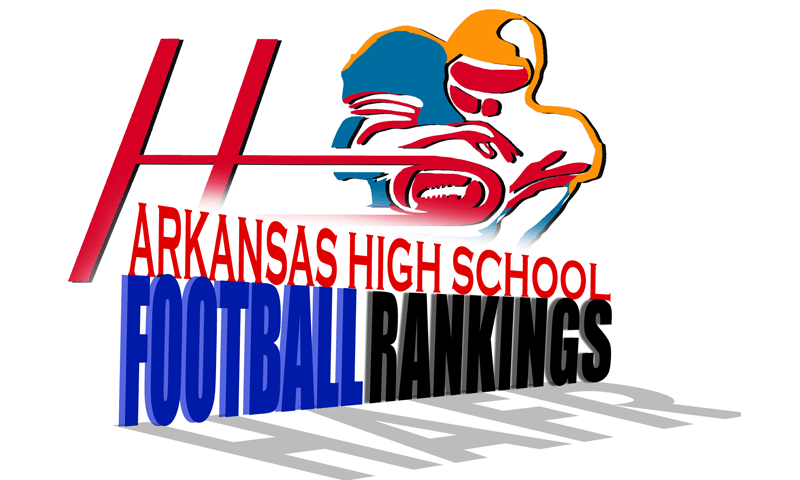 Hootens.com Rankings
Class 5A, Week 7, 2016
Copyright Hooten Publishing, Inc.
1. Pulaski Academy (5-1)
2. Batesville (4-2)
3. Wynne (6-0)
4. Morrilton (1-5)
5. Sylvan Hills (6-0)
6. Alma (3-3)
7. LR McClellan (4-2)
8. Watson Chapel (4-2)
9. Greenbrier (5-1)
10. White Hall (6-0)
11. Blytheville (4-2)
12. Harrison (6-0)
13. Forrest City (4-2)
14. HS Lakeside (2-4)
15. Vilonia (4-2)
16. Nettleton (4-2)
17. Valley View (4-2)
18. LR Christian (1-5)
19. De Queen (3-3)
20. Beebe (2-4)
21. Maumelle (1-5)
22. Magnolia (2-4)
23. Hot Springs (1-5)
24. Camden Fairview (1-5)
25. Farmington (2-4)
26. Paragould (2-4)
27. Mills (2-4)
28. LR Parkview (1-4)
29. Hope (0-6)
30. Clarksville (1-5)
31. Greene Co. Tech (0-6)
32. LR Fair (1-5)

GAME OF THE WEEK
No. 2 Batesville at No. 3 Wynne
This game decides the conference championship for the 12th time in 16 years. Batesville has won seven of the past nine in the series, including 34-28 at Wynne in 2014 and 31-14 last season. The past three meetings in Wynne  went to the wire, with Batesville getting an improbable win by returning a fumble for the winning TD with 49 seconds left in 2012, and Wynne was unable to hold onto pass in the end zone on the final play in 2014 (Batesville won 34-28).

Beat-up Batesville (10 season-ending injuries) has four straight victories after starting the season 0-2. The Pioneers turned the ball over 13 times in the opening three games, but just once in three conference games. They scored a touchdown with one second left in the first half last week against Forrest City, taking a 15-8 halftime advantage and cruising to a 28-point decision. Batesville averages 428 yards per game. Senior quarterback Zach Griffin has emerged as a playmaker, completing 58 of 107 passes (54 percent) for 1,014 yards and eight TDs. He ran for two TDs against Forrest City. Senior Kylan Robinson has 53 carries for 518 yards and five TDs this year, 23 receptions for 484 yards and two TDs, and he returned one kickoff for a TD. Lanky Senior Blake Franks (6-4, 210) has 48 tackles and six sacks.

Undefeated Wynne outscores opponents 48-16. The Yellowjackets start underclassmen at 15 positions (seven on offense, eight on defense). The Yellowjackets were tied at Valley View 21-21 in the second quarter last week before exploding with multiple big plays. "I thought the number of big-plays would be down after we switched offenses (went from Spread to Flexbone in 2015)," Coach Chris Hill says. "But it's produced more of them. Teams miss a tackle at the line of scrimmage and we have a chance to score." Junior Ta'von Hicks ran for three TDs against Valley View. Senior slotback/safety Davontai Pounds ran for a TD last week, caught a TD pass, returned punt 87 yards for a TD and intercepted two passes. "Pounds is one of the better players in the state," Batesville coach Dave King says. The Yellowjacket defensive line disrupts plays with junior end Logan Jessup (6-3, 260) and Hicks at noseguard.

TV SHOW
Hooten's Arkansas Football TV show airs on KATV (Channel 7) at 10:30 a.m. Saturday's this fall.

LAST WEEK
Hootens.com correctly predicted 14 of 16 games (88 percent). For the season, Hootens.com has correctly predicted 117 of 137 games (85 percent).

WEEK 7 PREDICTIONS (favored team in CAPS followed by point spread)
5A CENTRAL
Beebe at LR MCCLELLAN (16): LR McClellan beat the Badgers by one point last season. The Lions led LR Fair 46-0 at halftime last week after Pierre Strong ran six times for 61 yards and four TDs. Beebe notched its first conference victory in Week 6, turning a five-point lead into a 40-13 triumph over LR Parkview. Badgers Khalil Anthony (321 yards, four TDs), Taylor Boyce (390 yards, nine TDs) and Nathan Burnett (361 yards, five TDs) drive a Badger rushing attack that averages 246 yards per game.
LR CHRISTIAN (11) at LR Parkview: Little Rock Christian has lost four games by a TD or less in 2016. The Warriors trailed Pulaski Academy 36-28 in the third quarter last week before losing by 38 points. LR Christian junior QB Jackson Bowersock completed 23 of 37 passes for 257 yards and four TDs against the Bruins. LR Parkview trailed Beebe 12-7 at halftime last week but lost by 27 points.
LR Fair at MILLS (20): Mills senior fullback Brandon Bunting ran 13 times for 101 yards last week at Sylvan Hills, often dragging tacklers with him. An opposing coach says Bunting is one of the league's top backs. LR Fair picked up a forfeit win last week from Morrilton (lost 60-0 Week 2). The War Eagle offense has just two TDs this fall.
Sylvan Hills at PULASKI ACADEMY (22): The Bruins have never lost to Sylvan Hills. But undefeated Sylvan Hills is playing better D in 2016. The Bears rested standout QB Jordan Washington (played sparingly at receiver) in last week's 37-point win over Mills. "Washington is so big, he falls forward for two yards," Pulaski Academy coach Kevin Kelley says. Pulaski Academy's lightening-quick offense struck last week at LR Christian when the Bruins blew up with 37 points in 22 minutes. Junior QB Layne Hatcher passed for 463 yards and six TDs, while senior Jaren Watkins ran 21 times for 149 yards and three TDs and caught five passes for 81 yards and a score. Watkins has 87 carries for 962 yards (11.1 yards per carry) and eight TDs this fall, and caught 13 passes for 151 yards and three TDs.

5A EAST
Batesville at WYNNE (1): Hootens.com Class 5A Game of the Week.
Valley View at BLYTHEVILLE (11): It's homecoming at Blytheville, and the Chickasaws have beaten Valley View the past two years (only meetings in school history) by a combined 77-37. Valley View trailed unbeaten Wynne 28-21 at halftime last week but failed to score in the second half. Senior Demekko Clark ran for 283 yard and six TDs in last week's 53-20 win at Greene County Tech.
Paragould at FORREST CITY (9): Forrest City celebrates homecoming week. The Mustangs have won seven of the past eight over Paragould since moving into the 5A East in 2008. Forrest City trailed Batesville 15-8 at halftime last week (Batesville took lead on TD with one second before halftime). Paragould senior QB Zac Hoggard ran for 118 yards and a TD in last week's 21-8 loss at Nettleton.
NETTLETON (14) at Greene Co. Tech: These teams have split the past eight meetings, with Nettleton winning two straight in the series by a combined 68 points. Nettleton led Paragould 21-0 late in the second half last week. Greene County Tech has 10 TDs this fall.

5A SOUTH
De Queen at CAMDEN FAIRVIEW (3): Camden Fairview has beaten De Queen by a combined 280-70 (average of 47-12) the past six years. De Queen threw the winning 67-yard TD pass with 1:17 left in last week's one-point triumph over Hot Springs. Camden Fairview continues struggling on defense (give up 49 points in conference games).
HS LAKESIDE (17) at Hope: These teams have split the past 16 meetings, with Lakeside winning the past two (by 21 points in 2014 and two points last year). HS Lakeside trailed White Hall by 20 points in the third quarter last week and lost 64-36. Ram junior running back Dupree Swanson has 163 carries for 779 yards and 13 TDs this season, while senior receiver Caleb Dean has 36 receptions for 603 yards and eight TDs. Hope surrendered five first-quarter TDs last week at Watson Chapel.
Magnolia at HOT SPRINGS (1): Magnolia has beaten Hot Springs 13 of the past 18 years, but Hot Springs has won three straight in the series by a total of 40 points. Hot Springs led De Queen late in the fourth quarter last week before surrendering a long TD pass with 1:17 left. Magnolia played one of its better games six years last week, edging Camden Fairview by 21 points.
WATSON CHAPEL (1) at White Hall: The winner likely gets the conference championship. These teams are 7-7-1 against each other since 2000, but Watson Chapel has won two straight in the series (by 12 points in 2014 and 35 points last year). It's spirit week in the White Hall district and "it's a big deal for them to beat us," Watson Chapel coach Jared Dutton says. White Hall went winless last season, but improved team speed makes the undefeated Bulldogs dangerous in 2016. White Hall senior Lance Smith ran for three TDs at HS Lakeside. Watson Chapel puts up 38 points and 350 yards weekly. Senior Jaquan Dorsey has 16 catches for 313 yards and one TD in 2016, 21 carries for 133 yards and he's completed eight of 23 passes for 95 yards and a TD. Watson Chapel's D gets plays from senior safety Michael Williams (84 tackles, two interceptions and three fumble recoveries) and cornerback Jonathan Harris (29 tackles, one interception and one forced fumble). Dutton continues coaching on Friday's and spends most of the week at Children's Hospital with his infant daughter. He game plans via telephone with assistant coaches during the week.

5A WEST
Clarksville at ALMA (28): Alma still gets the league title if it wins out after last week's two-point loss at Morrilton. Alma senior QB Noah Dotson passed for 213 yards and four TDs at Morrilton. Dotson has completed 71 of 130 passes for 1,160 yards and nine TDs this season, with just one interception. Clarksville has lost five straight games, scoring just 41 points in that span.
Harrison at GREENBRIER (10): Both teams picked up forfeits last week from Morrilton before winning on Friday (Harrison hammered Vilonia 38-6; Greenbrier gouged Farmington 41-14). The winner likely secures a playoff spot. Greenbrier's underrated D held Farmington to 57 yards in the first half, while standout QB Carter Burcham passed for 351 yards and two TDs and ran for another TD at Farmington. Harrison junior QB Noah Ditmanson ran for a pair of TDs in last week's dominating 32-point win over Vilonia.
MORRILTON (14) at Maumelle: Morrilton was forced to forfeit four wins last Wednesday, but the Devil Dogs dumped Alma 28-26 two days later and could host a home playoff game with some help. Devil Dog senior Lane Grandberry makes plays at linebacker, and secured the victory over Alma with tough fourth-quarter runs. Grandberry averages 4.5 yards per carry this year. Maumelle QB Xavion Morgan passed for 174 yards and two TDs and ran for 72 yards and two more TDs in last week's 27-point win at Clarksville.
Farmington at VILONIA (9): Farmington's D matches up better with run-first Vilonia (average 122 yards rushing per game) than it did last week against versatile Greenbrier. Farmington QB Trey Waggle threw an 80-yard TD pass against Greenbrier. Vilonia struggled to slow Harrison's running attack last week.