Class 3A Week 7 Rankings, Notes & Picks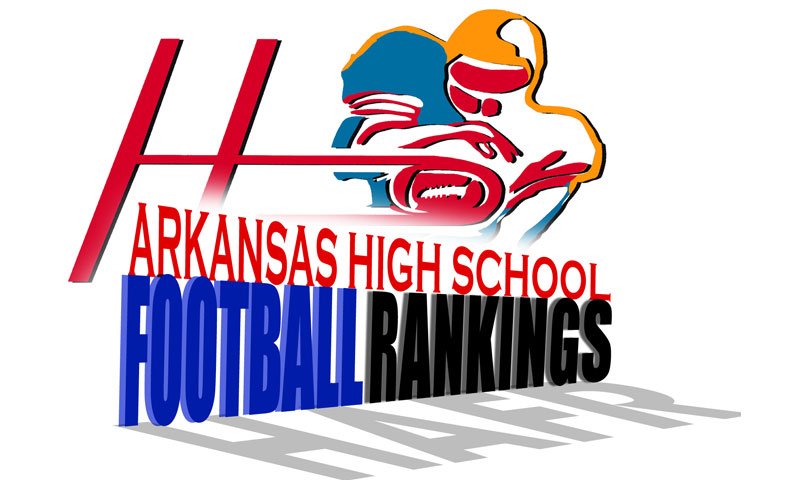 Hootens.com Class 3A Rankings
Week 7, 2022
Copyright Seventy Seven's Publishing
1. Prescott (6-0)
2. Booneville (5-1)
3. Rison (5-0)
4. Charleston (5-1)
5. Melbourne (6-0)
6. Lavaca (6-0)
7. Hoxie (4-2)
8. Fordyce (5-2)
9. Centerpoint (5-0)
10. Newport (4-2)
11. Glen Rose (4-2)
12. Camden Harmony Grove (4-3)
13. Walnut Ridge (5-1)
14. Perryville (4-2)
15. Gurdon (4-1)
16. Quitman (3-2-1)
17. Mansfield (4-2)
18. Bismarck (3-3)
19. Greenland (3-3)
20. Osceola (3-3)
21. Smackover (4-2)
22. Salem (4-3)
23. West Fork (3-3)
24. Fouke (4-3)
25. Magnet Cove (3-3)
26. Barton (2-4)
27. Junction City (1-5)
28. Cedarville (2-4)
29. Yellville Summit (4-3)
30. Lake Village (2-2)
31. Drew Central (3-4)
32. Jessieville (2-4)
33. Hackett (1-5)
34. Manila (2-4)
35. Two Rivers (2-3)
36. Atkins (0-7)
37. Dollarway (0-6)
38. Horatio (1-4)
39. Paris (0-6)
40. Corning (1-6)
41. Piggott (0-7)
42. Palestine-Wheatley (0-6)
LAST WEEK
Hootens.com correctly predicted 15 of 19 games (79 percent) involving 3A teams and is 136 of 182 (75 percent) for the season.
WEEK 6 PREDICTIONS (Favored team highlighted in yellow and ALL CAPS)
HOOTENS.COM GAME OF THE WEEK:
RISON at Fordyce
The winner of this matchup will likely earn the No. 1 seed out of 6-3A.
Third-ranked Rison (5-0, 2-0) comes off a 36-15 win over Camden Harmony Grove last Friday. Rison's three-man backfield rotation of Bradyn DuPuy, Trey Wainwright, and Za'kyler Walker combined for more than 300 yards last Friday. Rison also recovered an onside kick to spark its second-half rally. Rison's defensive front is led by Roger Boswell, who draws double teams on almost every play.
No. 8 Fordyce (5-2, 3-0) is coached by Tim Rodgers, who coached Rison's Clay Totty in junior high in Fordyce.  Fordyce's offense relies on Kriston Belin (1,010 yards, 14 TDs for the season) and Brenton Sledge, who combined for 306 rushing yards in a 61-14 win over Dollarway.
1-3A
Mansfield at BOONEVILLE Dax Goff (7-203 rushing, 4 TDs) led second-ranked Booneville (5-1) to a 55-21 win over Greenland. Mansfield (4-2) fell 42-7 to Charleston.
Hackett at CHARLESTON QB Brandon Scott threw for 270 yards and 3 TDs, completing passes to 8 different receivers, as fourth-ranked Charleston beat Mansfield in Week 6. Hackett (1-5) is coached by Charleston grad Michael Meador. The Hornets are averaging 286 yards per game on offense.
Greenland at LAVACA Lavaca (6-0) took advantage of two turnovers and West Fork penalties en route to a 31-7 win last Friday. Greenland (3-3) led Booneville early but could not keep up with the high-scoring Bearcats after the first quarter.
WEST FORK at Cedarville West Fork (3-3) lost two fumbles and committed penalties at inopportune times in its 24-point loss to Lavaca. Cedarville's Jace Baker rushed 20 times for 147 and the decisive TD in an 18-12 win over Hackett.
2-3A
MELBOURNE at Perryville Melbourne's Trey Wren has passed for 17 TDs and completed 76 percent of his attempts with 1 interception for the 6-0 Bearkatz. Perryville QB Tyler Givens has accounted for 1,522 total yards and 16 TDs. Melbourne Coach Stu Smith says that every possession will be critical and is challenging his team to match Perryville's physical style.
Yellville-Summit at SALEM Yellville-Summit's Landyn Keiter ran for 120 yards, 2 TDs and two 2-point in a 54-16 Week 6 loss to Quitman. Salem (4-3) has allowed 43 points per game in its last two outings.
Atkins at QUITMAN Quitman's Nassir Donohoo rushed for 104 yards and 5 TDs and passed for 150 yards in last week's 54-16 win over Yellville-Summit. Donohoo has scored 27 touchdowns on the season. Hayden Duvall had 73 yards and a TD for Atkins in 52-6 loss to Newport.
OPEN Newport
3-3A
Palestine-Wheatley at MANILA Manila (2-4) attempts to stamp its playoff ticket against winless Palestine-Wheatley, which put up 101 yards of offense in 48-0 loss to Osecola in Week 6.
Corning at WALNUT RIDGE Walnut Ridge totaled 382 offensive yards on 35 plays in 44-0 win over Piggott. Walker Ward accounted for 151 yards and 3 TDs on 11 carries. Corning (1-6) held Hoxie to 121 rushing yards in 42-0 loss.
Piggott at HOXIE QB Sage Treadwell completed 11 of 14 passes for 209 yards and 4 TDs in Hoxie's shutout win over Corning in Week 6. Landen Gibson led the Hoxie defense with 9 tackles as the Mustangs posted their second shutout.
OPEN Osceola
4-3A
BISMARCK at Magnet Cove Bismarck QB Ian Smith completed 17 of 30 passes for 187 yards against Glen Rose before exiting in the fourth quarter of a 33-18 loss to Glen Rose. Sophomore QB Ben Keithley completed 7 passes for 71 yards in relief of Smith. Magnet Cove struggled early in a 28-10 loss to Centerpoint.
Paris at TWO RIVERS Paris put up 21 points in 29-point loss to Jessieville Week 6. Two Rivers spent its bye week refining its passing attack and working on open-field tackling.
CENTERPOINT at Jessieville Hard-charging senior RB Jace Clark (171 yards per game) and a strong offensive line have propelled the Centerpoint Knights to a 6-0 start and No. 9 ranking. Jessieville rushed for 242 yards against Paris, with senior Carson Freeland (153 yards) and Junior Broc Mayr (4 TDs) leading the way.
OPEN Glen Rose
5-3A
PRESCOTT at Homer La. Top-ranked Prescott travels to Homer, La., filling a hole in its conference schedule created by the move of Parker's Chapel to 8 Man. Coach Brian Glass says he believes the matchup with Homer will be a challenging one.  "They are the most athletic team I've seen in a long while," Glass said of Homer. Prescott scored 56 on Fouke, with Traveon Dickens rushing for 155 yards on 8 carries. Carston Poole passed for 164 yards and rushed for a TD. Junior John Rabadan was 8 for 8 on extra-point attempts for Prescott.
SMACKOVER at Horatio Smackover (4-2) survived a late Junction City rally to beat the Dragons (1-5) for the first time since 2018. Horatio (1-4) dropped a 22-8 decision to Murfreesboro.
GURDON at Fouke Gurdon (4-1) has been on a bye since Week 4. Fouke (4-3) lost 56-7 to top-ranked Prescott.  Terrell Robinson scored Fouke's lone touchdown.
OPEN Junction City
6-3A
Dollarway at LAKE VILLAGE Dollarway (0-6) scored a season-high 14 points vs Fordyce. Lake Village (2-2) looks to notch its second consecutive trip to the playoffs.
Drew Central at BARTON Barton (2-4) spent its off week preparing for the rushing attack of Drew Central (3-4). The winner of this game will clinch the fifth seed for the conference.
OPEN Camden Harmony Grove