RECRUITING: Hamburg owns skill, linemen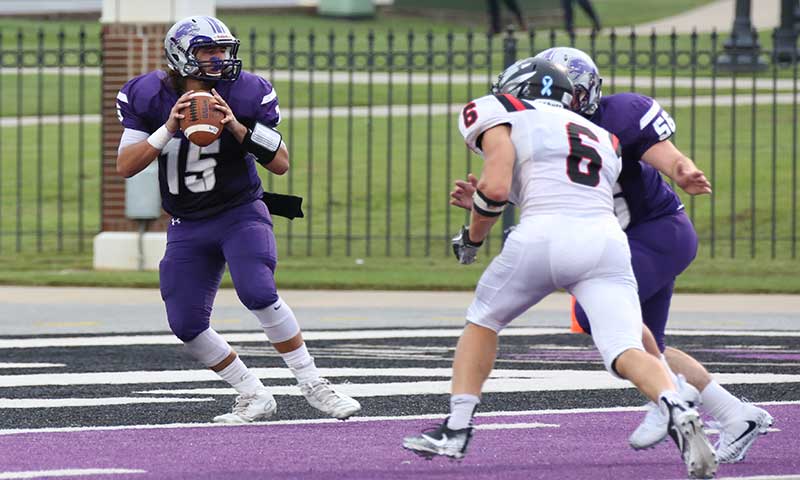 By BARRY GROOMES
Hamburg owns a 5-1 record and enters this week's crucial matchup at Helena (5-1) as the No. 7 team in Class 4A.
But considering the rugged month ahead, "the playoffs start this week," Hamburg coach Cecil Ray Cossey says. The Lions play host next week to Ashley County rival Crossett before closing the regular season against Warren and Dumas. 
"We have a chance to be the No. 1 playoff seed, and we might not make it if we lose the next four games," the coach says.
Hamburg's only loss came to Class 5A Camden Fairview, 25-19 in overtime Week 2. Since, the Lions lambasted DeWitt, Monticello and Star City by a combined 118-45. 
The Lions average 32 points per game behind senior quarterback and college prospect Jonathan Kelley (6-2, 205). The strong-armed Kelley completes 60 percent of his passes for more than 1,100 yards and 12 touchdowns. But opposing coaches are impressed by his game-management skills. Kelley hasn't thrown an interception in 2018. "He knows when to hold and when to get rid of it," Helena coach Russell Smith says. "He stands tall in the pocket and attacks."
Kelley completed 10 of 12 passes for 150 yards and ran 15 yards for a TD in last week's 21-point win at Star City, and he hit seven of eight passes for 185 yards and two TDs the previous week against Monticello. UAM, Henderson State, Ouachita Baptist and other in-state D2 schools are evaluating Kelley.
Kelley's favorite target this year is senior receiver Jalen Wilson (6-3, 195), playing football this fall for the first time after focusing on basketball since junior high. Wilson has 22 catches for 508 yards and nine TDs in 2018. Every D2 school has inquired about Wilson, along with Louisiana-Monroe. But Wilson might opt to play basketball in college (averaged 17.8 points per game in 2017-2018) if given the opportunity.
In his first varsity game, Wilson caught Hamburg's only TD (a 20-yarder from Kelley) late in the third quarter of a 10-7 triumph at Ashdown. He caught a 42-yard TD pass the following week against Strong. Wilson's recruiting stock soared Week 4 when he tied a state record with five TD receptions at DeWitt.
Offensive tackle Jared Laughlin (6-6, 325) earned all-conference honors last season and could be on Class 4A's top linemen this fall. The senior bench presses 325 pounds and deadlifts 550 pounds. He committed to UAPB in July but owns a scholarship offer Texas State. Laughlin visited UCA and Memphis in the spring. Air Force and LouIsiana Tech are among the Division I schools to recently express interest in him.
"He's a throwback, old-school, knock you off your feet kind of lineman," Cossey says. "He's nasty and enjoys breaking the will of defenders. His pass protection has improved this year."
Laughlin tore his meniscus at a UCA camp in June but returned to full strength a month ago.
Senior tight end/defensive tackle Gage Price (6-2, 250) owns scholarship offers from Harding, Henderson State, Ouachita Baptist, Southern Arkansas University and UAPB.
Price (325-pound bench press, 300-pound power clean) has developed into a weapon in his first season at tight end. Price, who caught a 16-yard TD pass Week 1, springs big runs with bulldozer blocks.
In a dozen games last year, Price collected 66 stops and nine sacks. But he could develop into a mid-level Division I defensive lineman this fall after impressing in the opening six games. Price has 35 stops this fall, including 14 tackles for loss and four sacks.
"He plays with great technique," the coach says. "He gives relentless effort, has explosive hips and hands."