HOGS: Ole Miss' shaky pass defense; notes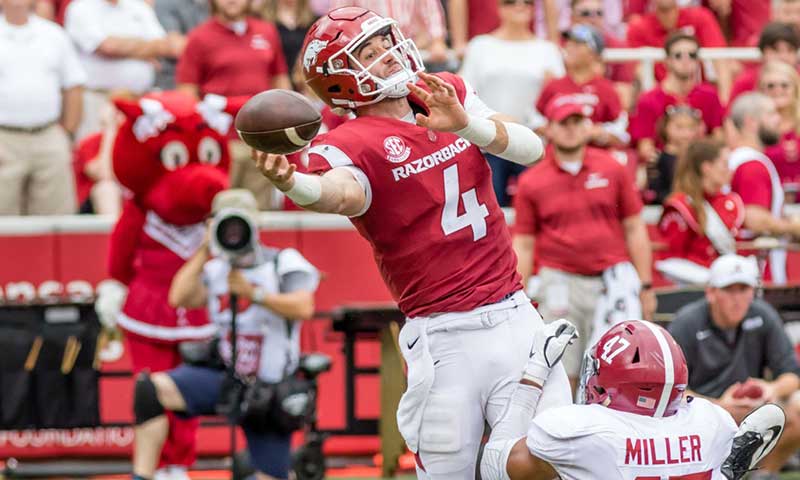 FAYETTEVILLE - Arkansas' revived passing attack faces a banged-up Ole Miss secondary Saturday night at War Memorial Stadium in Little Rock.
Kickoff is set for 6:30 p.m., and the SEC Network will televise the SEC West game.
The Razorbacks arrive in Little Rock only 1-5 overall and 0-3 in the SEC, but junior quarterback Ty Storey completed 25 of 39 passes for 239 yards and a touchdown against No. 1 Alabama.

Meanwhile, though non-conference routing Louisiana-Monroe, 70-21 last week, the Rebels (4-2, 0-2) are compelled (because of injuries) to play a couple of running backs as defensive backs.
"Arkansas presents a lot of challenges because of how much movement and motion they do," Ole Miss coach Matt Luke said Wednesday. "But  (free safety) Zedrick Woods, who is our quarterback back there, thankfully has a lot of experience. We will have to play Armani Linton who has been at running back. He will have to go over there and help us. The same thing with (5-6 reserve running back) Tylan Knight. He will go in and play a bunch just for depth."
MORRIS ON REBEL DBs
"They've had some injuries, but they are very well-coached," Arkansas head coach Chad Morris said. "A lot of experience back there. What we'll do is just worry about ourselves and do what we do, try to get this football team better each week."
SKILLED REBELS
Alabama presented the most skilled offense in the country last WEEK in Fayetteville, but Morris implies Ole Miss isn't far behind.
"When you look at their skill guys, they're as good as anybody in the SEC from a skill position," Morris said. "They have two, possibly even three, first-round receivers. They're that talented. They have great speed. I know that the quarterback (Jordan Ta'amu) makes them go. He has been very efficient and effective and he's capable of running the football, so he's very much a dual-threat. It's going to force us to cover not just sideline to sideline, but we also have to cover end zone to end zone with these guys."
Ole Miss wideouts A.J. Brown, D.K. Metcalf and tight end DaMarkus Loge are the Rebels pass-catchers Morris predicts will play on Sundays in the NFL.
RUNNING REBELS
However, it's not like  Arkansas defensive coordinator John Chavis and staff can omit defending against the Rebels running. Running back Scottie Phillips averages 7.1 per tote with 654 yards and eight  TDs on 90 carries.
"I think he's done a really good job of maximizing his opportunities," Luke said. "He's very elusive, quick through the hole and has the ability to get some yards after contact by running through people.  We knew it was going to be a struggle to replace Jordan Wilkinson, a 1000-yard rusher from a year ago. Scottie has done an outstanding job not only carrying the ball, but he's also had some catches (five for 59 yards and two TDs) out of the backfield lately."
GIBSON TO PLAY
Arkansas senior right tackle Johnny Gibson of Dumas, withheld from Tuesday's practice because of "soreness," will play against Ole Miss, Morris said Wednesday.
Morris has lauded Gibson ever since he dropped 25 pounds during the summer months.

"I think Johnny has done a really good job," Morris said. "Obviously what he did coming out of summer and transitioning his body. He's done a good job of moving around and continues to get better as the whole group does up front, especially since we found the group of five."
Finding the five included installing sophomore Ty Clary at center, moving senior Hjalte Froholdt from center back to left guard where he has started the past two seasons, getting junior left tackle Colton Jackson of Conway healthy after missing the season's first two games because of July back surgery, and senior Brian Wallace continuing at right tackle.

GATLIN MAY REDSHIRT
True freshman Noah Gatlin of Jonesboro, who started two games at tackle in Jackson's absence, has been idled by an ankle injury and hasn't played since starting in the SEC opener against Auburn after playing off the bench against North Texas.

Gatlin was in a yellow no-practice jersey Wednesday. Having started two games and playing the season opener as a reserve, Gatlin could play one game and still retain his freshman eligibility for 2019 as a redshirt.
"We'll see if we can get him back ready to go," Morris said. "We feel he can be a phenomenal player."
WHALEY RETURNS
Junior running back Devwah Whaley appears to have passed his concussion protocol that sidelined him the past two games. Whaley should back up sophomore junior college transfer Rakeem Boyd (15 carries for 102 yards against Alabama).
"It will be great to get him (Whaley) back, but Rakeem Boyd has had a really good last few weeks," Morris said.
The Razorbacks worked outdoors Wednesday in 63-degrees and sunshine after practicing Tuesday inside the Walker Pavilion because of lightning.