Hogs gotta run; Allen won't stay down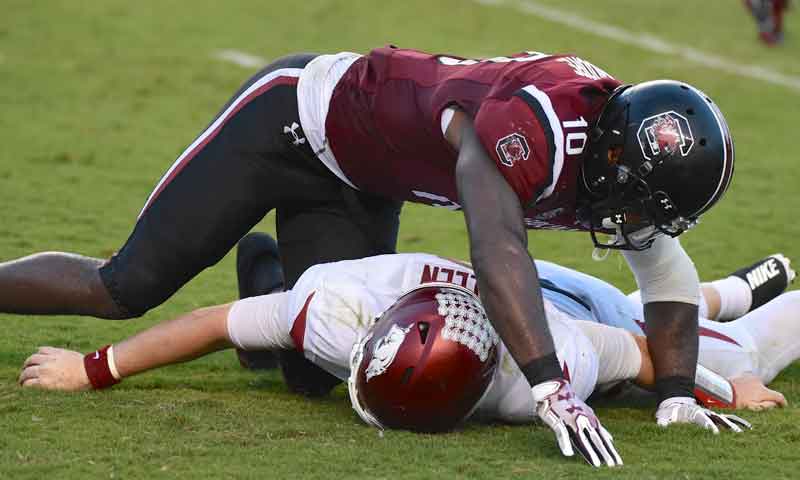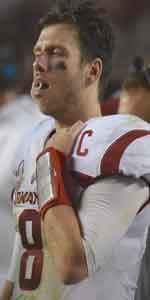 Hog QB Austin Allen
FAYETTEVILLE - Austin Allen says he hasn't missed a football game since he started playing in the second grade.
Allen practiced on a limited basis Tuesday after a throwing shoulder injury sidelined him Saturday for the fourth quarter of Arkansas' 48-22 SEC loss at South Carolina.
The fifth-year senior expects to start Saturday when the Razorbacks (2-3 overall 0-2 in the SEC West) travel to nationally No. 1 Alabama (6-0, 3-0). Kickoff is set for 6:15 p.m. on ESPN at Bryant-Denny Stadium in Tuscaloosa.
"I like to think of myself as a quick healer," Allen said. "I like to think I'll be feeling pretty good by Saturday."
TUESDAY'S ROUTINE
Allen stuck to the mundane Tuesday with "handoffs and just kind of ran around," Allen said. "Kind of just taking it slowly, day by day."
Allen said he was encouraged by the results of his medical tests. "Got an MRI yesterday (Monday) and everything came back looking good," he said. "Just taking it day by day and seeing how it all feels."
On Tuesday, the shoulder was still sore, Allen said. "You feel it, but it'll loosen up as the week goes on. I was in there with (trainer) Matt Summers all day rehabbing. It feels a lot better than it did yesterday. So it'll just continue to get better."
DON'T WANT TO SIT
Some have suggested Allen would be better off preserving his health and sitting out Saturday's game against the Crimson Tide, who are favored by 30 points.
"Nah, I don't agree with that at all," Allen said. "If I'm healthy, I'm going to be out there."
Allen believes he first injured his shoulder when clobbered by a Gamecock on what initially was flagged as a personal foul, late hit and possible targeting penalty but waved off after the hit wasn't declared as targeting.
"I guess that's why they have that rule where, if it's not targeting, they're going to pick up the flag now," Allen said, laughing with irony. "But I don't know. I'm not Steve Shaw (the SEC supervisor of officials). I don't know the rules that well."
The injury altered Allen's throwing motion when he continued at South Carolina, but he said he felt good warming up Tuesday.
ALLEN PRAISES BACKUP
Redshirt freshman QB Cole Kelley finished the South Carolina game and would start Saturday, if Allen isn't deemed fit.
Kelley completed eight of 13 passes Saturday for 140 yards and a TD with an interception. Allen connected on 12 of 24 attempts for 84 yards and a TD with an interception. SC returned both interceptions for TDs.
"I thought he played really well," Allen said. "I thought he came in there and just kind of does what he does. He's gonna have fun. He's gonna go out there and throw the ball around. He's a heck of a player. We see it all the time in practice."
In Tuscaloosa, Saban touted Allen's prowess recalling that Allen threw for 400 yards and three touchdowns when Alabama beat Arkansas, 49-30 last season in Fayetteville.
GOTTA RUN
Whether it's Allen or Kelley, the Arkansas QB needs the running game to produce against the great Alabama defense after not running much against a lesser South Carolina defense.
Arkansas managed just 106 rushing yards (3.3 ypc) at South Carolina. SC graduate transfer running back David Williams carried seven times for a team-high 32 yards and a TD for Arkansas.
"Nothing happened this past weekend that would shake their confidence," Arkansas running backs coach Reggie Mitchell said Tuesday of every Razorback on offense knowing each had a play here or there that stalled the offense. "Last week was a group effort. They missed a hole here or a hole there. They are looking forward to going out this weekend and redeem themselves."
Redemption seems the ultimate degree of difficulty for Coach Bret Bielema's Razorbacks running against the high Tide, but Mitchell insists that fuels the quest for the ultimate redemption

"Like Coach B has told them: 'How many times do you get the opportunity to play the No. 1 team in the country?'" Mitchell said.  "So we're looking at it as a challenge. And guys are embracing the  challenge and looking forward to it."