HOGS: the good O'Grady; more notes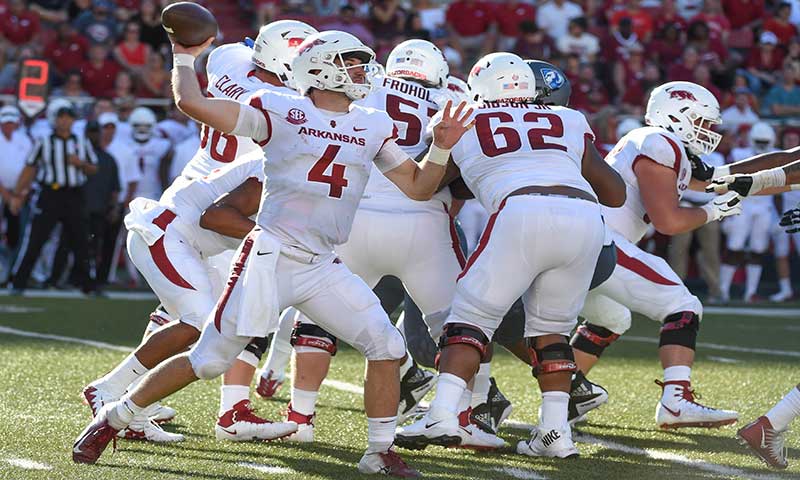 FAYETTEVILLE - Arkansas senior right tackle Brian Wallace has overcome the ankle injury that sidelined him Saturday during the Razorbacks' 65-31 loss to No. 1 Alabama.
Wallace was practicing full go Tuesday  as the Razorbacks ready for Saturday night's 6:30 SEC game against Ole Miss at War Memorial Stadium in Little Rock.

GIBSON RESTED
Senior right guard Johnny Gibson of Dumas was in a green no-contact jersey due to an injury that wasn't apparent Saturday.

Gibson didn't disclose the injury, but teammates said he will play Saturday night.
"I'm feeling pretty good," Gibson said. "You know, just a little soreness, but other than that, I'm going to be fine."
Gibson said in his absence that senior starting left guard Hjalte Froholdt took his vacated right guard spot during Tuesday's team periods and that junior Austin Capps of Star City played left guard.

"It's a little precautionary, but it's never hard to cross-train," Gibson said. "But Capps, when he came he's been playing left guard and Hjalte's a more veteran guy, he's probably the person who knows the offense in and out since he plays center and left guard."
The green jersey, also worn Tuesday by running back Devwah Whaley who has missed the past two games with a concussion, denotes precautionary limited practice usually for players expected to play.
Backup cornerback Britto Tutt, in and out with injuries this season, also practiced in green Tuesday.

AGIM TWEETS CHOKE HOLD
Junior defensive end Sosa Agim laughed when asked how his neck was feeling by media Tuesday night.
Agim had tweeted a photo of an Alabama offensive lineman far more wrestling than blocking him.
"It's pretty good, man," Agim said chuckling about his neck's condition. "He kind of had me in a choke hold. But I'm good. Going to get to Ole Miss now."

GOOD O'GRADY
First-year Arkansas coach Chad Morris was asked Monday what kept him from giving up on Cheyenne O'Grady.
O'Grady, the talented 6-5, 250-pound tight end from Fayetteville, spent three years, including a redshirt year, in and an out of former Coach Bret Bielema's disciplinary doghouse.
He followed the same path under Morris when suspended this season's first two games because of indifference toward taking care go his business on and off the field.
Now he's Arkansas' third-leading receiver (10 catches for 125 yards), including a game-leading seven receptions for 48 yards and two TDs in Saturday's 65-31 loss to Alabama.
"First of all, we're not going to give up on anybody," Morris said. "We love each and every one of these young men. They're a son, and they're learning valuable lessons in life. And as long as they take care of business, we're in this to help them develop more than just to become a football player. Sometimes that's some hard lessons, and it has zero to do with talent. That's always been my message coaching."
He explained the message delivered.
"I think the message was sent loud and clear, and I think he heard it loud and clear," Morris said. "We're not compromising. This is who we are. This is how we're going to get this program to where we all want it to be."
O'Grady logged the most receptions and TDs against Alabama after logging the team's most receiving yardage, 77 on three catches the week before in the 24-17 loss to Texas A&M.
"It's really good to see him progress," Morris said. "What you see is on the field, but what you don't see is happening off-the-field, too. A lot of really good things that are happening."
That O'Grady was left home when the Hogs needed him in their second game of the season, a 34-27 lost at Colorado State, hit home.
"Missing that second game, it was really hard," O'Grady said. "Just sitting at home and watching. That's not what I came here to do. Something clicked. So I took it upon myself to be where I'm supposed to be. Coach Morris has a rule to be where you're supposed to be, doing what you're supposed to do to the best of your ability, and that's what I've been really pressing on."

OLE MISS RECEIVERS
Arkansas veteran defensive coordinator John "Chief" Chavis, in his first year at Arkansas, said he's never seen a better, faster offense than Alabama's.
In the same breath, he warns that Ole Miss provides an even bigger offensive challenge.
"Ole Miss' receivers are fast, but we are talking about guys 6-4, 230 pounds," Chavis said. "They're bigger, stronger. Hopefully we get enough people around them to tackle them. That's what we've got to be able to do."
Ole Miss sophomore receiver D.K. Metcalf (6-4, 230) has caught 25 passes for 520 yards with five TDs. Junior A.J. Brown, also 230, is a little shorter at 6-3, but has the bigger reputation with more catches and receiving yards. Brown has caught 44 passes for 586 yards and four TDs. He caught nine for 133 and a TD when Ole Miss annihilated Louisiana-Monroe 70-21 last week.
"He's every bit as good as anybody we've seen this year," Morris said. "There's no question. When he gets the ball in his hands, A.J. is electric with it."