Hogs: QB Allen OK for Bama; more notes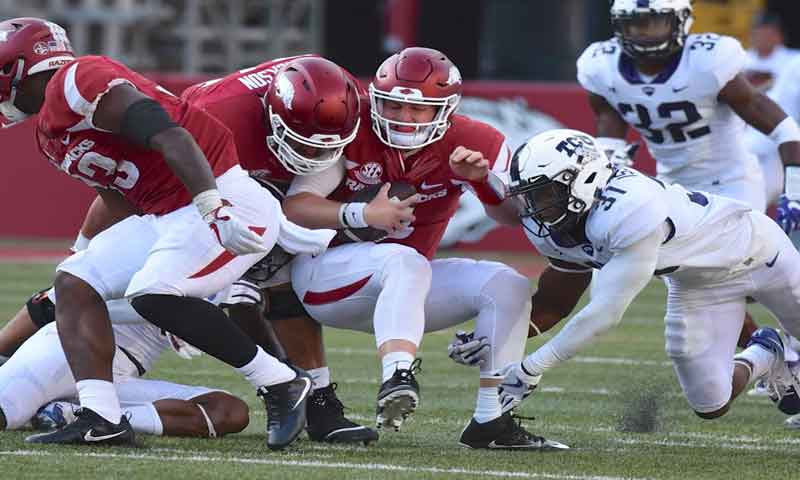 FAYETTEVILLE - Arkansas' depth chart lists Austin Allen as the starting quarterback for Saturday against Alabama.
Arkansas head coach Bret Bielema and offensive coordinator Dan Enos are optimistic Allen will be ready for the Razorbacks (2-3, 0-2 in the SEC) 6:15 p.m. game in Tuscaloosa, Ala., on the SEC Network.
Unable to finish last week's 48-22 loss at South Carolina because of a shoulder injury, Allen did not suffer any head injuries in Columbia, S.C., Bielema and Enos said Monday during their weekly press conference.

"It's nothing with the head at all," Bielema said. "Obviously he got hit and rung up on that one play pretty good (officials threw a flag signaling a late hit penalty on South Carolina and went to replay for a possible targeting penalty then waved off all penalties). He's had two plays where he's been hit and they've thrown the flag away after the play. It gets frustrating to think your quarterback should be protected better than that. But there wasn't anything to this point of anything on a concussion."
Regarding the shoulder or other bruises limiting Allen's game-week practices or preventing him from quarterbacking against the Crimson Tide, Bielema said. "Still in an evaluation process with him. Could be returned as early as today, tomorrow."
The Razorbacks used Monday as their NCAA mandated day off and practice in full pads Tuesday.
Enos, also the quarterbacks coach, said Allen "is day-to-day (for practice) at this point. Hopefully we get him on Tuesday, Wednesday and Thursday. That's the goal."
Given Allen's history of bouncing back from injuries, Enos expects him to start against the Tide.
"I feel good," Enos said. "He's extremely tough. Played through a lot of nicks and things. I would expect he can go at all he's gonna be ready to go. Just the kind of player he is."
ALLEN'S THROWING MOTION
Enos acknowledged the ailing shoulder affected Allen's second-half throwing motion.
"I think he was probably sore," Enos said. "He's gonna stay out there, compete and play, but he changed the level of his throwing arm. I think he was compensating for what he was feeling."
Allen had played his best two games of 2017 in the 50-43 overtime loss to Texas A&M and 42-24 victory over New Mexico State. Last week, Allen completed 12 of 24 passes for 84 yards and a TD with an interception that South Carolina linebacker Skai Moore returned for a 34-yard third-quarter TD.
Stripped of the ball before Allen's arm was ruled in forward pass motion, Carolina's T.J. Brunson returned the fumble for a 74-yard third quarter touchdown.
"He was disappointed like the rest of us," Enos said. "You pour your heart and soul into it each week. He had played really, really well for a couple of weeks. We were feeling really good about the plan and really good about him. It was a 17-10 game at the half and just a complete meltdown after that. The best thing you can do in that situation is get back on the field and practice.
PRAISING COLE KELLEY
Redshirt freshman backup QB Cole Kelley finished the game completing eight of 13 for 140 yards and a TD, but he also threw an interception that Carolina's Keisean Nixon returned for a 45-yard TD.
Bielema lauded Kelley's performance and appreciated Kelley noting that if senior team captain Allen is healthy, that Allen unquestionably is Saturday night's starter in Tuscaloosa.
"A great response," Bielema said. "I think that's a great indicator of a guy being in the right frame of mind. A great indicator for us was just the way our guys responded and comforted Austin, but also the way they switched gears right into Cole and got behind him. It was really cool."
Enos said Kelley made a young QB mistake on his interception but otherwise was "outstanding."
"I loved his pocket posture and presence, his accuracy and the way he was moving around in the pocket," Enos said.
GIBSON MENDING
Junior offensive lineman Johnny Gibson of Dumas, invaluable whether starting at right guard or right tackle, injured a knee Saturday but appeared OK Sunday and should practice Tuesday or Wednesday, Bielema said.
ARK-AUB TV LIMBO
The Arkansas vs. Auburn SEC game on Oct. 21 at Reynolds Razorback Stadium will kick off at 6:15 p.m. on ESPN or 6:30 p.m. on the SEC Network.