HOGS: tight ends emerge; notes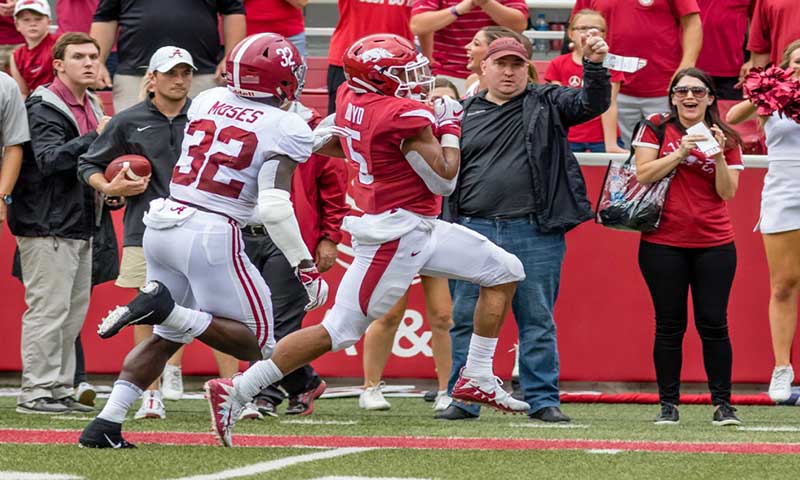 FAYETTEVILLE - During the second half of Arkansas' 65-31 loss Saturday to Alabama, senior right tackle Brian Wallace exited with a sprained ankle.
Redshirt freshman Dalton Wagner finished innocuously in the fifth-year senior's place. Wagner could practice first-team Tuesday, if Coach Chad Morris, offensive coordinator Joe Craddock and offensive line coach Dustin Fry concur that Wallace's ankle would benefit from another day off.
Arkansas (1-5, 0-3) plays host to Ole Miss (4-2, 0-2) at 6:30 Saturday night at War Memorial Stadium in Little Rock.
"I think Brian will be fine," Craddock said Monday when the players took their NCAA-mandated weekly off day. "He'll get a lot of treatment, and he'll be ready to go, I'm assuming, tomorrow."
If Wallace isn't ready, Craddock hopes Wagner can start practice like he finished the last game.
Craddock, observing from the press box with offensive line coach Dustin Fry during games, remarked that after Wagner played for awhile: "Coach Fry got on the headset with Dalton, and said. 'Hey, I haven't seen the film yet, but when I don't notice you're in there, that's a good thing."
Wagner's obscurity during the game resulted in good notices afterwards.
"We didn't notice B-Wall was out," Craddock said. "So he did really well. He played his butt off and did some really good things."
SOMETHING SPECIAL
Arkansas' special teams, other than De'Vion Warren's 78-yard kickoff return and Connor Limpert's 41-yard field goal on the plus side, also went mostly unnoticed against No. 1 Alabama.
That also was a good thing.
Burned for a 90-yard punt return touchdown in the 44-17 loss to North Texas, a 96-yard kickoff return TD and three long punt returns and a blocked punt in 34-3 loss at Auburn, and a game-opening 100-yard kickoff return TD in the 24-17 loss to Texas A&M, Arkansas quietly kept Alabama's special teams from breaking anything special Saturday.

"We executed our game plan," Morris said. "I thought we got better in that regard. (Alabama) is one of the best special teams we've played. They've got an electric return team this year, and I thought that we did a really good job of containing their explosiveness."
TIGHT ENDS
Morris, upon his Arkansas arrival from SMU in December,  bragged on the tight end talent and said it would be a focal point position in his offense.
Not so much earlier this season, but last week tight ends Cheyenne O'Grady (seven catches for 48 yards), Austin Cantrell (two for 21 yards) and Grayson Gunter (one for 10) combined for 10 receptions and 79 yards and O'Grady's two touchdowns.
"We had to get some things fixed before we could start getting all of the puzzle pieces in place," Morris said.
"I've been saying our tight end is very important to our offense," Craddock said. "I think you're starting to see that. Obviously, getting C.J. (O'Grady) going. Then (Austin) Cantrell making a play, too, across the middle.  We try to take advantage of what they give us."
DEFENSE STEPS BACK
Arkansas' defense, which has played pretty well for four games and exceptionally in the 24-17 loss to the explosive Texas A&M Aggies, took a backward statistical  step last week, absorbing 65 points and 639 yards inflicted by Alabama's free-flowing Crimson Tide.
Arkansas defensive coordinator, John "Chief" Chavis, the most veteran DC in the SEC, didn't mince words.
"I am gonna start with the way I feel," Chavis said.  "I'm disappointed, but I'm not disappointed in our players by any stretch of our imagination. We've got to coach them better, get them prepared better. We have got to play better and that's where we are."
In Chavis' defense, Alabama scored 21 points after Arkansas' three turnovers. Two came on drives after QB Ty Storey fumbles and one directly on the pick-six that deflected off Chase Harrell's fingers to Alabama defensive back Shyheim Carter and returned for a 44-yard TD.
The Tide offense that rolled on Arkansas has rolled over everybody else it played at a nationally leading rate.
"I used to say 1995 (when Chavis coordinated Tennessee's defense) we faced an Ohio State team in a bowl game, and I thought at that time was the best offense we ever played against," Chavis said. "I can't say that any longer."

HOGS VS TULSA
Arkansas' final non-conference game, Oct. 20 against Tulsa at Reynolds Razorback Stadium, will kick off at 11 a.m. on the SEC Network.