Hogs rip Tide defense but lose 65-31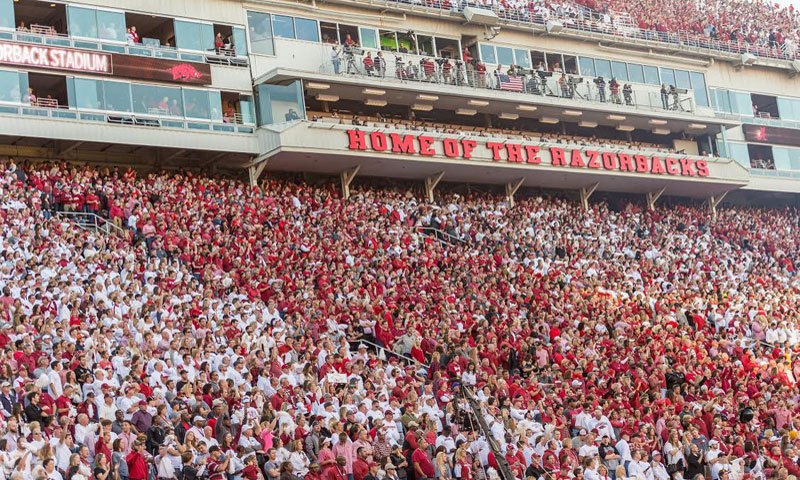 FAYETTEVILLE - Arkansas beat Alabama on time of possession Saturday, 32:56 to 27:04.
Alabama didn't care.
The visitors ultimately won 65 points to 31, scoring nine touchdowns that included two one-play drives, one two-play drive and a pick-six.
Coach Nick Saban's reigning national champion and No. 1 Crimson Tide rolled to 6-0 overall and 3-0 in the SEC West. Arkansas first-year coach Chad Morris' Razorbacks fell to 1-5, 0-3 in the SEC West, yet rose in many ways. Their 31 points and 405 yards were the most netted on Alabama this season.
Sophomore junior college transfer Rakeem Boyd carried 15 times for 102 yards to become Arkansas' first 100-yard rusher vs. Alabama since two-time Heisman Trophy runner-up Darren McFadden's 195 yards on 33 carries in 2007.
Junior quarterback Ty Storey completed 25 of 39 for 230 yards and two TDs with an interception that deflected off receiver Chase Harrell's hands before Alabama defensive back Shyheim Carter returned it for a 44-yard TD.
Tight end Cheyenne "C.J." O'Grady logged 77 receiving yards and two TDs, one from Storey and one from become goal-line specialist QB Cole Kelley, the 6-7, 250-pounder who also plunged over for 1-yard TD.
And it appeared Arkansas' defense, while ravaged for 639 yards total offense, showed grit by stopping Alabama on two fourth-and-goals though officials overturned one into a TD on review. Alabama capitalized on Storey fumbles to scored two TDs and returned an interception for a TD.
"I thought offensively this was our best performance," Morris said. "This is the best we've played against the best team we've played."
And his defense didn't play as poorly as 65 points might indicate.
"We gave up three turnovers and 21 points," Morris said. "That's hard. Against a team like Alabama, they don't need any help."
While grumbling about Arkansas scoring 31 on his defense, Sabam said: "We're going to play a lot better offensive teams. We're going to play a lot better offensive team next week, one of the best offensive teams in the country Missouri."
But Saban did tip his hat to the Hogs.
"Give Arkansas a lot of credit for the way they kept fighting," Saban said. "They showed a lot of grit and made some plays."
Most of the 49,723 attending (64,974 tickets sold before Saturday's kickoff was announced for 11 a.m.), appreciated Arkansas grit. They stayed to the end with many lingering to applaud the Hogs coming off the field.
"It was a great crowd, great atmosphere, and they were with us all the way to the end cheering at the end," Morris said. "The support our fans continue to give these young men is impressive and inspiring."
Despite the Tide flooding Arkansas with 639 yards total offense, Arkansas did stop them on one fourth-and-1 initially ruled a stop until a review. Arkansas went 0 for reviews against the Tide, overruled the original call. Alabama running back Damien Harris was declared to have broken the plane for the TD.
Arkansas defensively had played effectively in the 24-17 loss to explosive Texas A&M but was dazed from the get-go Saturday.
On Alabama's first play from scrimmage, QB Tua Tagovailoa  and Irv Smith connected for a 76-yard TD pass and catch.
Tagovailoa, bursting into national prominence relieving starter Jalen Hurts in the second half of the Tide's 2017 national championship victory over Georgia, continued his remarkable efficiency. He completed 10 of 13 for 334 yards and four touchdowns brining his season total to 18 TDs this season against zero interceptions.
Hurts completed four of five for 59 yards Saturday. Two Tide wideouts exceeded 100 yards receiving: Jerry Jeudy had four catches for 135 yards and two TDs; Irv Smith had two for 123 with the game's first touchdown. Tide running back Damien Harris rushed for 111 yards and two TDs on 15 carries.
"Alabama's the best team in the country for a reason, and I think they showed it," Morris said. "I think that they had speed all over the field. That's as impressive an offensive performance as I've seen."
Alabama jumped up 21-0. Smith caught a 47-yard pass from Tagovailoa then fumbled, but receiver Henry Ruggs not only recovered it but took it the final 12 yards for a TD to cap a two-play 55-yard drive at 10:01 of the first quarter.
That possession started after Storey, corralling a bouncing snap, was hit and fumbled to the Tide. Alabama needed eight plays to make it 21-0 with Josh Jacobs scoring his 1-run TD at 5:38.
Boyd's 21-yard run and Storey 16-yard passes to Deon Stewart and O'Grady preceded Storey's 8-yard TD toss to O'Grady with 24 seconds left in the first quarter.
Led by Scoota Harris and Sosa Agim, Arkansas made its fourth-and-1 stop at the Alabama 43, and Storey drove to the Alabama 5 before Dylan Moses' hit on a straining Storey forced a fumble recovered by Alabama's Deiointe Thompson at the 1.
"A great play," Morris said of Moses' hit, lamenting it prevented Arkansas from narrowing the Tide lead to 21-14.
On another review, Arkansas lost what was initially ruled a Santos Ramirez fumble recovery before Alabama made it 28-7 on Tagovailoa's 42-yard TD to Jeudy.

Arkansas and Storey never quit going through a 41-14 half and 65-31 finish, one point under the Las Vegas 35-point spread.
"Ty Storey keeps showing his grit and his fight and keeps getting better," Morris said. "I shared with him that I am proud of him."