Hogs: Seeing your punter vs. #1 Bama not all bad; notes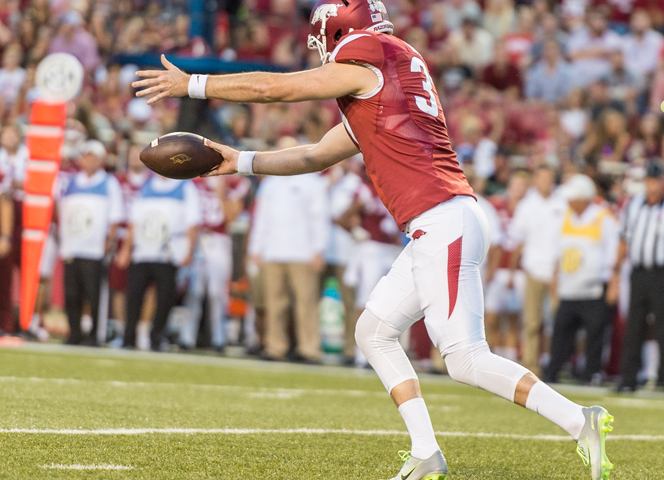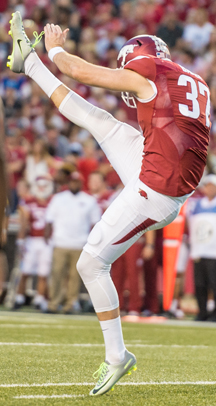 Sr P TOBY BAKER
FAYETTEVILLE - Senior punter Toby Baker never budged from the Arkansas bench last week during the Razorbacks' 52-10 rout of  Alcorn State in Little Rock.
Baker relaxing on the bench Saturday night would bode well for No. 16 Arkansas (4-1, 0-1 in the SEC West) against No. 1 Alabama (5-0, 2-0) in Fayetteville. The SEC game kicks off at 6 p.m. Saturday on ESPN at Reynolds Razorback Stadium.

The again, maybe not..
Your punter never budges from the bench when you go for it on fourth down and don't make it. Worse, he and the rest on the bench put their heads in their hands in despair when he's not punting because the opposing defense just returned an interception or a recovered fumble for a touchdown.
Five times in its five games, the reigning national and SEC champion Alabama Crimson Tide either has returned an interception or a recovered a fumble for a TD.
Alabama coach Nick Saban was surprised to learn this week that his defense has scored as many TDs as it has allowed. "I didn't even know that," Saban said. "So I guess I am surprised you would say that."
It's a surprising stat that has nothing to do with luck.

"Look, we do a lot of work attacking the ball and trying to get the ball out," Saban said. "We are always harping on 'get more turnovers! Get more turnovers! I think when you get those turnovers and you have those type of players that are focused on those type of things you are going to have more opportunities to do that. Certainly it's something whether you are playing good pass defense and getting the ball tipped and putting pressure affecting the quarterback. I think all these things as a team help you do those kind of things."
Can they multiply, these interceptions and fumbles returned for touchdowns?
"Well, they probably can," Saban said. "Like a lot of things good and bad on your team. But I think whatever you emphasize with players you have a better chance to get. That has always been my philosophy. It's attacking the ball is the thing we have emphasized - it's not about the resulting touchdown."
The resulting defensive TD sure devastates.

And Baker, an exceptional punter averaging 46.1 yards with seven of 15 punts fair caught and five downed inside the 20, and the Arkansas punt team can't relax if summoned. Of the Tide's 12 punt returns, two (one for 75 yards by Xavian Marks and one of 85 yards by Eddie Jackson) have been returned for TDs.
"Unfortunately it's a stat that is very, very important in winning games," Arkansas coach Bret Bielema said. "I want to say that something like 16 of the past 17 games they have scored a non-traditional touchdown which means that offensively if you take those out of it, they have scored on defense and special teams. Sometimes multiple. I believe there were two (scored defensively) in the Ole Miss game and one on special teams."
Bielema said his offense must prepare to play defense in case of a turnover.

"We have cover-down drills, but we do those before  every game not just Alabama," Bielema said. "I think that's why you've seen minimal scores against us. But the best way to prevent those is not throw an interception. When the defense has a turnover or change of possession, they (the team turning it over) have got five offensive linemen on the field. Athletically, you should have an advantage over them. You just feel that you can get a converted score in that situation and they've done that."

Including its 2015 season-ending Cotton Bowl and National Championship victories over Michigan State and Clemson, Alabama's defense has scored in seven consecutive games.
"Yeah, Coach Enos has brought that up to our attention," said Allen, Arkansas' junior starting quarterback play-calling offensive coordinator Dan Enos. "You've just got to take care of the ball. Be cautious with the ball. They're coming after the ball. They want to strip the ball out."

Added pressure on the quarterback?
"I don't think it's any extra pressure," Allen said. "You just have got to be aware of how they go after the football. There are some ball-hawking guys out there. You might think you are going down and there might be a guy there trying to strip the ball out, also. You have got to be ready for it, and you have got to be aware, have a high sense of urgency and have good ball security."

It's not like Alabama freshman QB Jalen Hurts can rest comfortably.
"We have three pick-six ourselves this year," Bielema said of defensive backs Ryan Pulley and Henre Toliver and linebacker Brooks Ellis. "So we are looking forward hopefully to try and take advantage of that as well. First for us it's capitalizing on opportunities. COTTY, catch the ones they throw you."
The Razorbacks had meetings Thursday and will have a closed practice Friday.