#16 Hogs vs. #1 Bama: another close loss not the goal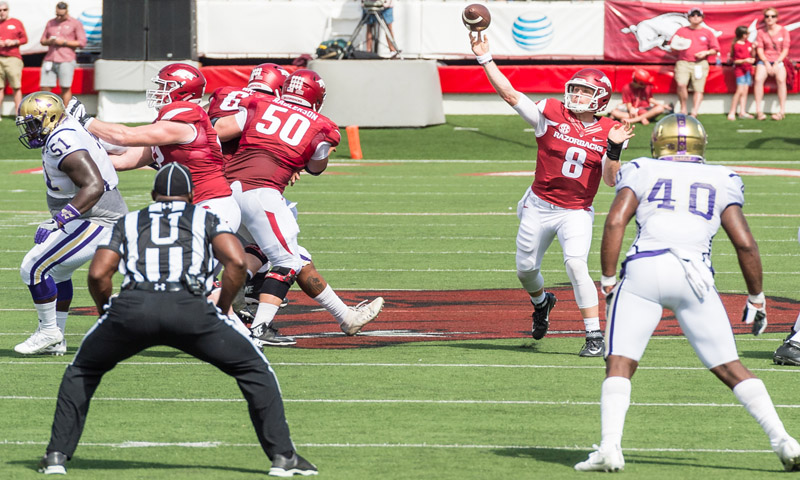 FAYETTEVILLE - Bret Bielema prefers Arkansas' last two close losses vs. Alabama to the 52-0 embarrassment his debut Razorbacks endured in 2013 at Tuscaloosa, Ala.
But calling those 2014 and 2015 close calls successes compared to Ole Miss wins over Alabama in 2014 and 2015?
Nope.
Bielema's No. 16 Razorbacks (4-1 overall and 0-1 in the SEC West) and No.1 Alabama (5-0, 2-0 in the SEC West) clash at 6 p.m. Saturday on ESPN  at Reynolds Razorback Stadium.
Bielema was asked about the "secret of the success" that only the Razorbacks and Coach Hugh Freeze's Ole Miss Rebels among SEC teams achieved against Alabama  in 2014 and 2015.
"Well, the difference is Ole Miss has had success," Bielema replied.  "We haven't.  We have been on the losing end every time. I know that we have done some good things, but we haven't done enough to go over the top."
The 2014 Razorbacks led Alabama 13-7 in the third but ultimately were haunted by the Tide blocking an extra point. Alabama's successful PAT after its tying touchdown allowed the underdog Tide to escape Fayetteville with a 14-13 victory.
Alabama's second touchdown in 2014  was scored going hurry-up with Bielema trying to call timeout but officially unheeded.
"I might try a cartwheel next time," Bielema said.  "I was trying to get the officials' attention but obviously it didn't happen. Very frustrating."
Last year in Tuscaloosa the Razorbacks led the eventual national champion, 7-3 at half but ultimately wore down and lost 27-14.
The Razorbacks have made up considerable ground on the Tide since Bielema's debut season when he inherited the debacle of the 4-8 2012 season. Interim coach John L. Smith's once eighth-ranked Razorbacks (off Bobby Petrino's 11-2 in 2011) figuratively went south upon Louisiana-Monroe upsetting them at Little Rock in the season's second game.
Bielema and several Razorbacks said the 2014 and 2015 games had a common denominator. Alabama played four full quarters. Against high Tide, Arkansas could not.
"Our biggest thing is we've got to play a four-quarter game from start to finish," Arkansas senior left offensive tackle Dan Skipper, a starter the past three annual SEC games with Alabama, said.
No letdowns anywhere, he said.  Because Alabama can capitalize on anything at any time.
Offensively the Tide still runs with Pro-Set power but offensive coordinator Lane Kiffin has successfully blended a Spread offense accentuating the pass receiving abilities of "off-the-charts" wideout Calvin Ridley and Mackey Award candidate  tight end O.J. Howard, Bielema said.
And whether running Pro-Set or Spread, freshman Jalen Hurts gives Alabama the running quarterback it hasn't had.

This season running QBs bedevil Arkansas. Texas A&M QB Trevor Knight beat Arkansas with his legs and arm.  TCU QB Kenny Hill and even Alcorn State freshman QB Noah Johnson made big plays. Arkansas managed to win both games.
Defensively, if the Tide just stops an opponent maybe it should take solace. At least Bama didn't score on you, too. The Tide defense has scored five touchdowns off turnovers.  Two punt returners add a touchdown each.
"You really don't see any weaknesses in their defense," Arkansas offensive coordinator Dan Enos said. "Usually when you break a team down, you go, 'We've either got to attack this or attack that.  They're pretty salty at all 11 spots."
Other than the running quarterback, Alabama had all that the past two years  and then some with 2015 turned-pro Heisman Trophy running back Derrick Henry.
And Arkansas still came close.
While these Hogs were emotionally hit by last Saturday's unexpected death of starting center Frank Ragnow's father, Jon, they have ingredients to beat Alabama, Bielema said.
They must, Arkansas players and coaches say, play within themselves and not make critical mistakes trying to play beyond themselves.
"Alabama plays four full quarters of football and has very few lapses," Arkansas senior cornerback Jared Collins said. "It's tough to beat, but it's possible."