Hogs vs. S. Carolina: whole lot like 1992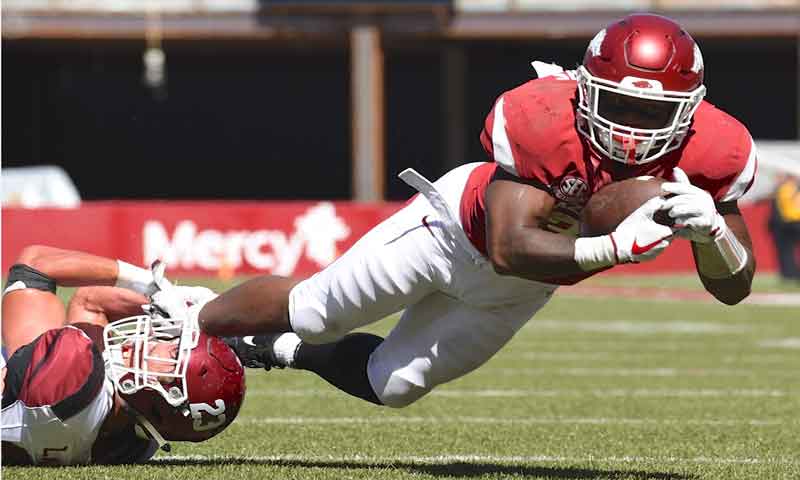 FAYETTEVILLE - Arkansas (from the Southwest Conference) and South Carolina (Independent) entered the SEC football race in 1992.
In its first eight days of that season, Arkansas lost its opener to The Citadel 10-3, fired Coach Jack Crowe and then won at South Carolina 45-7. Two weeks later, the Hogs lost at Memphis 22-6 before winning at then-No. 4 Tennessee 25-24. The Razorbacks also tied Auburn 24-24 on Halloween that year before finishing the season with a seven-point loss at Mississippi Sate, a 24-9 loss to SMU and 30-6 blowout victory over LSU on ESPN.
In many ways, the SEC of 2017 looks a lot like the 1992 version with Alabama and Georgia as the undisputed heavyweights. In 1992, Florida was also a contender. In 2017, Auburn might fill that role. The gap between those at the top and the rest of the league was wide in 1992, and it looks just as wide this fall. 

From almost two decades, Arkansas vs. (SEC East member) South Carolina was a barometer for each school's eventual seasonal outcome. The annual inter-division game lasted until 2012, when newcomer Missouri of the East became Arkansas' annual crossover rival, while Texas A&M of the West became the Gamecocks' annual crossover rival.
Arkansas (2-2 overall and 0-1 in the SEC) and South Carolina (3-2, 1-2) have rotated on a collision course for Saturday's 3 p.m. SEC Network televised game at the Gamecocks' Williams-Brice Stadium in Columbia, S.C.
The Razorbacks and Gamecocks, most recently at a mutual peak in 2010 and 2011 when then-Bobby Petrino's Razorbacks won over former South Carolina coach Steve Spurrier's Gamecocks, meet again a little unsure of themselves as in their early meetings from 1992-94.
Both deploy excellent passing quarterbacks. The effectiveness of Arkansas senior Austin Allen and South Carolina sophomore Jake Bentley has been compromised by young, reshuffled lines and the lack of a running game, though the Hogs ran better the past two games.
Arkansas running backs David Williams, ironically a three-year South Carolina letterman who came to Arkansas as a graduate transfer, Devwah Whaley and Chase Hayden rushed for 226 net yards two Saturdays ago in a seven-point overtime SEC loss to Texas A&M and 264 yards in last week's 42-24 victory over New Mexico State.
The improved running enhanced the play-action passing by Allen, last year's SEC passing leader.
Texas A&M sacked Allen six times, but starting lineman Johnny Gibson's guard/tackle versatility enabled Arkansas to platoon run-blocking guard Ty Clary with pass-blocking tackle Paul Ramirez last week when the line did not allow a sack against New Mexico State.
However, New Mexico State's defense isn't remotely like South Carolina's. The Gamecocks, led by linebacker Skai Moore, limited Texas A&M to 24 points. A&M scored 50 on Arkansas.
"They are a swarming defense," Bielema said. "Anytime you play an SEC opponent, the talent on defense goes up. They are big on the defensive line, fast on the linebackers, cover well in the secondary. They are a really good opponent."
The Gamecocks have struggled getting opposing offenses off the field and have played more snaps than any SEC defense in 2017, but have been stingy on points. The 28 points North Carolina State tallied in a 35-28 loss to South Carolina mark the most scored on the Gamecocks.
"They don't give up big plays," Bielema said. "They just don't give up those big, big hits. And explosive plays for us is a big part of our system."
South Carolina coach Will Muschamp wishes his Gamecocks defensively to be better on third down, but it's the offense he bemoans.
"We've been pretty non-existent in the run game," Muschamp said. "Jake has been outstanding, but we've got to be able to develop some things in the run game to take some pressure off."
Injuries in the offensive line have hurt, and the Gamecocks lost one of the SEC's premier receivers, Deebo Samuel, to a broken leg. Arkansas lost its best returning receiver, Jared Cornelius, to Achilles tendon surgery.
South Carolina tight end Hayden Hurst likely is the SEC's best, and Bryan Edwards has arisen at receiver, but opposing defenses have rendered the Gamecocks one-dimensional. That's exactly what Arkansas did against New Mexico State, holding the Aggies to 11 yards net rushing.
Motivation should be huge for both teams. Other than No. 1 Alabama at Tuscaloosa, Ala. next week for Arkansas and SEC East leader Georgia on Nov. 4 at Columbia, S.C., there are no SEC games left for either team that could not be won.