Starry host: Joe T at Nashville teems w/top talent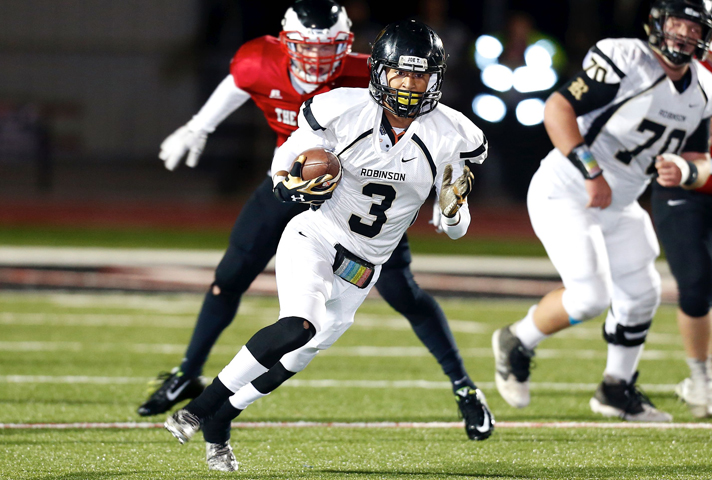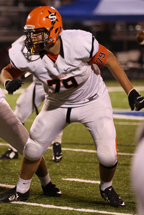 Nashville OT ADCOCK
The largest gathering of Division I football players in the state takes place Saturday when No. 1 Alabama visits Arkansas (each has 85 scholarship players).
A distant second occurs at 7 Friday night when Class 4A No. 4 Joe T. Robinson travels to No. 1 Nashville, where the number of future Division I signees could reach double digits in the highest profile game so far this season.
Top-ranked Nashville piles up gaudy offensive statistics under second-year coach and former 16-year college assistant Mike Volarvich. Nashville, winner for 20 straight games, gains almost 600 yards weekly and averages a national-best 67 points per game.
Senior running back Darius Hopkins (6-1, 195) has 62 carries for a state-best 893 yards and 17 touchdowns this fall and averages 23 yards per catch. Hopkins has played after halftime in just two games this season, but never into the fourth quarter.
Hopkins logged 19 carries for 269 yards and eight TDs (just one shy of the state record) in three quarters Week 3, a 91-63 win over Idabel, Okla. Hopkins followed the next week with 18 carries for 301 yards and four TDs in a 71-40 triumph over Arkadelphia.

Hopkins (4.7 speed) ran for 1,614 yards and 27 TDs last season, helping Nashville go 15-0 and capture a state title. He owns scholarship offers from Army, and most in-state Division II schools. "He got the first big offer out of the way, so I expect more to follow," Volarvich says. "He is explosive on the edge and tough enough to pound the middle of the defense."
Nashville senior tackle Kirby Adcock (6-5, 280) paves lanes for Hopkins and a rushing attack that averages 346 yards per game. Adcock (4.0 GPA) committed to Arkansas in April and stood firm as more schools chased him this summer. Adcock also has offers from Iowa, Iowa State, Indiana, Louisiana Tech and others.
Volarvich was unsure in the winter where Adcock fit on the recruiting spectrum, but midway through the 2016 regular season, "I have no doubt he's an SEC lineman," the coach says. "He dominates the guy he goes against. You don't have to watch much film to find him making a big play."
Adcock gained 10 pounds of muscle and increased his weight room productivity over the summer while devoutly following diet and a weight-lifting regimen from Arkansas strength and conditioning coaches. "He's playing like an SEC lineman should in high school," Volarvich says.
Senior Hunter White (6-3, 195) could garner attention from Division II schools after successfully transitioning from receiver to safety in the off-season. The aggressive White has 58 tackles this fall, including 10 tackles for loss. White collected 10 tackles against Idabel, Okla., and 11 against Arkadelphia.
Scrapper junior receivers Ty Pettway (6-2, 190), the brother of Arkansas Razorback receiver La'Michael Pettway, and Domonick Kight (5-11, 160) should emerge as college prospects over the next year. Pettway sped into the spotlight Week 1 against Hope by snagging five passes for 150 yards and a pair of TDs in his first varsity start. He scored two TDs in four of five games this fall. Pettway has a team-high 21 receptions for 454 yards and eight TDs in 2016, while Kight has 16 catches for 349 yards and six TDs. Kight scored two TDs each of the past two weeks.
Joe T. Robinson's roster is cluttered with more college prospects than many Arkansas schools ever produce. Senior receiver Koilan Jackson (6-3, 210) committed to Arkansas on April 29. Despite never playing receiver (was a quarterback the past two years at Little Rock Parkview), the son of former Oklahoma Sooner and NFL tight end Keith Jackson, wowed college coaches with 4.6 speed as a 16-year old in March at the Nike Combine in Dallas. Jackson owns multiple scholarship offers, including Illinois (where his brother Kenyon Jackson plays), Memphis, Kansas, Texas Tech and others.
Jackson sparks a Joe T. Robinson passing attack that averages 332 yards per game. He has 24 receptions for 597 yards and seven TDs this year, and hasn't played in the second half of three games. Jackson played some QB in a 56-21 Week 2 win over CAC, rushing six times for 48 yards out of the Wildcat formation. He threw a 30-yard TD pass on a trick play in last week's impressive 46-9 win at Arkadelphia. Jackson also averages a mind-numbing 31.5 yards per punt return.
"He looks like he's played receiver his entire life," Senator coach Todd Eskola says. "He's a natural. He has size, speed, football smarts and great hands."

Jackson meshes with junior Nathan Page (6-0, 185) to form one of the more explosive receiver tandems in the state. Page (in top photo), who started as a freshman for Class 7A Little Rock Catholic before transferring to Joe T. Robinson, has 19 catches for an eye-popping 726 yards (38.2 yards per catch) and 10 TDs this fall. His only reception in the opener against Class 5A Hot Springs Lakeside covered 83 yards for a TD. He followed with four catches for 133 yards and two TDs the next week against CAC. The best game of his career came last week at Arkadelphia (eight catches, 282 yards and two TDs). Page averages 20 yards per kickoff return and 26 yards per punt return.
"No. 3 (Page) stood out to me on film," Volarvich says. "He'll be the most dangerous player on the field because he does so much offensively."
Page doesn't own any official offers, but most recruiting experts predict they'll flow after the season. Alabama, Arkansas, Auburn, Oklahoma State, Ole Miss, TCU and Texas A&M are among the Power 5 Conference schools to evaluate him over the past nine months.
Myles Fells (5-11, 190) started at running back as a sophomore at Pulaski Academy and played some in the backfield last fall for the Senators after returning from an ACL injury. Fells blossomed in the spring after sliding to slot receiver and linebacker. Statewide peers in June elected Fells as Governor at Boys State.
Fells committed to Navy in July, and he owns an offer from Army. Fells, the son of former Henderson State QB Kenny Fells, was forced to play running back last week after starter Edmond Robinson was injured in a Thursday car accident. Fells responded with 13 carries for 68 yards and four TDs. He has 22 carries for 187 yards (8.5 yards per carry) and seven scores this season. He's caught four passes for 71 yards (18 yards per catch) and two TDs, and recorded 44 tackles. He's reached double-digit tackles in three of five games this fall, with career highs of 11 stops against CAC and Fountain Lake. "He's solid, does everything we ask of him," Eskola says.
Senior defensive end David Porter (6-3, 235) blasted onto recruiting radars in the spring when Kansas State offered him a scholarship. He owns multiple offers now, including Iowa State, Louisiana-Monroe and Louisiana Tech. Porter has 42 tackles this season (four tackles for loss and two sacks).
Sanderson Hines (6-3, 310), one of Porter's mates on the offensive and defensive lines, has multiple Division II offers, and UCA has been impressed with him this season. "I expect him to get some more offers," Eskola says. "He's powerful (350-pound bench press) and smart." Hines, a three-year starter, earned an 89 percent blocking grade and didn't allow a sack last year as a junior.

Senior lineman Grant Patterson (6-1, 315) owns an offer from Ouachita Baptist, and other in-state Division II schools are evaluating him. Patterson bench presses 325 pounds. "He's an old-fashioned mauler," Eskola says.
Junior linebacker Hunter Swoboda (6-4, 215) could emerge next season as a top prospect. Arkansas and Arkansas State are among the school's evaluating Swoboda. He's made 53 tackles this fall. "Colleges are waiting to see if he grows anymore and gets faster," Eskola says.

Sophomore defensive tackle Elliott Harris, Jr. (6-4, 290) should develop into one of the top prospects for the 2019 signing class. Harris, the son of former Arkansas Razorback defensive end Elliott Harris, has drawn interest from Arkansas, Texas A&M and other big-named programs.