Hogs: sophomore center Rogers a good fit vs. #1 Bama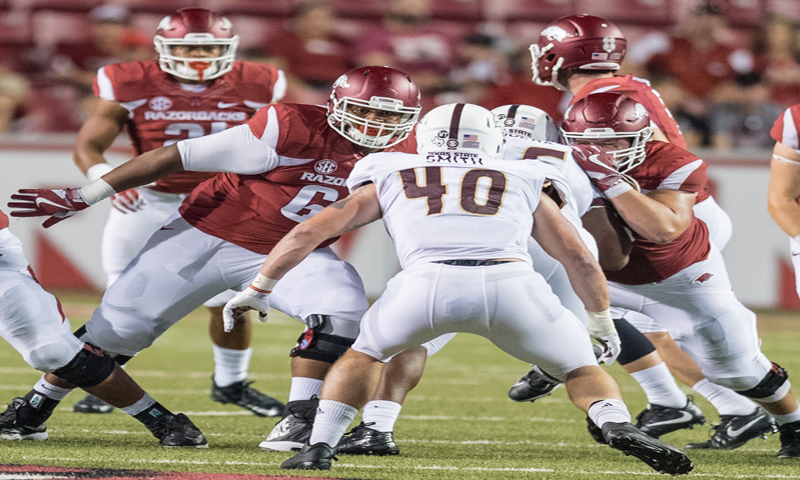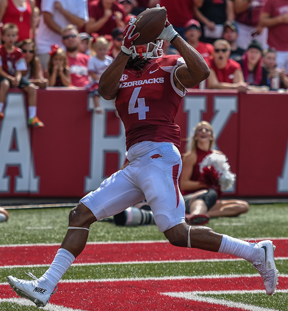 Sr WR KEON HATCHER
FAYETTEVILLE - The Razorbacks' hearts center on junior Frank Ragnow, but their hopes against Alabama center on sophomore Zach Rogers.
Ragnow, the starting center, is home in Minnesota for the funeral of his father, Jon, fatally stricken by a heart attack last Saturday night. Rogers, from Carrollton, Texas, has backed up in three games but is delivering all the first-team snaps this week as 16th-ranked Arkansas (4-1 overall, 0-1 in the SEC) prepares to host the No. 1 and reigning national champion Alabama (5-0, 2-0) at 6 p.m. Saturday on ESPN at Reynolds Razorback Stadium.
Arkansas coach Bret Bielema and offensive line coach Kurt Anderson leave Ragnow's game participation up to the grieving junior, while prepping Rogers in practice.
"Frank has bigger things going on than a football game," Anderson said of his first-teamer's priorities.
How has Rogers responded to the possibility that his debut start could be against the reigning national champion on behalf of the lineman who has mentored him most?
"Zach and Frank are very, very close," Anderson said.  "He has responded very, very well.  Zack is one of the smartest guys in our room.  He understands our offense. He has done a great job with the identification and learning the offense  in terms of the game plan this week."

SIZING UP ROGERS
Obviously, it's a huge game, but Anderson likes the size of it for his 6-1, 306-pound sophomore.
"I think this game fits Zach's style," Anderson said. "This is a heavy 3–4 two-gap type of defense. Zach is a shorter but powerful anchor power type of center.  And so this kind of fits his type of game and style. And so he has done a nice job this week.  If Zach is the starter, I think he will go out there and execute and do a good job for us."

RAULERSON SNAPS, TOO
First-team right guard Jake Raulerson, who started one game at center when Ragnow started at right guard, also has practiced at center this week.
"They are the one and two centers," Anderson said.  "So those guys have split reps at center with the twos so that means Zach is getting one reps and half the No. 2 reps. So he is getting double the work in terms of getting prepared for this game on this game plan."
ALLEN, SKIPPER EXPRESS CONFIDENCE
Fourth-year junior starting quarterback Austin Allen and senior left offensive tackle Dan Skipper, both close to Ragnow, were asked if they had stayed in touch with their friend and how Rogers has responded in practice.
"Yeah," Allen said of contact with Ragnow. "I was with him right after he found out. It's just one of the saddest moments I've ever been a part of. Thoughts and prayers with him and his family. I know he'll be strong. It's just a sad, sad moment."
How is it going with Rogers snapping to him?
"Good," Allen said. "I've gotten a lot of work with Zach Rogers over the years. Last year he was the No. 2 center (while Austin Allen was the backup quarterback to Brandon Allen, his graduated to the NFL older brother) and everything like that, so I'm pretty comfortable with him at center."
Skipper also has stayed in contact with Ragnow and vouches that Rogers can do the job.
"He's been getting reps at center all year," Skipper said.  "The only thing is instead of being on the sideline he'll be on the field or whatever."
Can Rogers make the linemen's calls that go with the center position?
"Yeah," Skipper said.  "And if he freaks out, we've got other guys that can go in there. The biggest thing is on third down, helping him see safeties and things like that we need to do."
HATCHER VOWS TO PLAY
Receivers coach Michael Smith was asked to update the ailing hamstring recovery of senior receiver Keon Hatcher (14 catches for 281 yards and thee TDs the first four games), who was held out of Saturday's 52-10 rout of Alcorn State.
"He went out today and practiced a little bit," Smith said Wednesday night. "We are very cautious with him, but he thinks it's full go this weekend."
Austin Allen and junior receiver Jared Cornelius have meshed for consecutive 100-plus receiving yards games, but Hatcher's presence is always Arkansas welcome.
"He's good and he practiced well and he said he's going to be out there Saturday," Allen said. "We'll see how he feels these next few days after he went through practice today. I know if he's out there Saturday he will have his A-game just like he has all year. He's a big part of our team."