Hogs: Offense must score in red zone at SC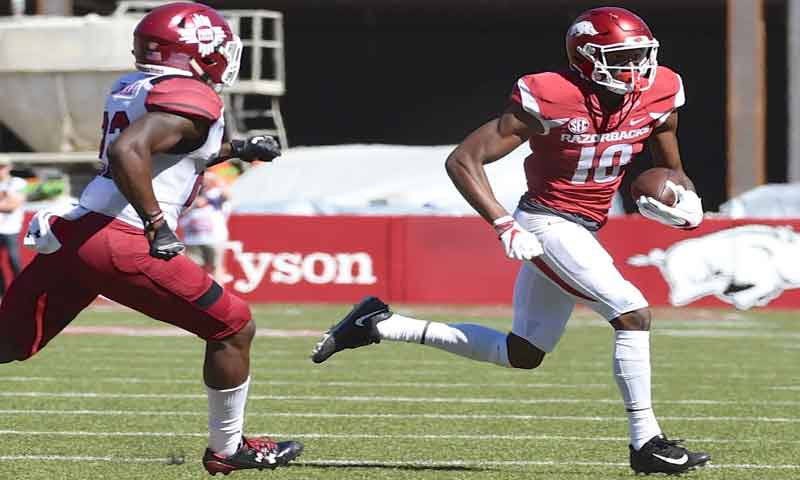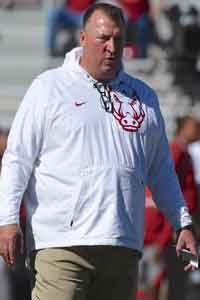 Arkansas HC Bret Bielema
By NATE ALLEN
FAYETTEVILLE - Arkansas could dominate the possession clock Saturday in Columbia, S.C., as they did a week ago, yet lose.
Arkansas possessed the ball 41:35 of the game's 60 minutes and comfortably defeated New Mexico State 42-24 Saturday at Reynolds Razorback Stadium.
At 3 p.m. Saturday on the SEC Network, the visiting Razorbacks (2-2 overall, 0-1 in the SEC West) clash with South Carolina Gamecocks (3-2, 1-2 in the SEC East).
The Gamecock defense, which has played an SEC-high 378 snaps, ranks 12th in the 16-team league in yards allowed per game, but the Gamecocks have allowed fewer points (104) in five games than Arkansas (109 points) has in four games.
How can the Gamecocks of Coach Will Muschamp, the former defensive coordinator for LSU, Texas and Auburn and head coach at Florida, be on the field so long yet allow so few points?
"They are efficient," Arkansas coach Bret Bielema (in Craven Whitlow photo) said. "I know a little bit (time of possession) depends on the type of offenses they are playing, but the good news for them is they are not giving up big plays.   They just don't give up those big, big hits. I think the biggest thing Coach Muschamp has brought is his demeanor and personality and attitude. He's always been a great defensive coach and that's showing up more and the longer he's there."
The most points South Carolina has allowed was in its 35-28 season-opening victory against a good, 4-1 North Carolina State team of the ACC. Yet, NC State possessed the ball 36:41 to South Carolina's 23:19.
Since then, the Gamecocks edged Louisiana Tech 17-16, whipped SEC East member Missouri 31-13 and lost to Kentucky 23-13 at home. They lost 24-17 last week at Texas A&M of the SEC West.
Texas A&M outlasted Arkansas 50-43 in overtime at a neutral site, the Dallas Cowboys' AT&T Stadium.
Only against Missouri has South Carolina dominated the possession clock. Muschamp explained how the Gamecocks have done it.

"I think until last week we played pretty good red-zone defense," Muschamp said. "We've been pretty opportunistic (four interceptions, five recovered fumbles and blocking one kick). We need to continue to create turnovers. But we've been really good in the red zone and forced people to kick field goals. I think that's the key."
But in its two losses SC paid a price, Muschamp said, for not locking up on third down.
"We've got to do a better job on third down," Muschamp said. "You look back at Kentucky, a little bit of A&M, we didn't get off the field on third down."
Muschamp said his offense hasn't done its part in staying on the field long enough for their defense to get some rest.
"We've got to get more production," Muschamp said. "We have to protect the quarterback better. At A&M, we got whipped up front. That's just telling it like it is. And we've missed seven field goals."
In its 28-7 loss to TCU, Arkansas' defense kept it 14-7 close until the game's final three minutes but could not get the Horned Frog offense off the field on third down. Arkansas' offense did't help with few sustained drives.
Arkansas offensively accelerated against Texas A&M and New Mexico State. Razorbacks running backs David Williams, the former Gamecock, Devwah Whaley and Chase Hayden have improved run-blocking up front.
Senior starting quarterback Austin Allen, despite absorbing six sacks from Texas A&M, completed 12 of 25 for 229 yards and two TDs with the game-ending overtime interception. Standing sack-free vs. New Mexico State, Allen overcame an interception early to complete 19 of 26 for 264 yards and three TDs. Redshirt freshman Jordan Jones (in Craven Whitlow photo above) caught four of Allen's completions for a team-high 84 yards.

Bielema cited improvements in all phases of Arkansas' game against New Mexico State but said Allen was most improved.
"We've seen him play good football but toward the last half of the game - from the time he threw that pick on - it was one of his better games," Bielema said. "Very efficient with his throws. He understood where the ball was going, dedicated to spread it around to a lot of new faces. To see some new guys get a new experience was very, very good to see and I hope it continues."
The Razorbacks concluded preparations Thursday with a light practice and fly Friday to South Carolin