Class 5A Week 6 Rankings, Notes & Picks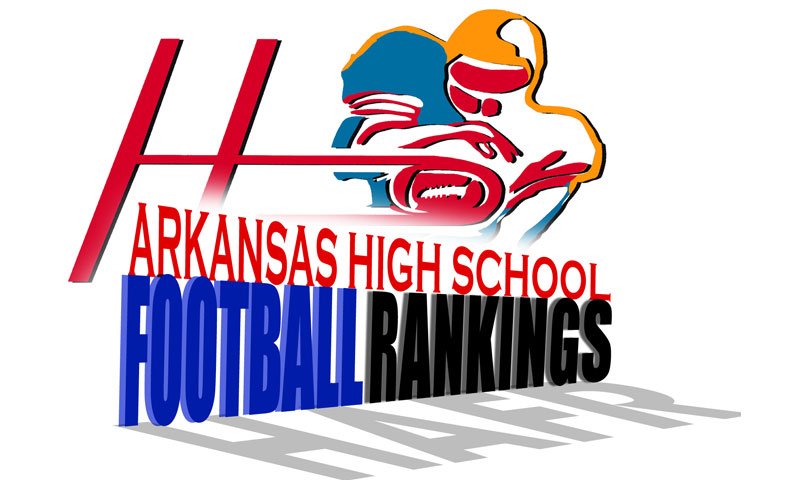 Class 5A Rankings
Week 6, 2022
Copyright Seventy Seven's Publishing
1. LR Parkview (3-2)
2. Joe T. Robinson (4-1)
3. Shiloh Christian (4-1)
4. Magnolia (5-0)
5. Wynne (4-1)
6. Camden Fairview (4-1)
7. Mills (6-0)
8. Batesville (4-1)
9. Farmington (3-2)
10. Nettleton (4-1)
11. Prairie Grove (4-1)
12. Valley View (4-1)
13. Hot Springs (3-2)
14. Harrison (3-2)
15. White Hall (2-3)
16. Pine Bluff (4-1)
17. Morrilton (4-2)
18. Alma (4-1)
19. Beebe (4-2)
20. Vilonia (1-4)
21. Southside (3-2)
22. Maumelle (2-3)
23. HS Lakeside (0-4)
24. Dardanelle (3-2)
25. Watson Chapel (1-5)
26. Brookland (1-4)
27. Pea Ridge (2-3)
28. Texarkana (1-4)
29. Hope (1-4)
30. Clarksville (0-5)
31. Paragould (1-4)
32. De Queen (0-5)
33. Forrest City (0-5)
LAST WEEK
Hootens.com correctly predicted 15 of 16 games (94 percent) and has correctly predicted 95 of 118 games (81 percent) this season.
WEEK 6 PREDICTIONS (favored team in ALL CAPS, highlighted in yellow)
HOOTENS.COM GAME OF THE WEEK
No. 6 Camden Fairview at NO. 4 MAGNOLIA
Magnolia is 5-0 for the first time since 1994 when the Panthers finished 13-1, losing in the state title game by 3 points. The Panthers defense held HS Lakeside to 19 yards rushing last week. Senior Garrion "B.J." Curry rushed 27 times for 234 yards and 3 TDs at HS Lakeside, while senior QB Dalen Blanchard generated 180 yards (91 passing, 89 rushing). Senior Chucky Dennis caught a 48-yard TD pass, and made 3 tackles. Junior Kemarion Burton had 10 tackles, while senior Tre'john Parker registered 3 stops and 1 sack. "Magnolia is so athletic," Camden Fairview Coach Nick Vaughn says. "We must limit big plays and make them earn everything on offense."
Camden Fairview has won 4 in a row. The Cardinals have yielded 22 points in the past 3 games. Senior Michal Griffith registered 12 tackles, and sophomore Dejuan Wesley had 13 stops, in last week's 21-8 victory at Texarkana. Senior QB Martavious Thomas passed for 193 yards and 3 TDs at Texarkana. "Camden (Fairview) seems more balanced on offense this year," Magnolia Coach Mark King says. "It goes through (Thomas), and he's a true dual threat." Magnolia has committed 8 turnovers in its past two games against Camden Fairview.
5A CENTRAL
VILONIA at Beebe: These teams have played as conference foes and as nonconference rivals over the past two decades, with Vilonia winning 12 of the past 17. Beebe sophomore Kiandrea Barker ran 12 times for 102 yards and a TD a week ago at Pine Bluff. The Badgers gained 145 yards. Vilonia managed 122 yards in last week's 42-3 setback to Joe T. Robinson. Senior Jack Vines caught 3 passes for 44 yards.
JOE T. ROBINSON at Maumelle: Maumelle first-year coach Brian Maupin served as Joe T. Robinson's defensive coordinator the past five seasons. Maumelle must regroup. The Hornets started the season 2-0 but have dropped 3 consecutive conference games and haven't scored since Week 3 vs. White Hall. Joe T. Robinson senior Noah Freeman ran 17 times for 230 yards and 3 TDs, while freshman Isaiah Reece blasted in 2 TDs in last week's 42-3 victory over Vilonia. Senior LB Ashtyn Williams tallied 11 tackles.
Pine Bluff at MILLS: Pine Bluff junior Courtney Crutchfield returned an interception for a TD and caught 2 TD passes in last week's mercy-rule win over Beebe. Zebras senior QB William Howell, who recently gained a baseball offer from Memphis, threw 4 TDs. Mills' senior Jabrae Shaw intercepted 3 passes (returned 1 for a TD) in last week's 30-0 win over Maumelle. Shaw also caught a 20-yard TD pass from junior QB Achilles Ringo.
Morrilton at WHITE HALL: Morrilton WR Kaleb McCuin generated 87 total yards and 3 TDs in last week's 38-20 win over Watson Chapel. RB Destin Tate chipped in with 108 yards and 1 TD. White Hall, off last week, has lost consecutive conference games to Beebe and Mills by a combined 9 points.
OPEN Watson Chapel
5A EAST
Forrest City at BATESVILLE: Batesville Coach Ryan Morrow praised his linemen for playing well in last week's 35-0 win at Paragould. The Pioneers rushed for 260 yards and 5 TDs, with junior Gabe Witt gaining 120 yards on 4 carries. DT Isaiah Garcia returned an interception 60 yards to the 1.
Brookland at SOUTHSIDE: Southside junior Seth Case ran 21 times for 134 yards in last week's 42-21 loss at Wynne. Case has 74 carries for 727 yards this season, and he's caught 6 passes for 127 yards. Brookland generated 336 yards (212 rushing, 124 passing) in last week's 49-20 loss to Nettleton.
Paragould at NETTLETON: Nettleton jumped on Brookland 21-0, cruising to a 49-20 victory last week. Sophomore QB Maddox Hampton and junior Curtez Smith combined for 5 TD passes. Hampton hit 16 of 23 for 249 yards and 3 TDs, while Smith hit both of his passes for 59 yards and 2 TDs. Smith also logged 7 carries for 49 yards and a TD, while junior Quordarius Thompson caught 7 passes for 153 yards and 3 TDs.
WYNNE at Valley View: Wynne has won 7 of its 8 meetings with Valley View. The Yellowjackets ran for 317 yards in last week's 21-point win over Southside. Junior Cobey Davis (16-116 rushing, 2 TDs) and QB John Watson (14-102 rushing, 2 TDs) led the way. Valley View has won 4 in a row. Junior QB Carson Turley ran 55 yards for a TD in last week's 49-0 victory at Forrest City.
5A SOUTH
HOT SPRINGS at De Queen: Hot Springs should pick up up its second straight win before facing Magnolia and Camden Fairview in the final month of the regular season. Trojans junior QB Matt Contreras hit 16 of 25 passes for 370 yards and 4 TDs last week at Hope, with Derrick Hicks hauling in 9 passes for 249 yards and 3 TDs. De Queen hasn't won a conference game since Week 4, 2019.
Hope at LR PARKVIEW: Hope beat De Queen two weeks ago and put up 326 yards in last week's 49-13 loss to Hot Springs. Junior QB Tyler Patterson passed for 291 yards and 2 TDs, with senior Triston Young catching 4 passes for 144 yards and 1 TD. LR Parkview QB Eric McGehee passed for 122 yards and 1 TD, while sophomore Cameron Settles ran 3 times for 69 yards and 2 TDs in last week's 42-0 win over De Queen.
Texarkana at HS LAKESIDE: Camden Fairview jumped on Texarkana for 2 scores early en route to a 21-8 win. Sophomore Courtland Loudermilk ran 28 times for 206 yards and scored the TD. Sophomore LB Rodney Kindley led the defense with 7 tackles, including 3 TFL. HS Lakeside trailed unbeaten Magnolia 28-14 in the third quarter last week before losing 55-28. Junior QB Jacob Hermossillo played well, Coach Jared McBride says.
5A WEST
Pea Ridge at ALMA: Alma didn't play physical in last week's 43-8 loss to Farmington, Coach Rusty Bush says. LB Reagan Birchfield amassed 12 tackles and intercepted 1 pass. Pea Ridge surrendered more than 500 yards in last week's 50-35 setback at Dardanelle. The Blackhawks also turned the ball over 3 times.
PRAIRIE GROVE at Clarksville: Clarksville surrenders 48 points per game. The Panthers ran for 199 yards (108 from senior Arthur Alvarez) in last week's 57-13 setback to Shiloh Christian. Prairie Grove senior QB Camden Patterson threw a 68-yard TD on a flea flicker with 14 seconds to play in last week's 46-40 win over Harrison. Senior Ethan Miller ran 16 times for 295 yards and 3 TDs.
FARMINGTON at Dardanelle: Farmington's smothering defense allowed 213 yards and forced 2 turnovers in last week's mercy-rule win over Alma. QB Sam Wells, in his second career start, completed 6 of 13 passes for 127 yards and ran 13 times for 77 yards. Sophomores Russell Hodge and Luke Elsik combined for 28 carries and 175 yards. Dardanelle senior QB Drew Vega ran 18 times for 154 yards and 3 TDs, completed 9 of 12 passes for 108 yards and made 7 tackles, and returned 2 interceptions for TDs in last week's 50-35 win over Pea Ridge. Senior Drake Boatright paced the Sand Lizards with 15 tackles, while senior Zane Rose made 10 stops. Senior OG Trey Thompson earned a team-high 78 percent blocking grade, and made 7 tackles on defense.
Harrison at SHILOH CHRISTIAN: Harrison must shake off last week's 46-40 last-second loss to Prairie Grove. The Goblins had a field goal blocked in the fourth quarter and surrendered the go-ahead TD with 14 seconds left. Junior Braden Long rushed 37 times for 227 yards and 3 TDs. Shiloh Christian has beaten Clarksville and Dardanelle the past two weeks by a combined 112-13. Senior QB Eli Wisdom passed for 291 yards and 4 TDs and ran 8 times for 66 yards and 2 TDs, in the first half of last week's 57-13 victory at Clarksville. Senior Bodie Neal caught 4 passes for 86 yards and a 2 TDs, including a leaping grab in the end zone while surrounded by 4 defenders.