Class 4A Week 6 Rankings, Notes & Picks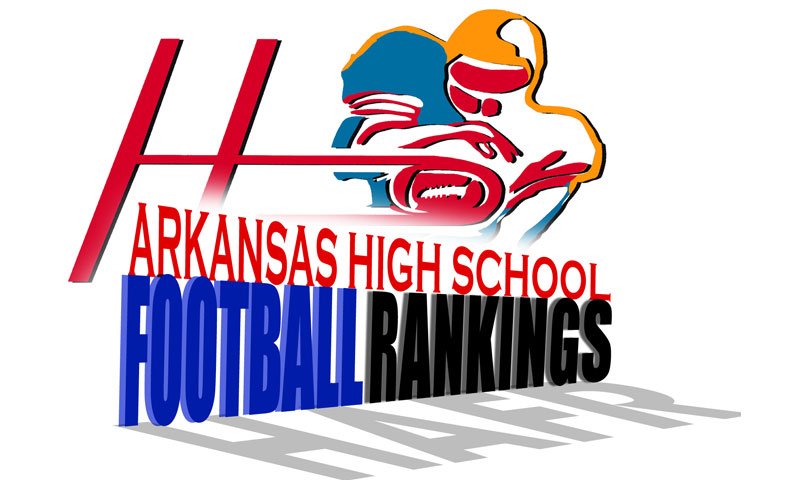 Class 4A Rankings
Week 6, 2022
Copyright Seventy Seven's Publishing
1. Arkadelphia  (5-0)
2. Harding Academy (5-0)
3. Warren (4-1)
4. Star City (4-1)
5. Stuttgart (3-2)
6. Ashdown (5-0)
7. Malvern (4-1)
8. Pocahontas (4-1)
9. McGehee (2-2)
10. Ozark (3-2)
11. H.G. Haskell (6-0)
12. Nashville (3-2)
13. Rivercrest (2-3)
14. Lamar (4-1)
15. Elkins (4-1)
16. Lonoke (3-2)
17. Gentry (5-0)
18. Clinton (4-1)
19. Gosnell (4-1)
20. Trumann (3-2)
21. Bauxite (4-2)
22. Blytheville (4-1)
23. Dewitt (4-2)
24. Mena (3-2)
25. Monticello (3-3)
26. Pottsville (2-4)
27. Gravette (2-3)
28. Mayflower (2-3)
29. Crossett (1-4)
30. Hamburg (2-4)
31. Jonesboro Westside (1-4)
32. Waldron (2-4)
33. Lincoln (3-2)
34. Bald Knob (2-3)
35. Heber Springs (2-3)
36. Dumas (1-4)
37. CAC (1-5)
38. LR Hall (1-4)
39. Cave City (1-5)
40. Helena (1-4)
41. Dover (2-3)
42. Huntsville (0-5)
43. Riverview (1-5)
44. Highland (1-4)
45. Berryville (1-4)
46. Green Forest (1-4)
47. Harrisburg (1-4)
LAST WEEK
Hootens.com correctly predicted 16 of 21 games (76 percent) and has correctly predicted 139 of 162 games (86 percent) this season.
WEEK 6 PREDICTIONS (favored team in ALL CAPS and highlighted in yellow)
HOOTENS.COM GAME OF THE WEEK
No. 6 Ashdown at NO. 7 MALVERN Expect a close one, as these teams have split their past 14 meetings. Malvern led Waldron 44-0 in the first half last week en route to a 57-0 win. Junior RB Jalen Dupree ran 17 times for 265 yards and 5 TDs in the first half, while junior Dyelon Caradine caught 5 passes for 65 yards and 2 TDs. Senior QB Cedric Simmons completed 8 of 10 passes for 134 yards and 2 TDs and averaged almost 9 yards per carry. Junior LB Romero Bennett registered 8 tackles, while senior lineman Adeveion Jenkins made 5 stops. Malvern's only loss this season was Week 4 at Hernando, Miss.
Undefeated Ashdown has not played since it beat Waldron 49-0 two weeks ago. The Panthers defense surrenders less than 9 points per game. Junior LB Nash Brown leads the Panthers in tackles, while senior Jayden Fricks and senior QB Jonathan McElroy led the offense. "Ashdown is the best team we've played," Malvern Coach J.D. Plumlee says. "They are extremely fast and physical on defense."
1-4A
ELKINS at Berryville: Berryville Coach Bryan Hutson compiled a 20-12 record at Elkins from 2018-2020, but his looking for first win over the Elks as the Bobcats' coach. Elkins won 48-13 last season. 
Berryville ran 63 plays and controlled the clock in last week's 35-0 loss to Gentry. The Bobcats drove inside Gentry's 10-yard line 4 times (reached the 1 on 2 drives) but failed to score. Elkins junior Da'Shawn Chairs (6-128 rushing, 3 TDs) and Jusiah Bettencourt (128 receiving yards, 2 TDs, 34 yards per kick return) led the Elks in last week's 41-0 win over Huntsville.
Green Forest at GENTRY: Gentry stopped 4 Berryville drives in the red zone a week ago (won 35-0). Pioneers senior Dillon Jarnigan caught 2 TD passes, including a 99-yard score after a defensive stop at the 1. Green Forest's Ridge Gordon-Swofford ran for 60 yards and a TD in last week's 42-14 loss to Ozark, while Ryan Bruegel made 7 tackles.
Huntsville at GRAVETTE: Gravette has won 9 of the past 11 over Huntsville. The Lions continue improving (lost to Elkins by 14 points Week 4 and beat Lincoln by 2 points a week ago). Senior QB Rhett Hilger completed 18 of 24 passes for 308 yards and 3 TDs and he ran for a TD. Junior Kyler Austin logged 21 carries for 126 yards and 1 TD. Huntsville has lost its two conference games by a combined 100-13. The Eagles trailed Elkins 34-0 at halftime last week.
Lincoln at OZARK: Ozark led Green Forest 42-0 in the first half last week. Senior Eli Masingale ran 16 times for 94 yards and 1 TD, and Parker Stane caught a 38-yard TD pass. Gavin Gilbreth led the defense with 9 tackles, while Gunnar Williams made 7 stops.
2-4A
LONOKE at Cave City: Lonoke is 2-0 in this series , beating Cave City in 2010 and 2011. The Jackrabbits led second-ranked Harding Academy 21-20 in the fourth quarter last week before losing 31-21. Lonoke had 6 players go both ways, including junior QB Bradon Allen, who accounted for 3 TDs (2 passing, 1 rushing) and started at safety. Cave City won its first game a week ago, downing Riverview 21-7. Senior fullback Bryce Walling and his brother, sophomore wingback Shawn Walling, scored all 3 Cavemen TDs.
Riverview at STUTTGART: Stuttgart has beaten Riverview 5 of the past 6 meetings. Stuttgart coach Josh Price says he expects 4-6 injured starters to miss the game. Senior RB Cedric Hawkins and his brother, WR/DB Kendrick Hawkins, have played well for the Ricebirds, along with sophomore WR DeOntae Clark and junior DL Tank Hood.
HARDING ACADEMY at Bald Knob: Harding Academy continues cruising toward a conference title after beating Stuttgart and Lonoke the past two weeks. Senior DL Levi Mercer recorded a crucial safety in last week's 10-point win at Lonoke, while senior Kyle Ferrie booted 2 field goals.
OPEN Heber Springs
3-4A
Trumann at GOSNELL: This game is crucial for playoff seeding. Trumann has won its two league games — over Jonesboro Westside and Highland — by a combined 66-22. Wildcats senior QB Murphy Williams ran 22 times for 146 yards and 2 TDs, completed 9 of 17 passes for 136 and caught a 41-yard pass in last week's 32-14 victory over Highland. Senior Parks McNair (7 catches, 91 yards) and Eli Evett (11 carries, 71 yards) played well, Coach Randy Phillips says. Gosnell must bounce back from last week's 35-8 setback to Pocahontas. The Pirates scored first on TE Tadarian Partee's TD grab. Junior Cam Williams caught 5 passes for 104 yards. Mason Moore (19 tackles) and Partee (18 tackles, 1 sack) led the defense.
POCAHONTAS at Harrisburg: Pocahontas is cruising toward a Week 9 showdown vs. Blytheville. Redskins senior QB Connor Baker ran in 4 TDs in last week's 35-8 victory at Gosnell. Harrisburg has lost its two conference games to Blytheville and Rivercrest by a combined 84-13. The Hornets surrendered almost 300 yards rushing last week.
BLYTHEVILLE at Highland: Blytheville has allowed 1 TD over the past 3 weeks. Junior Timothy Brown ran 9 times for 142 yards and 3 TDs in last week's 47-7 victory over Jonesboro Westside; junior Ingram Battles ran 7 times for 103 yards and 1 TD. Highland's passing game performed well in last week's 18-point loss at Trumann.
RIVERCREST at Jonesboro Westside: These teams have split the past 4 meetings, with Rivercrest winning 2 in a row. Rivercrest led Harrisburg 40-0 in the second quarter a week ago. Rivercrest ran for 296 yards in that game, with junior Koby Turner logging 7 carries for 115 yards and 2 TDs. Junior Michael Rainer caught 3 passes for 110 yards and a TD, and he averaged 13 yards per carry. Jonesboro Westside's 47-7 loss at Blytheville last week was called by officials with almost 5 minutes remaining after a fight.
4-4A
POTTSVILLE at Central Arkansas Christian: This is the first meeting between these teams. Pottsville's 2-game win streak ended at Bauxite last week. Pottsville trailed 17-14 in the fourth quarter before two turnovers flipped the game. Pottsville's Colby Stephenson ran 19 yards for a TD.
Dover at H.G. HASKELL: Haskell's defense gave up 11 yards and 2 first downs in the second half of last week's 45-14 win at Lamar. Evan Jackson scored 2 TDs for the Cardinals. Dover led LR Hall 12-0 last week but lost 28-12. Talvin Leavell ran for a Dover TD.
Bauxite at CLINTON: Bauxite intercepted two passes in the fourth quarter to secure last week's 34-14 win over Pottsville. Senior QB Hunter Ferrell ran for 2 TDs and Ryan Cantrell booted in a 27-yard field goal. Clinton, which didn't play last week, was without 4 starters 2 weeks ago (42-21 loss at H.G. Haskell). Senior WR Brody Emberton (6 catches, 108 yards, 2 TDs) played well at Haskell.
LAMAR at Mayflower: Lamar must bounce back emotionally from last week's 45-14 loss to H.G. Haskell. Lamar gained 2 first downs in the second half, while getting outscored 28-0. Lee Harkreader caught a 60-yard TD pass in the first half. Mayflower, behind backup QB Frankie Fennel, beat CAC 33-14 a week ago. Fennel ran for 175 yards and 3 TDs and threw a TD pass. Jaden Robinson paced Mayflower's rushing attack with 184 yards, while Jamar Anderson recorded 12 tackles and 1 interception.
7-4A
Mena at NASHVILLE: Mena senior Jayden Felix ran for a TD in last week's 54-7 loss to Arkadelphia. Coach Craig Bentley says QB Gabe Corcoran performed well against Arkadelphia. Nashville didn't play last week, and the Scrappers lost to Arkadelphia 49-12 two weeks ago. Nashville senior QB Sloan Perrin averages 273 yards weekly (141 passing, 132 rushing). Junior Trey Hopkins has 67 carries this fall for 351 yards (5.2 ypc) and 5 TDs.
OPEN Arkadelphia, Waldron
8-4A
Crossett at DEWITT: Crossett has won 8 of its 9 meetings against Dewitt's Dragons. Crossett trailed league-leader Warren 14-7 in the third quarter last week before losing 41-14. RB Tayshawn Paskel played well for the Eagles. DeWitt beat Hamburg 35-0 a week ago, its third shutout in the past 14 games. Justin Ross led the Dragons with 9 tackles, while Gabriel Vega registered 7 tackles and broke up 2 passes. Vega also caught 3 passes for more than 100 yards.
WARREN at Dumas: Warren has won 11 in a row over Dumas since losing 36-25 in 2010. Lumberjacks senior QB Maddox Lassiter ran in 4 TDs in last week's 41-14 decision over Crossett. Sophomore WR Antonio Jordan caught multiple first-down passes and 1 TD. Dumas hasn't beaten a Class 4A opponent since Helena in Week 4, 2021. Junior Jaylon Jordan ran for 48 yards and junior WR Jaylyne Jones caught 6 passes for 59 yards in last week's 28-3 setback to Monticello.
STAR CITY at Helena: Helena was off last week after losing consecutive conference games to DeWitt and Monticello by a combined 96-28. Star City beat McGehee 27-6 a week ago. Senior C.J. Turner ran 12 times for 84 yards, and sophomore Peyton Taylor scored 2 TDs. Senior DL AnToney'o Matthews recovered a fumble and blocked a punt.
Hamburg at MONTICELLO: Monticello turned a 7-3 third-quarter lead into a 28-3 decision last week over Dumas. Jontavian Lambert, Blaine Hayden and Brooks Bowman each ran for Billies TDs. Hamburg trailed DeWitt 28-0 at halftime last week before losing 35-0. WR Anthony Smith caught 10 passes for 115 yards.
OPEN McGehee.