HOGS: one goal to get better daily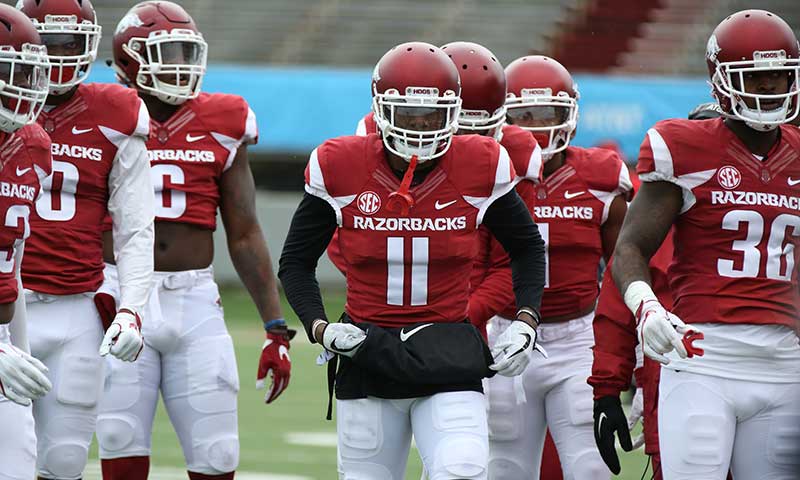 FAYETTEVILLE - The Arkansas Razorbacks entered Thursday's practice trying to stay oblivious to their underdog 35-point spread against No. 1 and reigning national champion Alabama.
Coach Nick Saban's 5-0 Crimson Tide, so rolling over every foe that starting quarterback Tua Tagovailoa hasn't taken a fourth-quarter snap, and Arkansas (1-4, 0-2) meet at 11 Saturday morning at Reynolds Razorback Stadium.
Alabama's offense ranks first in the nation, averaging 54 points per game with Tagovailoa completing 75 percent of his passes for 1,161 yards and 14 touchdowns with no interceptions. The Crimson Tide rank No. 10 nationally in passing offense and No. 29 in rushing offense. Alabama is No. 2 in the nation in third-down conversions (60 percent). Defensively, 'Bama ranks No. 5, allowing 13 ppg.
"I didn't even know they were 35-point favorites," Arkansas senior nickel back Kevin Richardson said. "We clearly don't pay attention to that. Were going to play with confidence regardless what the spread is. We really don't pay attention to that anyway."
Richardson, two games back from a broken foot, said he never feels like an underdog with new to Arkansas but veteran SEC coach John "Chief" Chavis coordinating the defense.
"I've only played two games under him but just to see him bring the energy," Richardson said. "You can see it in the defense and how those guys compete regardless what's going on in the game. To see Chief instilling that energy in everybody and keeping us motivated regardless of what's going on and what everybody talks about on the outside. Chief makes sure everybody stays focused. I wouldn't want to be on any defense for any other team in the country than right here."
Richardson played on some special teams two games ago in the 34-3 SEC opening loss at Auburn and played extensively at nickel back off the bench in last week's 24-17 loss against Texas A&M.
It's anticipated he'll start against the Tide.
First-year Arkansas coach Chad Morris has given Alabama and Saban all due respect this week but insists for the Razorbacks this game is all about their opportunity.
"It's an awesome opportunity," Arkansas starting quarterback Ty Storey said. "I think it's still, though, all about us. We've got to do what we do, and we've got to do it better. I think that's been an emphasis — just focusing on what we do and trying to keep getting better every day."
Arkansas fixed its glaring punt coverage from the North Texas and Auburn losses in last week's game vs. Texas A&M but got burned by a game-opening kickoff return touchdown that gave the Aggies a lead they never relinquished.
"Our special teams, outside of the first play, I thought there were drastic improvements," Morris said. "But one play is the difference. You never know what play it is, but one play makes a difference."
With Alabama's prowess both sides of the ball and on special plays, it takes just a couple of "one plays" to make a rout.